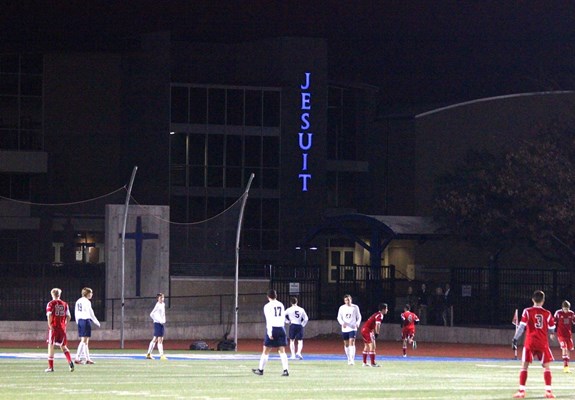 Once again heading onto the familiar Jesuit home field, the boys on JV and varsity soccer clashed against long-time rivals Lake Highlands. The energy was radiating from the players spread across the field as the ecstatic Jesuit teams prepared to please the fans.
The Jesuit JV played first, demonstrating a fantastic level of play as they effortlessly maneuvered through the Lake Highlands defense, putting up an exciting finish of 2-0. What made this win even more exciting for the boys in blue and gold was that, earlier in the season, the JV had suffered a disappointing loss to Lake Highlands. However, it seems like it was all for the better, as the Jesuit JV shut them out in a thrilling home game.
"It was the boys' best game yet," said Dave Williams, JV head coach. "They passed fantastically and, even without some of our best players because of injury, they still managed to communicate well."
Brian Meza '18, the new midfielder for the JV team, also believed the JV played well describing how he's "only been on the team for the past three weeks, but our game against Lake Highlands is definitely the best we've played yet. I hope we continue to play this well for our last week of the season."
It was a great performance by the Jesuit JV with their 2-0 win over Lake Highlands and the whole Jesuit community expects them to finish their season out strong! Way to go boys!
After the JV game, the boys on the Jesuit varsity took on Lake Highland's Varsity. Earlier in the season, Jesuit rolled over Lake Highlands and repeated the process in a 2-1 win.
"We started off strong but so did the other team," commented head coach Charlie DeLong, "but before long, they gave way and allowed us to score a goal. They tied it up in the second half but soon afterward we scored again. It can be easy for the boys, after such a successful season, to begin to stop playing well, however, the Jesuit varsity has demonstrated no such thinking."
The varsity is gearing up for the playoffs that start after this week, which will hopefully lead them to a state championship. "If we continue to play well, I think we can go the whole way," commented varsity player Andrew Gilchrist '18.
Overall, both teams have had a great season thus far, and we all expect to see great things in their future games. Keep it up, boys!