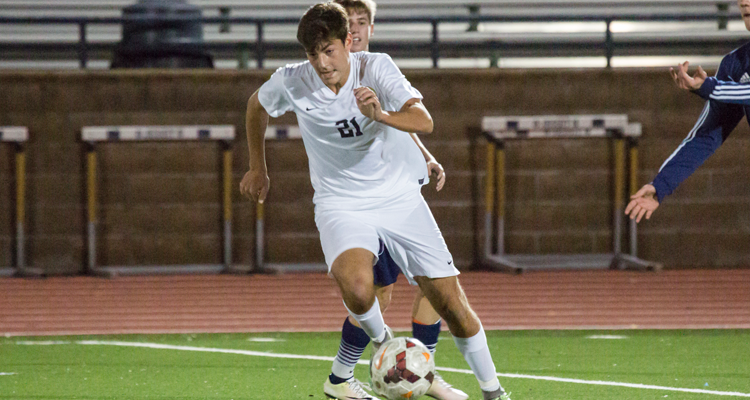 Marching on to an unfamiliar field, blinded by yellow beams of light, the Jesuit JV and Varsity soccer teams took on Richardson in away games on Friday the 27th. Now generally, away games can be somewhat disconcerting, however the alien surroundings didn't seem to faze the Jesuit teams as they both pulled in wins, JV 2-0, and Varsity 3-0.
The JV played first at 6pm, and effectively set the tone for the both team's level of performance. Completely shutting Richardson out, they displayed no remorse and a high level of play.
"JV played great," commented Dave Williams, the JV head coach, "they are learning to play well as a team, and are improving their quality of play."
JV player Lorenzo Genera also felt that the JV was improving; "Yeah, we're beginning to learn each other's style of play which is helping us on all parts of the field. I generally play wing or forward, and a lot of the time the mid-fielders see me making a run and give me a great pass, allowing me to make a great play. I've definitely noticed that if we continue to read each other, we will continue to win."  Coach Dave's and Lorenzo's opinions have certainly continued to apply throughout the season, as the Jesuit JV is presenting a winning record.
The Varsity squad played equally well as the JV. With a 3-0 win over Richardson, the Varsity Rangers cemented their dominance early within the game, up 2-0 at the half.
Coach Charlie Delong felt that, "The boys are showing high level of play through their quick thinking. As long as they continue to keep their heads up and look for the best possible play, they will continue to outplay their opponents. Defensively, the boys are communicating well – clearing the ball when under pressure and playing controlled when they have space, and offensively they are maneuvering the ball up the field and creating scoring opportunities. Overall it was a great game, and I'm proud of them."
Since then, the Varsity has continued to demonstrate high level of play, winning every game but one.
Keep posted for more updates concerning the Jesuit soccer teams!