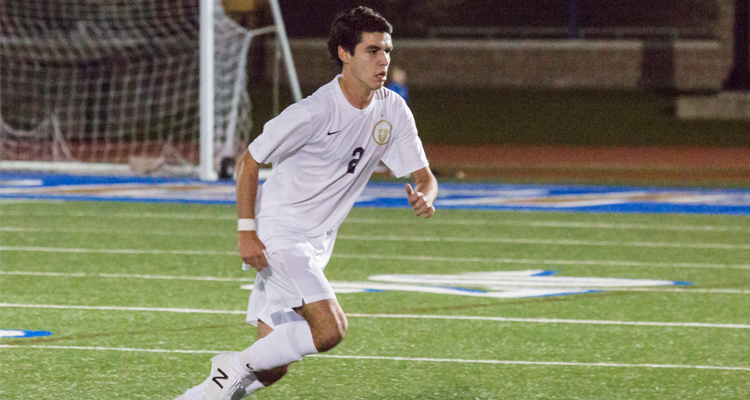 In their last game on Friday the 10th, the Jesuit JV and Varsity soccer teams marched onto the foreign field, the home of the Berkner Rams, and prepared to finish the season with a bang. Both teams have had a successful season, avoiding complacency and laziness. Instead, they kept level heads and played with integrity.
The JV teams played first and the Rangers were able to put the ball in the net near the end of the first half. This goal ended up being the only one of the entire game, yet it was certainly impressive as Patrick Keyes '19 struck the ball into the upper left-hand corner of the net. About the goal, Keyes noted that "I was very excited about my goal, one of the best I've scored for sure. Also, considering that it was the end of the season, it wasn't a bad way to finish." The game continued on with chances for both sides, yet neither could capitalize on further opportunities, resulting in a final score of 1-0.
David Williams, the head JV coach, commented, "I am very proud of the boys and their performance throughout the season. In the beginning, we started off a little slow, as they were just learning how to play with one another, yet as the season progressed, they began to play as a team and as a result, we've won the past 7 games. Our game against Berkner was a great way to finish out the season and I'm excited to see how the teams turn out next year."
The Varsity also had a great deal of success against Berkner. Pulling in a win of 4-0, the Rangers dominated the game in terms of ball possession, resulting in the multitude of goals.
"I think it's great that we finished out the regular season with a win," commented Andrew Gilchrist. "But I also think it's important that we keep our heads straight and play just as well during the playoffs."
Coach Charlie Delong's beliefs concerning playoffs paralleled those of Andrew: "The boys played a great season and if they keep playing this well, they'll be able to make it far in the playoffs, we definitely have a team that has the potential to win state."
Look for the Rangers to make a run at the state title soon!