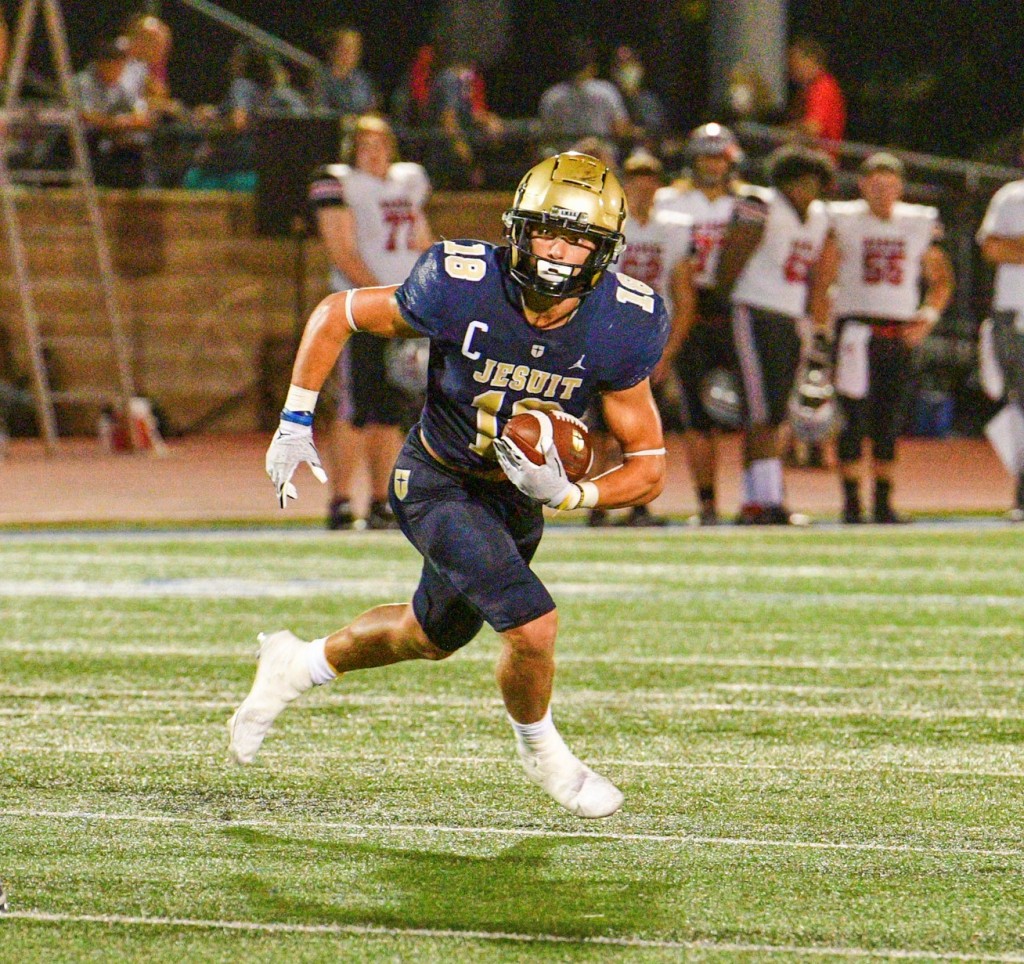 Heading into not only the homecoming game for Jesuit but also the final game of the season, the Rangers were undefeated in district play and they were looking to add to that impressive resume against the Berkner Rams. And in that game, Jesuit looked and played the part of the superior team, stomping the Rams in a 37-0 shutout. But how exactly did we get to that point? That's what this piece is for, as Jesuit cruised to an easy win over the Rams in their final home game of the season. Let's dive in!
First Half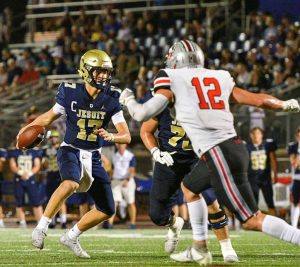 The first half started off with a bang for the high-octane Rangers offense, as quarterback Gage Roy '22 connected with wideout Truett Whitley '22 for a 36-yard touchdown to give Jesuit an early 7-0 lead. After Berkner's first drive of the game stalled out, Jesuit got the ball back and star running back/defensive back/everything Robert Fitzgerald '22 bulldozed past the Rams' helpless defense for a 38-yard touchdown scamper. And to cap off the first quarter, Roy threw his second TD pass of the game with a long bomb to star receiver Hunter Krepp '22 for an 86-yard touchdown to put the Rangers up 20-0 after one quarter. And in the second, it was more of the same, as Krepp added to his already impressive statline by grabbing a 52-yard strike from Roy for another Jesuit touchdown, as the Rams' defense had been shell-shocked all game long. And in that second quarter, running back Reed Pfaffenberger '23 got in on the action, as he caught a heater of a pass from Roy to extend Jesuit's lead to 27-0 heading into the half.
Second Half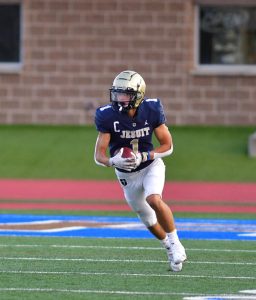 I'm not gonna lie, the second half was a real doozy for the Rangers, so this paragraph will not have much. But still, it's worth noting that after that explosive and dominant first half from the Rangers, the defense stepped up big-time against a sluggish and no-doubt tired Berkner squad, giving up a grand total of zero points in the second half. Dylan Drennan '23's field goal to open up the half was Jesuit's only points of the second half, and Roy sat the entire second half as the Rangers cruised to a 37-0 win, making everyone's Homecoming that much sweeter.
My Thoughts
Fantastic win for the team, the defense played outstanding and they showed up in about every facet of the game, wreaking havoc on a Berkner team that just did not seem comfortable at all during the night facing a stout defense and a raucous Jesuit crowd. Gage Roy had what was, in my view, his best game of the season, throwing for a whopping 365 yards and carving the Rams' secondary to shreds with 4 touchdown passes. Hunter Krepp had himself a day as well (geez, when will saying that sentence ever go out of date?) as he racked up 187 receiving yards and two touchdown catches from Roy. Defensively, linebacker David Long '22 led the way with eight tackles, and Andrew Charlton '22 added on six tackles and Robert Fitzgerald tacked on five. All of those efforts by nearly every player on the team, and it balanced out to a dominant win for the Rangers.
Stay tuned to The Roundup for more Jesuit football and sports news! And stay tuned for Jesuit's next game against Irving at Joy and Ralph Ellis Stadium on Thursday, October 28! Kickoff is scheduled for 7 PM!