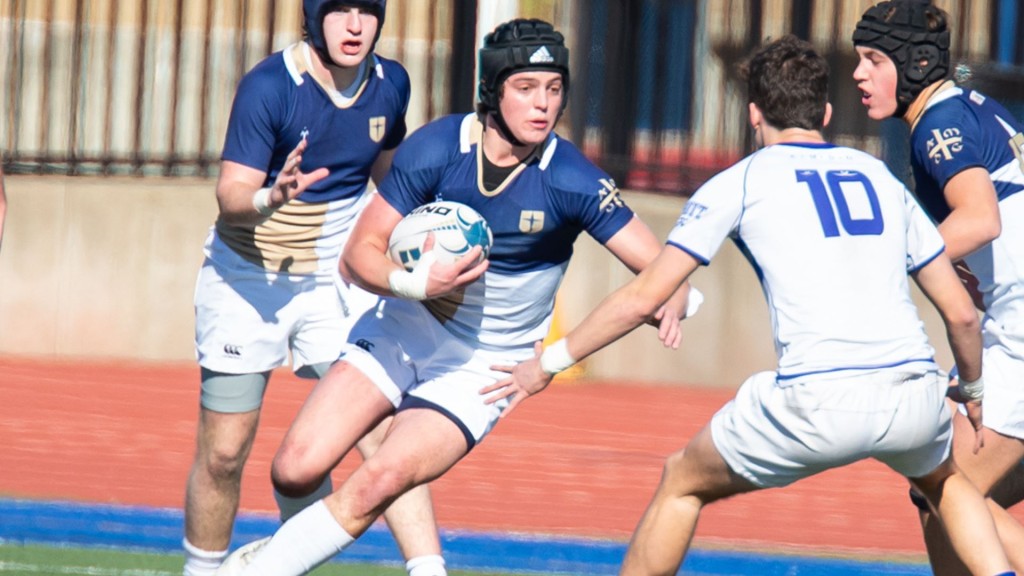 So far, Jesuit Rugby has continued to grow as a team, after completing half of their season already, the Rugby team has battled back to a hot 4-0 start over large high schools and clubs, after a slow start of a 2-3 record. Rugby finished their season going 6-3. Jesuit hopes to play in contention for state playoffs and make a run in the post-season, starting in the next couple of weeks. Also to mention on April 20th, Olayinka Laminkara committed to the University of Connecticut for rugby. Big congratulations!
Four Points
After a 5-17 loss to St. Pius @ Ranger Stadium, Jesuit looked to rebound and fire back against the Austin club. And the Rangers did just that. The Rangers won a decisive win 52-22 in Plano, sophomore Chase Brown '24 had a game and career-high 2 tries for the Rangers, along with junior Jordan Mason tacking on himself two tries to the table. He also converted on 5 of his 7 attempts to kick.
Westlake
The Rangers managed to pull off this pivotal win against the Chaps 21-7 traveling to West Lake in Austin. Jordan Mason '23 again converted on 3 of his 3 try attempts. The Rangers locked down the Chaps in the first half allowing only one try, shutting them out in the second half. Joesph Savage '22, Chase Brown '24, and Hayden French '23 also added on a try to finish the game.
Lake Travis
Jesuit traveled to Faith Family Academy, down the DNT to play Lake Travis of Austin. And the Rangers had no problem, setting the tone early 14-0.  Sophomore Luke Lamont '24 and junior Jackson Chesney '23 added on a try, before the second half. Then, however, the sophomore trio of Mitch Sullivan, Chase Brown, and Dylan Wachsman '24 converted on all of their tries. As Jordan Mason '23 wrapped up the score sheet with his 5-5 conversion attempts. The Rangers shut out Lake Travis in the second half easily, with a great, outstanding defensive effort. Nevertheless, allowing zero tries or conversion attempts ultimately let them control the second half. And now look ahead to their next game after Easter Break in two weeks, itching to play. The final score was 35-7.
Plano Rugby Club
Jesuit shut out Plano Rugby Club 53-0 effortlessly, with Jesuit's outstanding teamwork and defensive effort to put them in a position with loads of momentum towards playoffs. Yinka Laminkara '22 scored 3 tries during his last time at Postell Stadium for Senior Night, along with other senior Charlie Borowczak '22 contributing 2 tries of his own. Sophomores Luke Lamont '24 also handled business adding on two tries, while Mitch Sullivan '24 connected with one too. Junior Louis Traister added another try to the board. The sophomore tandem of Dylan Wachsman and Chase Brown '24 converted on both of their kicks in both halves. What put the Rangers in position was their phenomenal defense once again, allowing only one try in the last three regular-season games.
Stay tuned to The Roundup for more rugby news!