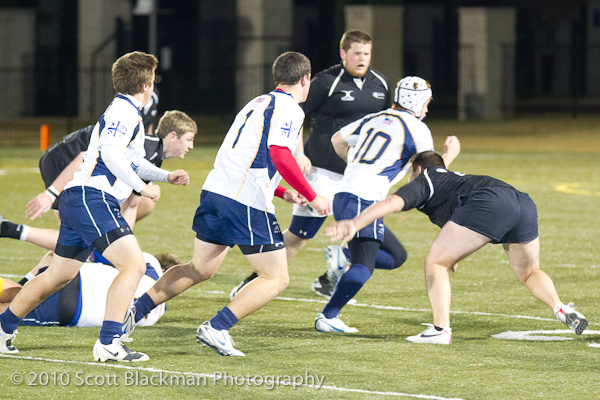 Last weekend, the Jesuit Rugby squad traveled to Round Rock, Texas, to take on the Stony Point Tigers in a game that was dubbed "The Mud Bowl" thanks to mother nature.
The Jesuit Ranger rugby team made its way to Stony Point High School, just outside of Austin, to try and capture another win in their third game of the year. Overall, the trip was a great success for the Rangers, as both the varsity and the junior varsity teams prevailed in the games against the Tigers.
The Jesuit Rugby teams left Jesuit on noon on Friday, February 17, and arrived in Round Rock at approximately 4:00 p.m. Both Jesuit teams took with them undefeated records on the season. Both the Varsity and Junior Varsity were in action, with the Varsity taking on the Tigers of Stony Point and the Junior Varsity taking on a combination of Stony Point and Cedar Ridge High School.
The varsity game offered a sneak peek of the weather to come during the rugby-filled day at Stony Point High School. Varsity started their game against the Tigers with a light drizzle coming down from the dark clouds overhead.  Jesuit came out in their white jerseys, which weren't white by the end of the day.
Concerning the game, rugby coach Raul Ornelas had this to say:  "It was a high contact game. There were a lot of great tackles, a lot of great rugby formations, such as set pieces and working together. If the weather conditions were more favorable, we would have seen more developing plays, more set pieces, in the sense of working together. Sometime variables we can't control are thrown in."
The varsity squad was able to defeat the Tigers in hard fought battle, 36-5. Brendan Metcalf  '12 led the way with two tries, which is equivalent to a touchdown in football, while four players had a single try including Andrew Donovan '12, Julian Fragoso '12, Lamar Mott '12, and Chris Steiner'12.
The junior varsity game saw a deluge of rain from the Central Texas skies. The JV game was called off early because of lighting in the area, but the game was still counted as a win for the Rangers. Bennett Rofsky '13 had two tries, while Emmanuel Salazar '14, Austin Gustafason '14, and Matt Scheibel '13 had a try each.
On the first game, Matt Scheibel commented: "They [Stony Point] had some size, but didn't use it to their advantage. They had some potential talent, they just didn't use it." When asked how the Rangers were able to win, Matt said: "Pure fitness. What they had in size, they didn't have in speed, so we just out ran them."
"Overall it was a great experience for our boys," said Ornelas. The teams we played were a good caliber, but our Jesuit boys just went out there and were more athletic, had more conditioning, and our form was a lot better in tackles and scrums. We still have a lot to work on though."
After the games, Jesuit teams were then offered a meal of burgers and chips from Stony Point before making their way back to Dallas. The Rugby Squads will next face their rivals, St. Thomas Catholic High School from Houston, in the Bishops Cup next weekend. The Bishops Cup will take place at Jesuit, and both Bishop Daniel DiNardo of Houston and Bishop Kevin Farrell of Dallas will be in attendance to honor the Catholic schools competing.