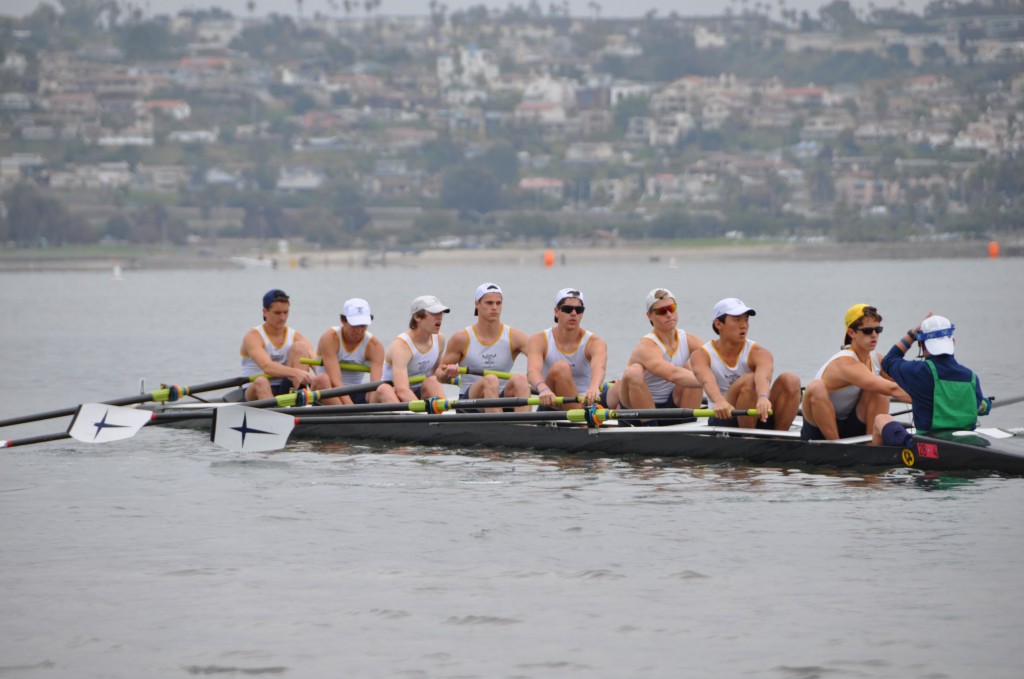 Earlier this spring, the Jesuit Ranger crew team took part in the San Diego Crew Classic on March 31, 2012, along with 17 other teams from across the nation.  This rowing tournament featured teams from different clubs and high schools across the country.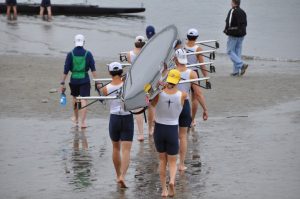 Coach John Fife, along with his Varsity 8 boat, left for San Diego, California, on March 29, two days before the regatta, and practiced the course Thursday and Friday.  The ocean course, a part of Mission Bay, can become very dicey at times with high winds and choppy water.  However, with two days of practice out on the water, the Rangers were able to get a comfortable feel for the wind gusts and high waves that could be expected during racing.
The team had its qualifying heat on Saturday at noon.  There were 6 teams in the Rangers' heat, including the renowned St. Ignatius Prep (San Francisco) Wildcats.
Halfway through the race, the Rangers were out in front of the pack with St. Ignatius closing in.  Soon enough, however, the Wildcats would overtake the Rangers. The Jesuit team could not keep up with their initial pace and paid the price for overexerting themselves at the start.
The team ended the heat in fourth place. The Rangers advanced to the petite-final, where they simply could not compete at the level they had in the heat. Jesuit's rowers hope they can build on what they learned in the tourney and flip the switch to become a top competitor.
Coach Fife admitted that the Rangers still have a long way to go. "I was really pleased at how aggressive we raced against very strong teams," Fife said. "But obviously [we] need to get better."
Ultimately, the San Diego Crew Classic was a great way to kick off the spring season for the Jesuit Crew team. The team was able to measure itself against the very top rowers in the country, as well as learn a lot about their strengths and weaknesses.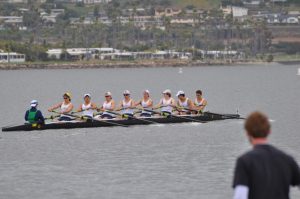 The preview tourney gave the athletes goals to work towards as they prepare for their regular season races in Texas and Oklahoma in the coming months.  The San Diego Classic gave Jesuit a great look at many of the teams they will race again in June at the National Championships in Oak Ridge, Tennessee.