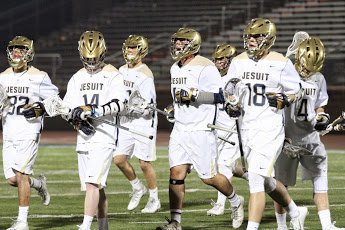 On February 25th Jesuit Lacrosse took on Keller in their 3rd game of the season. Jesuit started off the season well with nearly 2 shut outs against Southlake and Plano Senior and looked to continue their win streak at Postell Stadium.
Jesuit opened up the scoring in the first quarter with a sweet shot by Christian Miller '15. Following the goal, Keller answered with a goal of their own to tie up the game. Jesuit then went on a 3-0 run to lead Keller at half, with 2 goals from Garrett Munck '16 and another by Miller.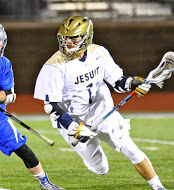 The game took a turn for the Rangers in the 3rd quarter when Keller started to rally back. Keller played excellent defense and executed their offense well throughout the 3rd quarter. Their efficiency led to a 5-2 run, making it a game at the end of the third quarter in Postell stadium with a tie score of 6-6 going into the fourth.
Mac Elliott '16 stated "although we allowed them to tie it up, we were able to develop chemistry in the fourth and work together to win."
Although Keller fought back well, Jesuit took hold of the reigns in the fourth, unwilling to give up their first loss. Head Coach Surran said that "the kids just needed to calm down" and tried to reiterate to his players "that it is just a lacrosse game." Miller started the momentum with unassisted goal to start the quarter. Then it was Zach Kissick '16 who gave the Rangers a two point lead to start pulling away from Keller. Jesuit ended up winning their first home game 10-6 with some great plays down the stretch.
The slow play at the beginning of the game could have been attributed to the lack of practice prior to the matchup. Due to weather, Jesuit did not have practice 3 days prior to the game, but that didn't stop them from earning a victory. Head Coach Surran stated that he "couldn't remember not doing that before."
Although the books didn't quite show it, Jesuit dominated Keller with ball possession as well as shots. Jesuit had 50 total shots and won 46 ground balls while Keller just had 24. Coach Surran thought these factors were what decided the game's fate in the end.
Junior standout and All-American JM Priddy '16 was happy with the win, stating "although it was a bumpy game, I was happy with the win." Priddy added, "the success we had in the fourth really gave us momentum going into the spring break tournament."
Coach Surran thought that this game gave insight to the team "on what lacrosse we have to play to be successful." He explained that the team needs to take opportunities when they come and their offensive game play needs to be executed very well.
Good luck to the a Rangers and make sure to come support the team at their next game at Postell Stadium.