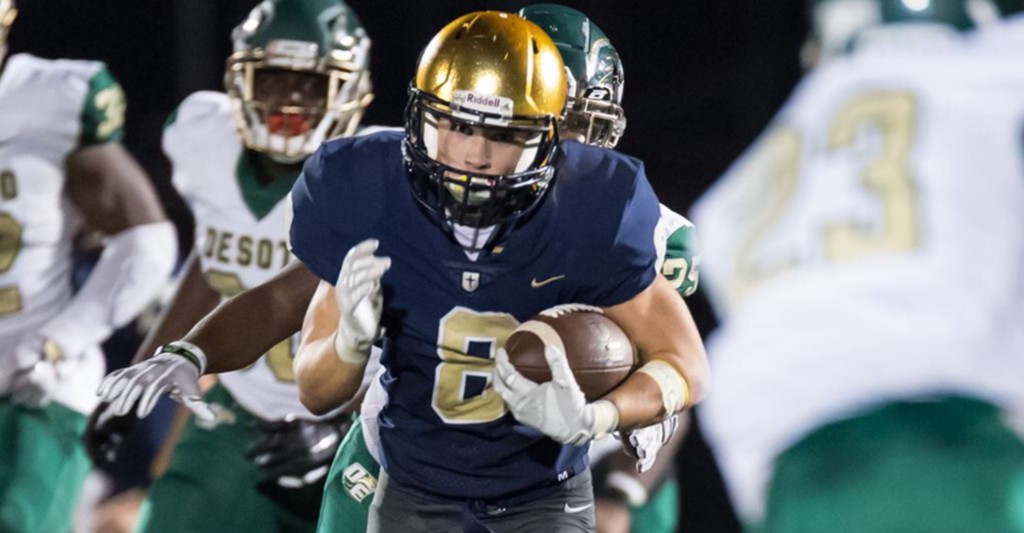 As district play starts to wind down and the postseason approaches, all 7 teams in a district scramble to escape with hard fought wins over rival schools, hopefully clinching a playoff spot. One of those vital games occurred last Friday as Jesuit took on Plano Senior during our homecoming game.
With rain dumping down on the field most of the game, it turned into a slugfest, with both schools trying to establish a run game as the wind hampered both quarterbacks long throws. Overall, Jesuit was able to control the line of scrimmage and the trenches, and came out with a scrappy win over a solid Plano team. Here's a quick rundown of the game.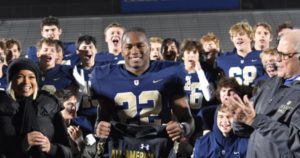 Offense
As usual, Star Jesuit running back E.J. Smith '20 delivered a phenomenal game, running for 133 yards and 3 touchdowns. However, the workhouse of the night was Jake Taylor '21, who continually pushes the offense down the field and grinds out the tough few yards needed for a first down. Smith and Taylor have complementary play styles as E.J. has the refined, athletic all purpose abilities to grab the jump ball and break off long runs while Taylor can finish runs on those short yardage plays and show his deceptive speed and quickness through screens and draws. This 1-2 duo wrecks havoc on a defensive front, and with an offensive line anchored by two three year varsity starters, the running game has been able to take off, seen by Jesuit's last scoring drive, which ran down the fourth quarter clock to about 2 minutes left and also cushioned the Rangers with a 14 point lead.
Defense
Seen multiple times throughout the season, Jesuit's defense has shown the ability to dominate the line of scrimmage and shut down a team's running game. Coming into the bout, Plano Senior was led by junior running back Tyler Hines, who holds multiple D1 offers and was averaging over 10 yards a rush. However, this defense stuffed the run, holding Hines to under 50 yards rushing on the night. This was because of Jesuit's stout defensive line, as defensive ends Peter Melle '21 and Austin Wood '20 established a heel line that permeated gaps and allowed the linebackers to flow quicker. In the middle was nose guard Ethan Lane '20, who plugged the middle A gaps and stopped much of the inside draws and leads that teams like Plano Senior rely on. Overall, Plano only rushed for 94 yards and was a measly 5-13 on third downs, further highlighting the dominance this defense can have when the unit plays together as one.
Special Teams
Often overlooked, special teams dictated a huge part of the game for the Rangers. Star linebacker Tommy Roy recorded a safety on a fumbled punt, as he chased down the punter along with a pack of other Rangers. Furthermore, the Rangers blocked an extra point, further exemplifying the discipline and effectiveness of their special teams unit. Lastly, quarterback rance Holman twice pinned Plano Senior within the ten with solid punts, and kicker Parker Brown had multiple kickoffs fair caught and had two of his kick offs downed within Plano's 20 yard line, further setting them back and making their offense work even harder.
Postgame Thoughts
      Senior Will Garoutte thought "the team played really tough and stayed focus the entire night, not letting the rain affect us." Christian Allocco '20, one of Jesuit's athletic senior receivers, reinforced this idea as he claimed "although the passing game was hampered by the rain and wind, we knew that if the receivers and linemen got their blocks we could effectively run the ball against these guys." The takeaway from this game is that Jesuit has positioned themselves to be the number 1 seed in division 2 in district 9-6A, and with just two more wins will clinch a home opener playoff game that Tommy Roy '20 stated would "be huge as the atmosphere of playing in Postell Stadium is unmatched."