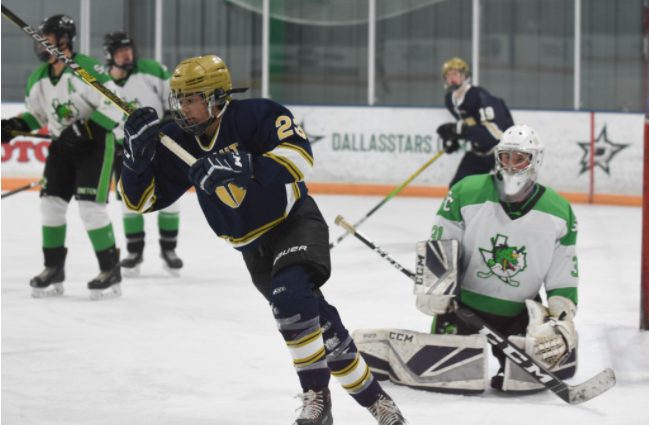 Jesuit Hockey has found their footing after a rough beginning plagued with injuries, missing players due to Covid-19 and postponed games. Jesuit Hockey are 3-1 in their past four games (as of Feb. 3), and there is reason to be excited, as they are showing its full strength, which we hope carries on to the playoffs.
During these last four games, we saw some stellar performances. Seth Dragojevic '21 went on fire for the first two games as he had a spectacular 7 points (6 goals and one assist) to lead Jesuit to their first two wins of the stretch. Both Miles Dikun '21 and Santiago Diaz '22 shined in the stretch as Dikun scored at least a goal in every game, and Diaz scoring four goals to increase his goal total to 8 for the season.
Player's Thoughts on the Four-Game Stretch
My friend and hockey player, Josh Reinboldt '21, gave me his thoughts on these last four games and his views for the few games left in the season.
We've had many of our players come back with injuries, which we struggled a lot within the fall. The break allowed the team to come back rejuvenated and motivated. It comes at a perfect time with the State championship around the corner against Allen and senior night arriving soon, the last stretch [of games] should be one to watch.
Another positive change for the Jesuit Hockey team was adding more leaders to the team. After coming off a successful season as a Linebacker with Jesuit Football and as a team captain, Jack Judson '21 gave me his initial thoughts as the new guy in town and the team's current morale throughout this four-game stretch.
It's been amazing, it's fun when you start to win as a team and the culture starts to come together. I think we finally found our spark as a team.
(Pic here)
Jesuit (2-8) vs. Coppell (3-8)
Jesuit had a lousy start to this game, allowing three goals to Coppell to give them the 3-0 lead during the second period. But, in the final 5 minutes of the period, Seth Dragojevic scored two goals to decrease the Coppell lead to 3-2 rather quickly.
The third period was one to watch. Jesuit struck first as Miles Dikun tied up the game at 3-3. The leads then fluctuated from one side to the other. Coppell scored to gain back the lead at 4-3. But, Dragojevic, who scored the two goals in the 2nd period, scored two goals in two minutes to give Jesuit its first lead. In minute 5:10, Coppell struck hard again to tie the game. But, with 1:19 left to go, Santiago Diaz pulled off a clutch goal assisted by Seth Dragojevic, so pull away with the much-needed victory.
(Pic here)
Jesuit (3-8) vs. Denton County (3-10)
Jesuit completely dominated Denton County the next game with a score of 6-0. Much less eventful than the previous match.
Goalscorers for this game were Miles Dikun (1), Seth Dragojevic (2), Santiago Diaz (2), and William Sahadevan (1).
(Pic here)
Jesuit (3-9) vs. Flower Mound/Marcus (7-6)
After a two-game win streak, Jesuit suffered a setback, losing against Flower Mound.
Flower Mound started the game with three unanswered goals, and while Ryan Virkar scored a goal to make the Flower Mound lead 3-1, Jesuit was just never able to gain much momentum, losing 8-4.
Goalscorers for this game were Diaz (2), Dikun (1), and Virkar (1).
(Pic here)
Jesuit (4-9) vs. Plano West (3-11)
Jesuit ended off the streak with a solid 3-0 win against Plano West.
We saw Miles Dikun score two goals and Kyle Hogan score one in the second period.
What's Next?
Jesuit Hockey has finally started to look in form throughout this stretch of games. The team is excited to prove that together, healthy and rested, they can win many games. Just as good as they were in the Leveling Tournament. I fully believe that they can achieve that goal, and I am excited to see what Jesuit does in these final games of the season with a team back in full strength.
Jesuit has five games left in their schedule, though with the Covid-19 pandemic, nothing is set on the schedule. The first two games are a little challenging, as they play McKinney (6-5) on Feb. 4 and Keller (12-2) on Feb. 11. Southlake Carroll (10-2) is another tough challenge on Feb. 25. Luckily, Jesuit has two games left against the bottom team Mansfield (2-9), one on Feb. 18 and Mar. 7.
More Information
If you want to hear what Hockey coach and former professional hockey player Coach Smith has to say about Jesuit Hockey this season, you can watch this episode on the Jesuit Ranger Experience.
The statistics used in the article can be accessed on the Jesuit Rangers Hockey page or the ATT Highschool Hockey League website.
If you are interested in more Jesuit Hockey news, check out my previous article.
For more coverage of Jesuit Hockey and other sports, stay tuned in to The Roundup!