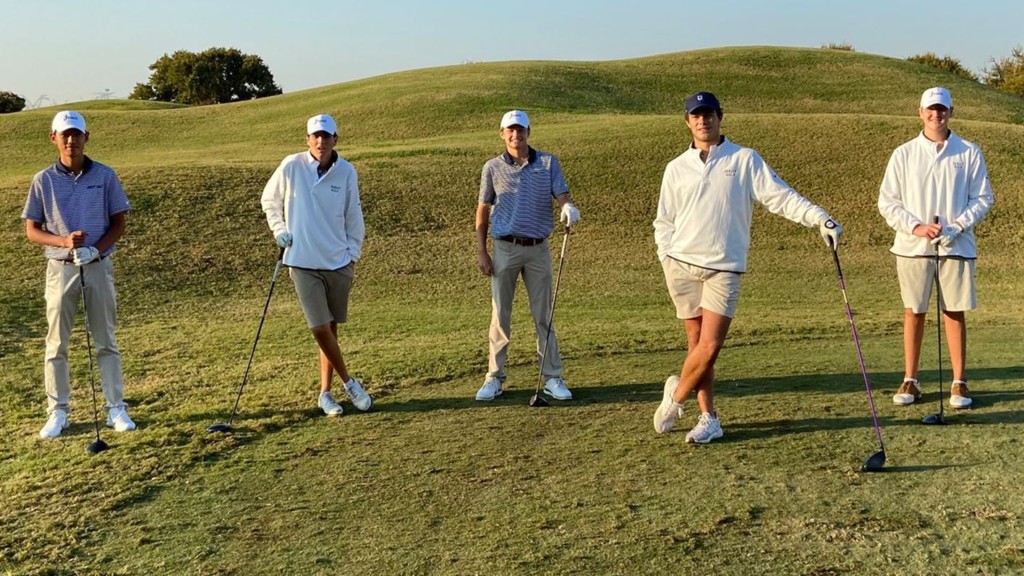 Jesuit Varsity Golf (left to right): Tyler Lee '23, Michael Lohner '22, Ben DeLaRosa '23, James Farmer '21, Hayden Montpas '22
The Jesuit varsity and junior varsity teams each earned first place in recent tournaments held at the Indian Creek Golf Club in Lewisville, Texas. That is to say, both teams fought hard and deservedly earned their championship spots.
Fighting Farmers Invitationals
On October 6, 2020 varsity golf team took first place at the Fighting Farmers Invitational. Led by a trio of top-five finishers, the team finished the championship with a winning total score of 303. The team played exceptionally; therefore, besting Flower Mound Marcus's silver team by 15 strokes and third-place Centennial by 31 strokes.
Sophomore Ben DeLaRosa '23 placed second with an even-par 72. Senior James Farmer '21 finished third with a one-over 73. Sophomore Tyler Lee '23 placed fifth with a fourth-place 75. Furthermore, junior Michael Lohner '22 scored an 83, while fellow third-year Hayden Montpas '22 carded a 99 to close out the Jesuit lineup.
As Ben DeLaRosa summarized, "I think the team is doing really well. It has been fun to play as a team, and we have been playing well while doing it. We are looking forward to the spring, and we are preparing for our busy schedule."
Trojan Covid Crusher
On September 29, 2020, the junior varsity golf team earned first place at the Trojan Covid Crusher. Subsequently, with a total team score of 308, the team beat second-place Coppell by 26 strokes and third-place, Hebron, by 35 strokes.
Freshman Max Chan '24 led the team, taking first place with a three-over 75. Junior Hayden Montpas '22 earned second place with a five-over 77. Moreover, sophomore Tate Williams '23 placed third with a six-over 78. Furthermore, freshman Antonio Dimafelix '24 and Junior William Jackson '22 each scored an 86.
As Max Chan reflected, "The team played great, and we worked together very well. We were well prepared for both events, and our team ended with some good scores. We need to keep up the good work and prepare for future events."
Stay tuned to The Roundup for more on Jesuit golf.