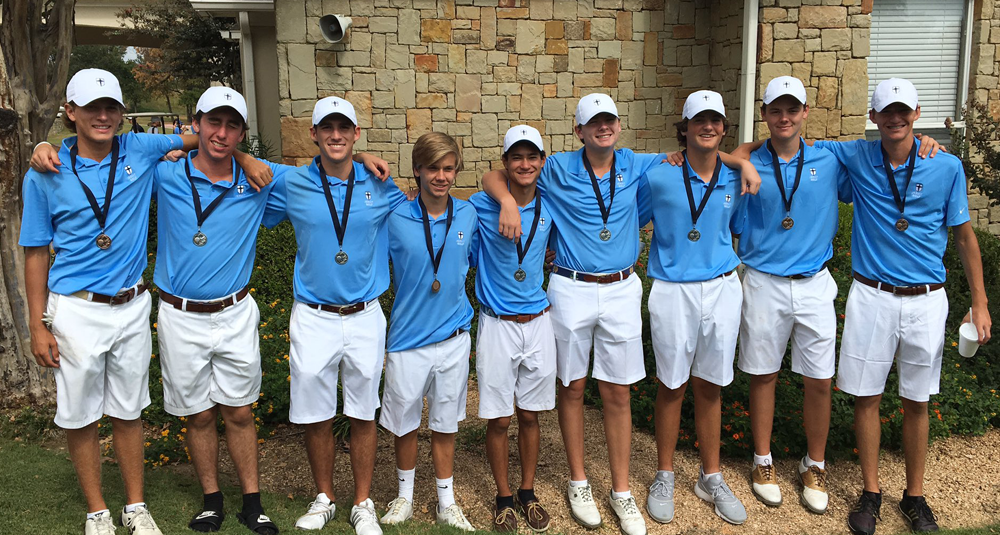 In the past few weeks, the Jesuit golf team has competed in three tournaments: the Bart Granger Invitational, the Jaguar Fall Classic, and the Plano Invitational. In all three tournaments, both the varsity and junior varsity teams did exceptionally well.
Bart Granger Invitational:
On Friday, September 22nd, the Jesuit varsity golf team met at the Pecan Valley Golf Course in Fort Worth.
"The team came in with the end goal of winning and nothing less." said Forrest Park, '19. "We had a rough start which made it difficult for us to ultimately reach our goal but fought our way back to a solid finish." In their first tournament of the season, the Jesuit varsity team placed 9th out 52 teams.
Jaguar Fall Classic:
Four days later, on the 26th, the varsity team struck again, this time at the Tour 18 Golf Course in Flower Mound. The 2 varsity teams, the "A" team and the "B" team, placed second with a score of 309 and third with a score of 311 respectively, out of eleven teams.  The lowest scorers of the tournament were seniors Andrew Buckley and Jake O'Gara, both with 74. The varsity team will play again on October 24 at the Heritage Invitational in Frisco.
Plano Invitational:
Not wanting to be outdone, the junior varsity team played their first tournament on September 27th, at the Twin Creeks Golf Club in Plano. The junior varsity team finished with an impressive second place out of sixteen teams.
"I was very pleased with our second place finish against a good JV field," said Coach Cathy Marino.  The JV team will next play on October 17 at the Sherrill Shootout in Richardson.