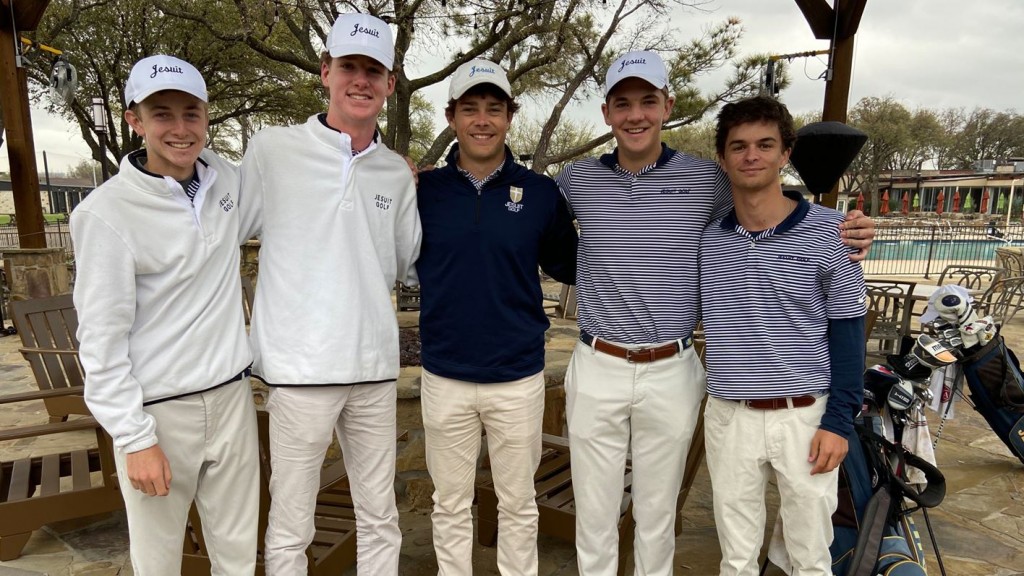 Photo Credit: Cathy Marino; Left to Right: AJ Adams '23, Sean Mello '22, James Farmer '21, Max Reimer '21, Gordon Schmerbeck '21
Varsity Results
The Jesuit varsity golf team earned first place at the 60th Annual Jesuit Dallas Invitational Tournament at Brookhaven Country Club on March 20, 2021. The team bested second-place Trinity Christian Academy by an advantage of eight strokes.
Each scoring two over 74, senior James Farmer '21 and junior Oliver Naumann '22 led the varsity team to finish the tournament with a total score of 308. Furthermore, Naumann's performance also earned him an individual medal. Following close behind, senior Max Reimer '21 tied for third place with a score of 76. Sophomore AJ Adams '23 scored a 78 to tie for eighth place. Junior Sean Mello 22' scored in the top-15, and senior Gordon Schmerbeck '21 placed 25th. As AJ Adams reflected, "We played well enough to secure the win."
Junior Varsity Results
The Jesuit junior varsity team earned fifth place, with a total score of 307. In addition, five members of the team placed in the top-six of the tournament: freshman Max Chan '24 scored a leading 73, junior Hayden Montpas 22' scored a third-place 77, sophomore Tate Williams '23 scored third place 78, freshman Antonio Dimafelix '24 scored a fifth-place 79, and junior Zac Crosby '22 scored a sixth-place 83. Juniors Josh Estes '22 and Michael Lohner '22 tied for 21st place, both with a round of 83. Junior William Jackson '22 scored an 87 to bookend the team score. Max Chan commented, "The Jesuit Dallas Invitational was so much fun! The whole team did great! We went out and played some great golf, and I am very proud of all of my teammates. We ended our season with amazing scores and a victory!
Stay tuned to The Roundup for more Jesuit Golf coverage!