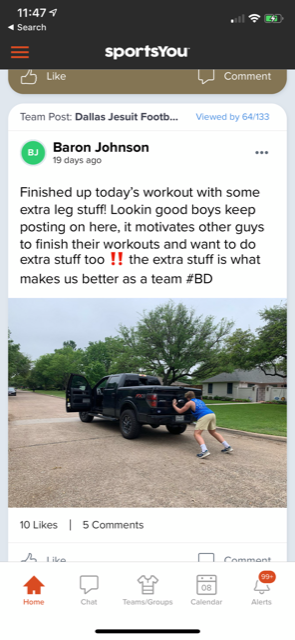 Coming off a historic season going four rounds deep into the Texas 6A UIL Playoffs, Jesuit Football hoped to repeat what they did last season. Unfortunately, because of the Coronavirus pandemic, Jesuit Football's momentum was halted. Losing their spring football season and their ways to workout as a team in the process, or so we thought.
However, the team continues to workout and keep in touch with everyone. Coach Hickman, the coaching staff, and all the players are using the sportsYou app, which is similar to Facebook or Instagram. Furthermore, the app allows the players to post their workouts, motivational quotes, nutritional tips, and more. The sportsYou app helps guide and inspire the teammates to work hard during this crisis. With over 100 guys on the app, Coach Hickman said "I'm proud of their resilience and support for one another. It's really helped our kids and coaches stay connected with each other during this time." Below are some of the photos of the team workouts on the app.
Most importantly, this really reflects the mentality of the team and how focused they are to succeed. Moreover, they are staying motivated as a team during a time where they cannot physically be together. In conclusion, with the sportsYou app, Jesuit's football players have lifted each other for the next season. Hopefully we can see this team perform in the fall and maybe even the winter as well.
Check back with the Roundup for more sports news!