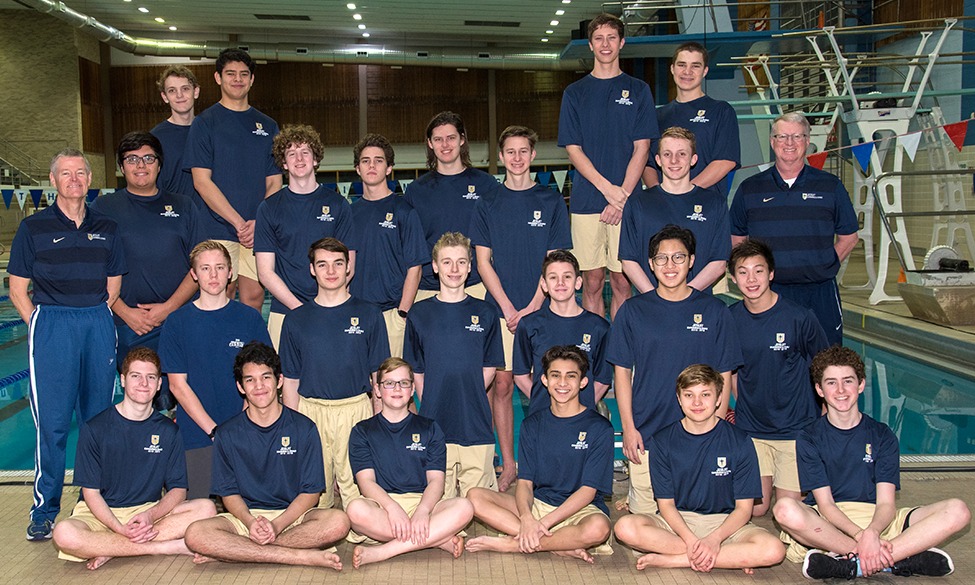 The smell of chlorine fills the air as eight men take their positions. Thigh muscles tensing as they prepare to launch off, waiting expectantly for the call. Suddenly, a whistle pierces the air and they spring off, gliding through the water like majestic sea creatures. No, this isn't a scene from nature documentary– this is the Jesuit Swim Team.
This February 9th, students from the Jesuit team participated in the UIL regional competition, held at Lewisville Westside. The athletes competing were James Savarese '22, Will Mckinney '21, Ivan Lopez '20, Jackson Summers '22, Sean Holden '19, Braden Barale '19, and Alec Chong '21.
According to Coach Doug Moyse,  it was a thrilling meet. "We finished 2nd at the Varsity District Meet (it went down to the last event) and won the JV District Meet.  We were 9th at our regional meet but were only a few points behind 6th place. We missed having someone represent us at the 6A State Meet in Austin by .10 seconds. "
The individual event was the 200-meter medley race in which Savarese, Mckinney, Lopez, and Summers competed, finishing ninth overall and setting a personal record.
Of particular note,  McKinney went a 1:54.51 in the 200-yard Individual Medley (50 yards of butterfly, backstroke, breaststroke, and freestyle) and finished 4th in the Region, and Savarese set a personal best at 56.14 in the backstroke. The Rangers overall finished in 9th place with 111 points,  beating Allen by half a point.
There were setbacks during the meet, as Coach Moyse explained that  "At our District meet, we had one person miss due to a burn on his leg from applying heat after severe cramping and another swimmer had the flu just before the meet.  Another swimmer missed the meet due to an incredible opportunity to win a full-ride academic scholarship. At the Region, Meet two of our swimmers got the flu and one swam the best he could at the meet while the other had to miss the meet entirely."
The Rangers went into this season with great expectations and practiced hard every day. While they didn't take home the gold, they set new records and are prepared for next year. Coach Moyse has nothing but laudatory words for the team. "We are a young team but have a lot of promise. This year we were able to beat Allen, Highland Park, and Plano East in our dual meet season. In 2014, when we were fifth at the 6A State Meet we were not able to beat all three of those teams in the same season."
"This was a great TEAM. They were very supportive of each other through much adversity this year. A couple of our best swimmers moved away right before the season, kids got sick, got hurt, I had triple bypass surgery and missed several weeks, you name it, it happened–but we were still able to have one of our most successful years."
Their season now over, the swim team continues to prepare for next year.  Stay tuned to the roundup for more sports coverage.