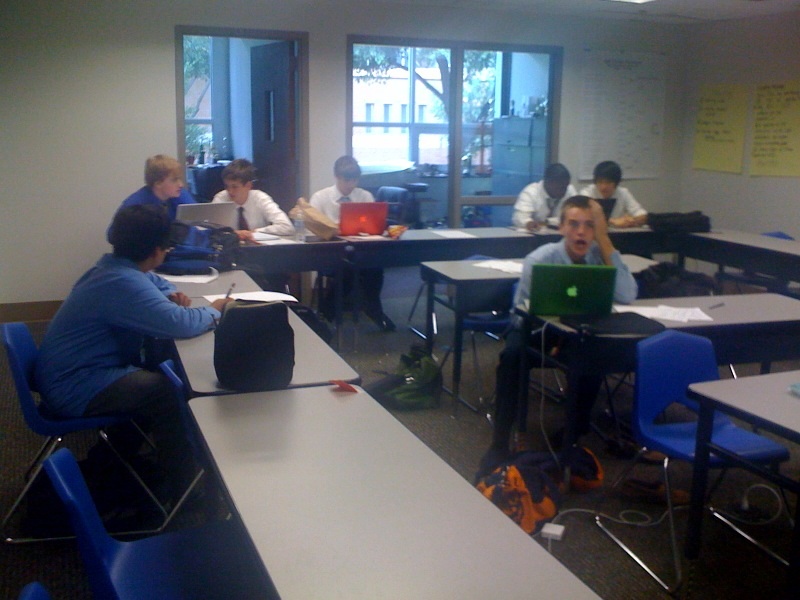 Similar to how Boston Celtics coach Doc Rivers announced the African word "Ubuntu," meaning "I am because we are" as the sole motto for the 2008 NBA Championship winning basketball team, the Jesuit Debate coaches, Dr. Tracy McFarland and Mr. Dan Lingel, have stressed the phrase "where we go one, we go all," as the critical maxim for the debate team this season.
The steadfast trust and humility present in the 2008 Boston Celtics team truly parallels the teamwork, mutual harmony, and movement towards a common goal present in the unified debate team this year. Coming off a historic closeout of the TFA State Tournament this past March, Ryan Gorman, a senior debater, underscores the necessity of this unbridled teamwork: "Ultimately, faith and trust in each other's abilities as debaters and researchers allowed us to reach our full potential as a squad and will propel us into this season if these values are perpetuated."
This year's topic for debate focuses on the military aspect of United States foreign policy: The United States federal government should substantially reduce its military/police presence from Japan, Kuwait, Turkey, Afghanistan, or Iraq. Unlike the past two domestic topics, this year's debate resolution gives debaters the opportunity to learn about different international actors and relationships between countries. Dr. McFarland explains: "This debate topic is one of the best we have had in my time associated with Jesuit debate—we will be debating about US troops withdrawal from a variety of countries, including Iraq, Afghanistan, Kuwait, South Korea, Turkey and Japan.  We look forward to using great resources, including people like Mr. Fred Donahue, to help generate innovative arguments."
This past summer, Jesuit debaters had the opportunity to stay at college campuses all over the country for workshops. Whether attending Dartmouth in New Hampshire, UNT in Denton, Stanford in California, or Northwestern in Chicago, debaters sacrificed four weeks of their vacation towards intense preparation. Debate camp provides an indispensable benefit for debaters who are striving to fine-tune their skills and expose themselves to the competitive landscape across the country. According to Tanner Davis, a rising sophomore on the debate team: "Camp was an opportunity not only to improve my skills as a debater, but also to help me develop my own specific style of debating." The multi-faceted benefits of summer workshop also transcend debate, for Ryan Gorman explains, "Dartmouth gave me a little taste of the college life, and workshop helped me simulate some of the college experiences I will undergo as a student."
Deemed operation "Hornet's Nest" because of this year's military topic and Greenhill's mascot, the Greenhill debate tournament on September 11 signals the first national tournament of the year and a fresh start to the debate season. Drawing in 201 debaters from across the country, this tournament is one of the largest and most competitive national tournaments of the year. Fortunately, seniors Ryan Gorman and Sullivan McCormick were invited to the Greenhill Round Robin, a mini-tournament that features sixteen handpicked schools from across the country. The round robin will begin on Friday, a day before the actual national tournament at the school.  Andrew Miller, another rising senior debater, noted that "Getting accepted to the round robin was a huge accomplishment for Sullivan and Ryan, and it is a reflection of their hard work and determination."
Although the bar is set high for Jesuit debaters, McFarland insists that
"Our biggest goal for the year is for the debaters to have fun [and] get lots of opportunities to continue building their Jesuit debate careers. Although debaters debate in pairs in competitions, the Jesuit Debate Team has their own version of Men for Others—'where we go one, we go all'.  It takes commitment from all varsity debaters to make sure that the teams competing on any given weekend are prepared for their potential opponents.  Each individual debater is responsible for helping create arguments that could mean the difference between winning a round or a tournament and not." Doc Rivers' favorite phrase, "I am because we are," highlights the idea that, although individual parts may possess talents and instrumental roles, only when these parts come together as one can their full potential come to fruition. Likewise, this sense of community will be the deciding factor in the success of the debate team this year. With a little teamwork, strategic thinking, and determination, the Jesuit debate team will look to recreate another State Tournament championship and excel in all aspects of debate.