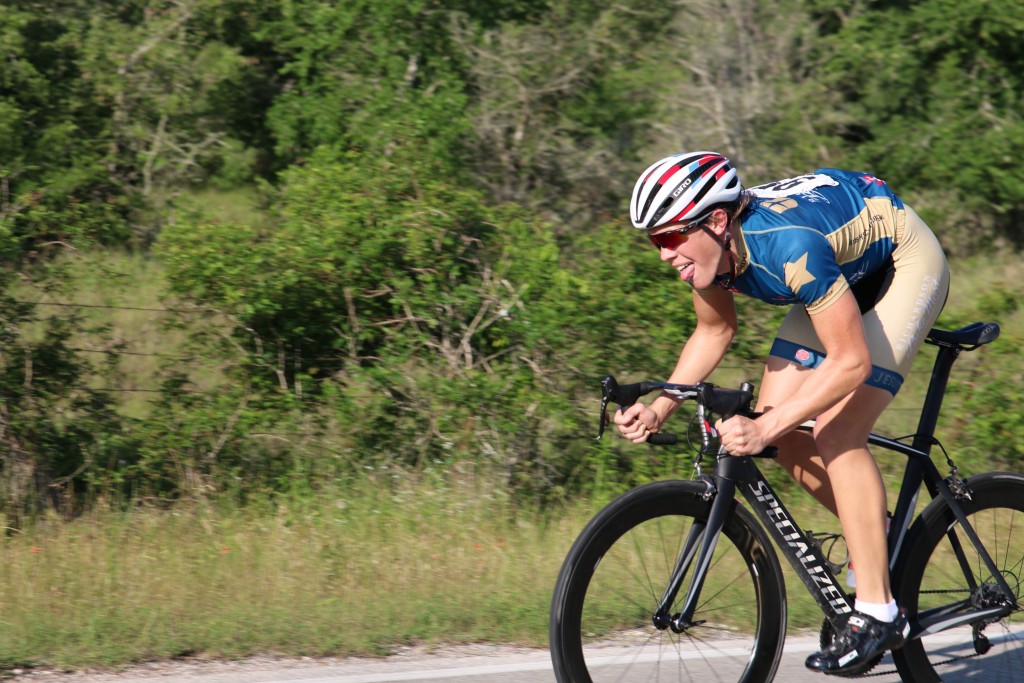 "Cycing is like cross country mixed with NASCAR. You've got people putting 110% effort for hours on end riding bikes that cost thousands of dollars. It's amazing!"

-A Very Excited Cedar Hill Race Festival Attendee
This passion and enthusiasm is shared by the entire Jesuit Cycling team, who has competed in two races so far this year. The Jesuit Cycling team fought hard in the Cedar Hill Race Festival on February 4th. The race this year was put on and run by Jesuit's very own Andrew Armstrong '01, who coaches Jesuit's Cycling team and also runs the entire Texas High School Cycling League.
Each season, the Jesuit Cycling Team races in and volunteers at the Cedar Hill Race Festival to help fund the cycling team and league and also get a look at their competition before the season officially starts. The scholastic race is considered a "pre-season" race by Armstrong and instead of splitting the racers into the traditional novice, JV, and varsity categories, the race is a "scholastic open," where all levels of high school riders race one another regardless of category, Armstrong explained. A scholastic open allows first year cyclists like Daniel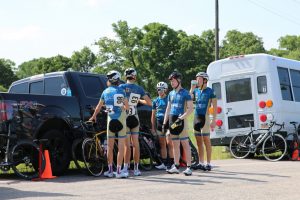 Rankin '20 to battle it out against veteran cyclists like senior Jake Ingram, allowing freshmen to test their mettle against the toughest competition there is. However, departing from tradition, Coach Armstrong permitted seniors Jake Ingram, Thomas Whitaker, and Evan Bausbacher to forgo the scholastic road race and instead cheer from the roadside, saving their energy for the amateur category races later in the afternoon. Also tragically depleting the Jesuit Team's rider pool, varsity cyclist Kolbe Surran '18 came down with a terrible bout of the flu and had to withdraw from the race, his sickness keeping him off the bike for 3 weeks. So the Jesuit squad consisted solely of sub-varsity racers, an unusual occurrence for the traditionally dominant school team.
Noah Holben '19 was the favorite from Jesuit to win the race, with his hard work and sweat seen in practices by coaches Armstrong, Desormeaux, and Hodges. Along with Holben, sophomores Ethan Gan-Dy, Colton Campo, Buck Popolo, and Benji Salazar were there for support and to help execute "team tactics" to assist Noah in his fight for the win.
The race was 8 laps of a 2 mile circuit with one gigantic hill halfway through, daunting the young cyclists. The race began and as the riders went up the hill for the first time, weaker racers were "shelled" off of the main peloton according to Holben, who remained with the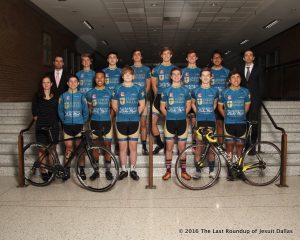 main group. Once the field was thinned out from 23 to about 8, Holben began to position himself on the final lap for the sprint, putting himself in the best position to outduel his competitors. Coming across the finish line, Mauricio Garcia from Sun & Ski Sports racing earned first, beating out Henry Ballard who got second, leaving third place for Noah Holben. The rest of the results are as follows:
1 MAURICIO GARCIA Merritt Hawkins Healthcare / Sun & Ski Cycle Team
2 HENRY BALLARD Zyvex Labs Racing Team
3 NOAH HOLBEN Jesuit College Prep. Cycling Team
4 PRESTON BUELL Merritt Hawkins Healthcare / Sun & Ski Cycle Team
5 MATTHEW BELTRAN Play-Tri Cycling Club
6 REID HUTCHINS Unaffiliated
7 DEVIN WILLIAMS Unaffiliated
8 JACK DUKE Bishop Lynch Cycling Team
9 JOSEPH DAHLQUISTBAUER Paragon Training Team
10 ULRIKA BRAMEUS Play-Tri Cycling Club
11 BUCK POPOLO Jesuit College Prep. Cycling Team
12 MAXIMILIANO ALVAREZ Unaffiliated
13 MADELINE KENNEDY Play-Tri Cycling Club
14 BENJIE SALAZAR Jesuit College Prep. Cycling Team
15 CEDAR MAXWELL Bishop Lynch Cycling Team
16 COLTON CAMPO Jesuit College Prep. Cycling Team
17 EMILIO SANCHEZ Jesuit College Prep. Cycling Team
18 MATHIOS MEKBEB-GILLETT Jesuit College Prep. Cycling Team
19 ETHAN GAN-DY Jesuit College Prep. Cycling Team
20 SHEA BRASHER Play-Tri Cycling Club
Jesuit had a great first race of the season on Saturday at Cedar Hill and looks to continue that success with races like Cedar Hill Sunday, the Jesuit Ranger Roundup, and Texas A&M race weekend. Stay tuned to the Roundup for more coverage of the Jesuit Cycling Team!
To look at the article covering Jesuit Cycling at Cedar Hill Day #2, click here:
https://jesuitroundup.org/sports/jesuit-cycling-continues-to-show-strength-in-cedar-hill-day-2/