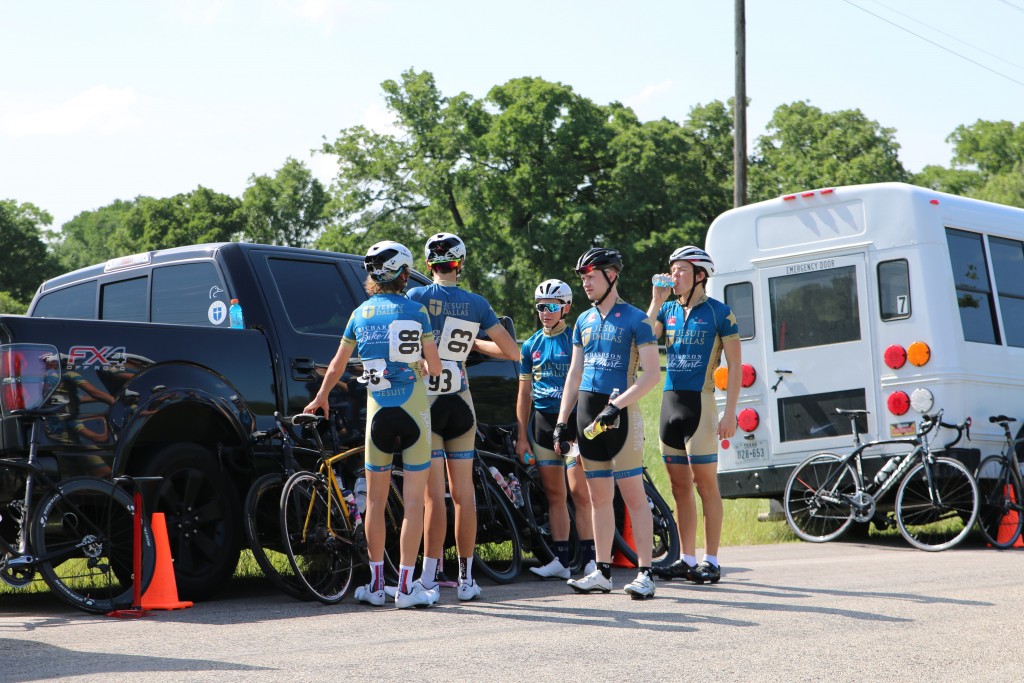 With tumbleweeds rolling across the smooth, black asphalt road, the scene looked like that of a western movie. Modern cowboys straddled their steeds on the start line, racers wearing protective helmets upon carbon fiber stallions. Celina, Texas is the perfect place for the western showdown that was to take place, with Jesuit athletes looking to win with grit and determination. On Sunday March 26, the Jesuit Cycling Team hosted and raced in the Jesuit Ranger Roundup, a bike race in Celina, Texas.
After their trial at Cedar Hill, the Jesuit Cycling Team rested and recovered, preparing for their next big race: The Jesuit Ranger Roundup. Although sharing a name with our very own publication, this race and The Roundup, are not officially affiliated as of yet, but coach Armstrong certainly would not mind adding another sponsor to the event. The Jesuit Ranger Roundup takes place in Celina, Texas, starting from Celina High School and doing a ten mile circuit for the course. Traditionally marred by cruel crosswinds, the course suits itself to the "strong men" or "thick boys" of cycling as senior Evan Bausbacher calls them. These are the taller cyclists with more weight and leg muscle to power through the whipping winds of north Texas. With seniors Evan Bausbacher and Jake Ingram preparing for one of the biggest national races of the year, Joe Martin Stage Race, Armstrong elected not to run a varsity road race for that reason and for the fact that no non-Jesuit racer signed up for the race, possibly because they were scared of Bausbacher's fearsome "second-kick" that almost always assures his win in the sprint. Without a varsity race, he allowed senior Tom Whitaker to race the category 3 road race instead and bumped Kolbe Surran '18 down to JV to increase Jesuit's edge in that field. Sophomores Cristobal de Oyarzabal Barba and Noah Holben raced JV as well to assist Surran in his goal to win. JV raced around the course 3 times, totalling 36 miles, whereas novice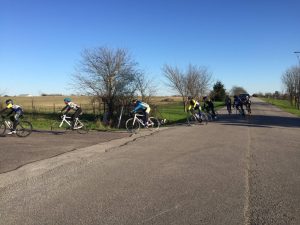 racers only completed 2 laps amassing 24 miles. Tragically, Noah Holben got a flat tire about two miles into the race and had to stop to repair it, falling off the back of the pack and never reaching the field again. Shortly after Holben fell off, de Oyarzobal Barba joined his sophomore compatriot in the grupetto to help him get back to the field, an effort that would prove futile. Jesuit's only hope for a podium spot, Surran acted as a work-horse for the peloton, pulling them around the windy, hilly course, exerting energy throughout the race. Still feeling confident coming up to the finish line, Surran said, "I felt that even though I was tired, I could out-sprint both of them [Brett Ross and Beckett Tooley]. Brett didn't pull too much, but I could tell he was hurting, and Beckett stood about 6 inches shorter and 50 or 60 pounds lighter than me, so I thought I had it in the bag." Sadly, Surran did not have it in the bag as he got 3rd behind both Brett and Beckett, who conserved their energy to surpass Kolbe, who had pulled them around for 36 miles. The rest of the results are as follows:
1 Brett Ross Rockwall Racing Squad
2 Beckett Tooley Unaffiliated
3 Kolbe Surran Jesuit College Prep. Cycling Team
4 Jack Duke Bishop Lynch Cycling Team
5 David Rasmussen Unaffiliated
6 Ryan Terry Richardson Bike Mart/Matrix Racing Team
7 Matthew Beltran Unaffiliated
8 Noah Holben  Jesuit College Prep. Cycling Team
9 Asher Lauderdale Unaffiliated
10 Cristobal de Oyarzabal Barba Jesuit College Prep. Cycling Team
The shorter novice race contained slightly less drama with Jesuit accounting for two thirds of the racers. With this resounding majority, a win seemed inevitable. Novice races are usually proving grounds for the young riders so they can show the coaches how their blood, sweat, and tears have improved their strength. Novice races usually get spread out and split up, not usually sticking together in a peloton like the higher level races. Novice races are usually won by the strongest rider, favoring strength over tactics. The novice race results are as follows:
1 Buck Popolo Jesuit College Prep. Cycling Team
2 Colton Campo Jesuit College Prep. Cycling Team
3 Ethan Gan-Dy Jesuit College Prep. Cycling Team
4 Cedar Maxwell Bishop Lynch Cycling Team
5 Emilio Sánchez Jesuit College Prep. Cycling Team
6 Benjamin A Salazar Jesuit College Prep. Cycling Team
7 Charles Kappaz Crest/RBM Racing Squad
8 Nicholas Bennett Unaffiliated
9 Mathios Mekbeb-Gillett Jesuit College Prep. Cycling Team
All in all, Jesuit Cycling is off to a great year and is looking to close out the season strong at major races like Texas A&M race weekend and Houston Grand Crit. Stay tuned to the Roundup for more coverage of Jesuit Cycling's season!