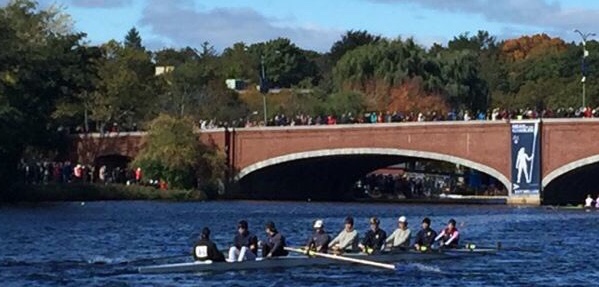 On October 21st, the Jesuit Dallas Varsity 8 Crew barreled down the 3-mile course on the Charles River in Cambridge, Massachusetts. With multiple harrowing bends and an upstream course, this prestigious race provides challenges to all competitors. Thousands of spectators viewed the Head of the Charles, one of the largest regattas in the world and where over 11,000 rowers compete in 55 different race events, as it celebrated its 54th anniversary. 
The competition at this notable race is challenging as formidable teams, such as Sarasota, the National Youth 8 Champions, compete in the Head of the Charles. The Jesuit Varsity 8 boat placed 30th out of 85 boats, significantly improving their rank from last year, where the Varsity 8 placed 35th out of 85. The Jesuit Dallas Varsity 8 defeated many notable teams, including Belen Jesuit and La Salle. While they may have finished in the top 30, the team looks forward to improving their performance in the forthcoming races.

One of the senior rowers, Jeremy McClure '19, said that "we had a good race. We need to improve on our handling technique, but overall our season looks promising."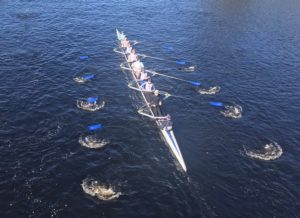 Varsity rower Matthew Sorenson '20 said that "the Varsity 8 performed decently in the race and overall our place was not too bad. We have definitely improved since last year. However, during the race, we could have been a little more adaptable with our technique and our race plan. This would have allowed us to have a much better race and a higher placement. Overall, the boat maintained a constant pressure during the race, no one ever gave up, and we kept on fighting until the end."
Upcoming Events
Following The Head of the Charles is the Head of the Hooch, the last fall race of the season, which took place on November 3-4. Winter season follows, where the team spends most of their time indoors on rowing machines, or ergs, to prepare for the Southwest Ergometer Amateur Tournament (S.W.E.A.T) in February.
Follow The Roundup for more updates on Crew and other sports news.