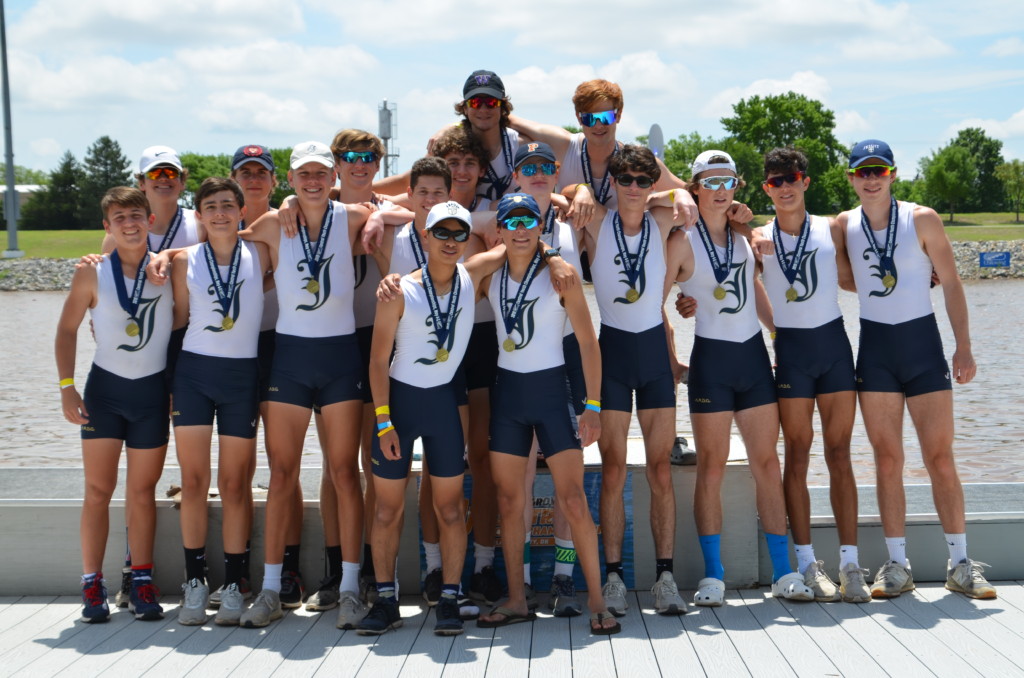 Jesuit Crew learned many valuable lessons and earned victories throughout the spring season. The impressive team excelled at Regionals, placing first in all their varsity events. Dominating the region, the Jesuit Crew team was invited to the 25th annual Youth Nationals for three events: Varsity 4+, Varsity Lightweight 4+, and the Varsity 8+. The USRowing Youth Nationals has the top 150 teams in the nation compete for national championships in 18 different events. The Rangers traveled to Sarasota in hopes for their first national title.
Varsity 4+
The Varsity Four finished second in their final after placing first in regionals with the time of 7:09.80. Narrowly losing to first place by 1.8 seconds, the Varsity Four produced an impressive time of 6:56.270. Coxswain Maxwell Zirkman '20 and rowers Ryan Boyle '20, Roman Cave '20, Matt Harkness '19, and Kevin O'Sullivan '21 led the boat to 20th place.
Varsity Lightweight 4+
After placing first at Regionals with the time of 7:19.298, the Varsity Lightweight Four continued to improve with their fastest time at Nationals being 7:03.695. Coxswain Connor Menke '21 and rowers Collin Landry '20, Sam Humphrey '20, Nathan Spencer '21, Aidan Gannon '21, and Austin Kayanan '21 led their boat to 24th place in the nation.
Varsity 8+
The crew defeated their rival Dallas United (DUC) by over 10 seconds at Regionals. The Jesuit Varsity Eight continued to impress with the fastest Jesuit Crew Nationals time to date at 6:00.283. The Varsity 8+ improved their ranking from last year as coxswain Maxwell Zirkman '20 and rowers Colton Sochia '19, Matteus Schmidt '20, Matthew Sorensen '20, Robby Freimuth '19, Michael Curry '20, Ben Graass '20, Jeremy McClure '19, and Luke Songy '19 led their boat to 16th place in the nation. The Rangers beat many notable teams, such as Gonzaga, Oakland Strokes, and DUC.
Summer Rowing
Pleased but not complacent, Collin Landry '19 said, "Although we won our region, we want to achieve much more. Collectively as a team, we have decided to work harder over the summer so we can perform better. We plan to win our events at Stotesbury next year and race for a medal in the Grand Final at Nationals." Between lifting and rowing around 10-20 thousand meters per day, every rower has shown significant improvements in both speed and strength. The Jesuit Crew team has four races over the fall season, including the prestigious Head of the Charles regatta.
Check back to The Roundup for more updates on Jesuit Crew news!