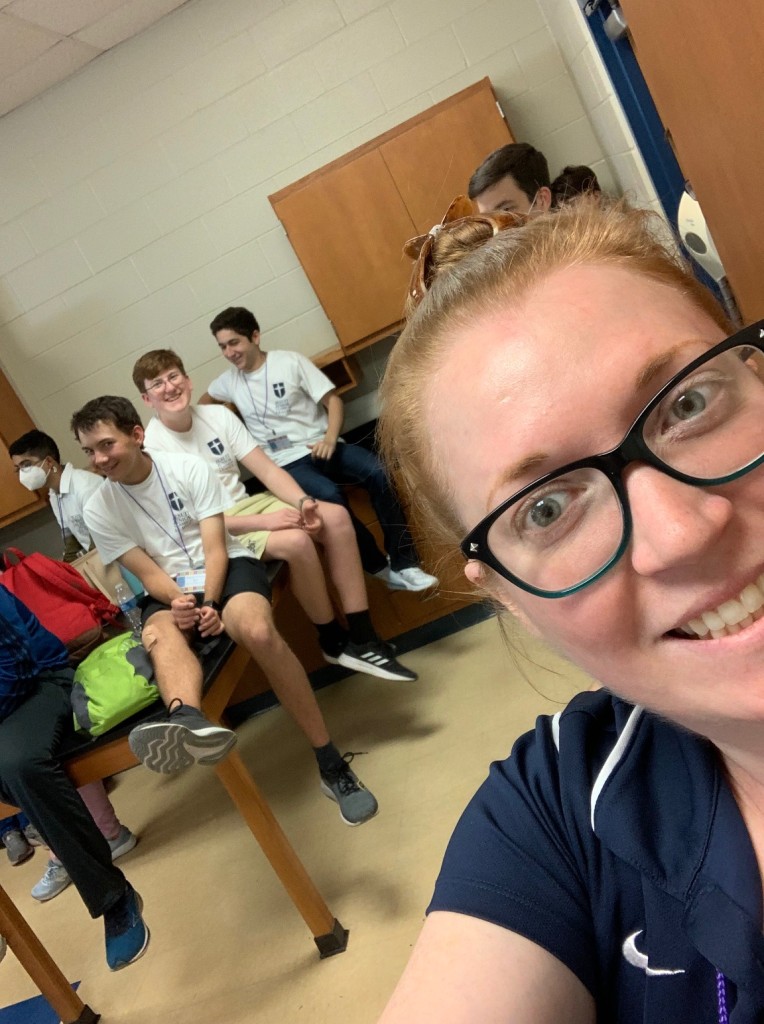 Last weekend, on April 8th and 9th, Jesuit students went to compete at the TSJCL state competition at Alamo Heights High School in San Antonio, Texas. Jesuit brought twenty students to the competition this year where approximately 1100 students competed from schools around Texas. Overall, the students had a great time competing and socializing with students across the state.

Competition Statistics:
The whole Jesuit team placed 10th in the purple division school sweepstakes. Thirteen students placed in the Pentathlon and five got ribbons from other competitions. Additionally, the Pentathlon is a series of different tests that is graded to get a certain placement instead of ranking each student from each other. Freshman Michael Hasenfratz and Ryan Zito placed the highest out of all Jesuit students, both getting second place. Michael got second in the pentathlon, and Ryan got second in Greek Mythology. Ryan got the highest placement for Greek Mythology at State that Jesuit has ever seen, before was fourth place. Finally, both of them studied hard regularly and worked hard to get their placement.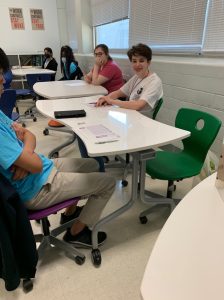 Results:
2nd Michael Hasenfratz Academic Pentathlon Latin 1
2nd Ryan Zito Academic – Mythology Latin 1
3rd Jackson Schutze Academic Pentathlon Latin 2
3rd Royce Szarzynski Academic Pentathlon Latin 1
3rd Royce Szarzynski Academic – Greek History Latin 1
3rd Benjamin Woodard Academic – Greek Life & Literature Latin 1
3rd Miguel Mancilla Academic Pentathlon Latin 1
3rd Ryan Zito Academic Pentathlon Latin 1
4th John Fowler Academic Pentathlon Latin 2
4th Jose Alvarado Academic Pentathlon Latin 3
4th Thomas Bearden Academic Pentathlon Latin 1
4th Flyn Hughes Academic Pentathlon Latin 1
4th Gregory Kimatian Academic Pentathlon Latin 1
4th Lucian Matula Academic Pentathlon Latin 1
4th Thomas Westerman Academic Pentathlon Latin 1
4th Benjamin Woodard Academic Pentathlon Latin 1
5th Michael Hasenfratz Academic – Latin Reading Comprehension Latin 1
5th Charles Odegard Academic – Latin Literature Latin 1
7th Ethan Talatala Vocal Solo – Alto/Bass Latin 2
7th Andrew Leon Academic – Greek Derivatives Latin 1
8th Flyn Hughes Academic – Classical Art Latin 1
9th Giani Batalha Academic – Ancient Geography Latin 1
9th Sam Carley Academic – Academic Decathlon Latin 1
9th Lucian Matula Academic – Latin Grammar Latin 1
9th Lucian Matula Academic – Latin Sight Recitation Latin 1
10th Gregory Kimatian Academic – Roman Life Latin 1
10th Miguel Mancilla Academic – Latin Mottoes & Abbrev. Latin 1
Jesuit College Preparatory – 10th Place Sweepstakes at JCL State – Purple Division
Each student who won 1st-5th place awards contributed to our points total
Other Activities at JCL: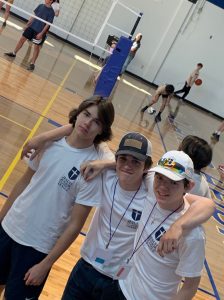 As the academic competitions were an important part to JCL, it only took a small part out of the event-packed two days. Some of the activities included volleyball, basketball, JCL voting, video games, educational seminars, scavenger hunts, community service, and more. Jesuit had a basketball and volleyball team who competed in the competitions, and did well, but lost early on. Two delegates from Jesuit were chosen to vote for upcoming JCL officers for the next year. Ms. Jones said, "Future JCL leaders to watch: Andrew Leon ('25) and Ben Woodard ('25) were very active in selecting next year's JCL State student officers." Also, the educational seminars had some really interesting speakers, one of them was an ancient archeologist, who is working on a program to fix problems that will come up in the future for Texas like the water situation and overpopulation. Lastly, Jesuit students enjoyed hanging around the large Alamo Heights campus meeting new people and discovering different things to do.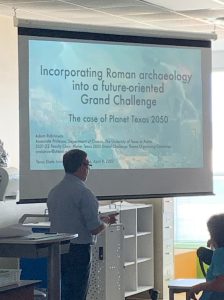 Student Interviews:
Jose Alvarado ('23) said, "Going to state was something I have never experienced. I am glad I was able to help with the first in person state. Everyone who went had a good time and enjoyed being there with their friend[s], and for that I am happy."
Thomas Westerman ('25)  said, "I would say it was a great experience that helped me build friendships with a lot of students and something all latin students should do. It also helped immerse me in ancient cultures and learn new facts about Roman and Greek culture."
Jackson Schutze ('24) said, "I thought it was a really enjoyable experience, being able to see other students from other schools and being able to relate by our shared compassion for Latin really created a fun and open atmosphere. It also gave me a chance to talk to some really interesting people that I would have never have met otherwise."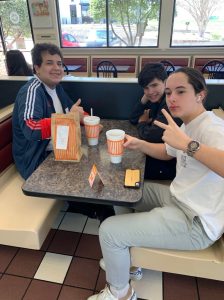 Conclusion:
To conclude, everyone who went to JCL had a great time at JCL, and there was never a dull moment during the two days we were in San Antonio. All of the students who are thinking about going to nationals over the summer are extremely excited, and are ready to study more. I would like to give a special thanks to Ms. Jones, Ms. Druebert, Mr. Erickson, and Mr. Pointer who all made the trip possible by chaperoning. Lastly, if you read this article, take Latin, and are not part of JCL, JOIN NOW!