This week, amidst the fervor of semester finals, graduation, and another round of construction, a giant leaves Jesuit College Preparatory School. Reverend Philip S. Postell, S.J., will be leaving the Jesuit community this week after 19 illustrious years as the widely loved president of Jesuit Dallas; Father Postell will join the team at Brophy College Preparatory School in Phoenix, Arizona next year.
The editorial staff of Jesuit's The Roundup would like to offer Father Postell, a mentor, friend, confidant, and inspiration to thousands of young men over two decades, a sincere thank you for his years of service to the Jesuit Dallas community.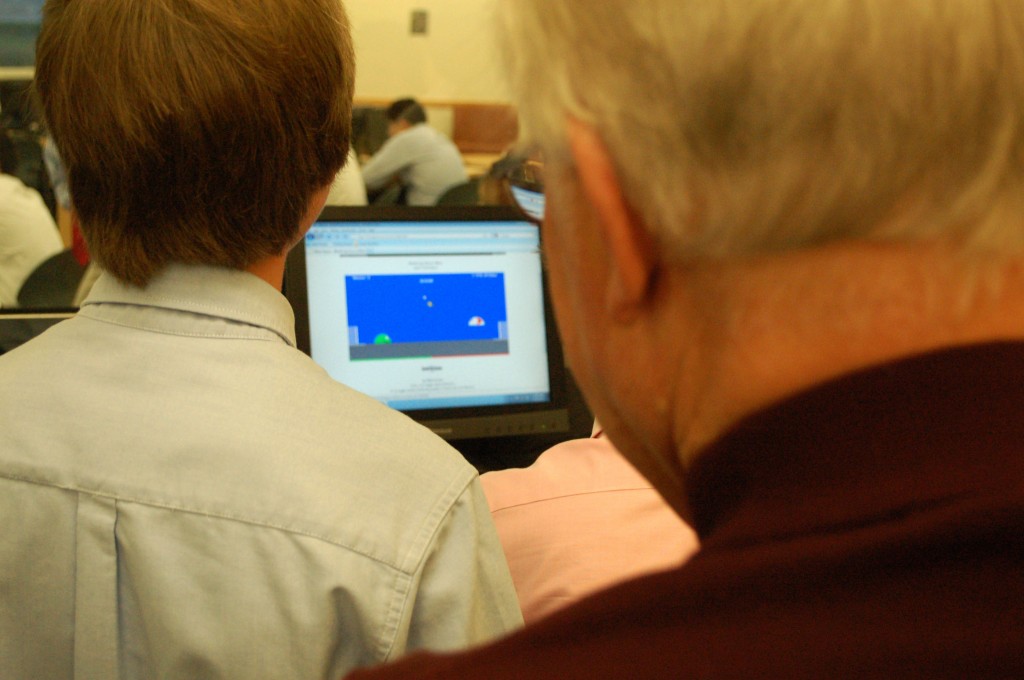 In 1956, 19-year-old Phil Postell, a Louisiana native and the former student body president of Jesuit New Orleans, entered the Society of Jesus and set out on a fourteen year journey to become a Jesuit. "I always heard my parents speak well of the priests and the nuns," Postell remarked. "Deep down I saw [the Jesuit priests] as being totally available for the parish or for the kids at the school. The priests and Jesuits I saw around me influenced me to be a Jesuit priest." Father Postell went on to earn degrees in theology and philosophy before becoming ordained a Jesuit priest in 1970.
Father Postell's path to becoming president of Jesuit Dallas brought him to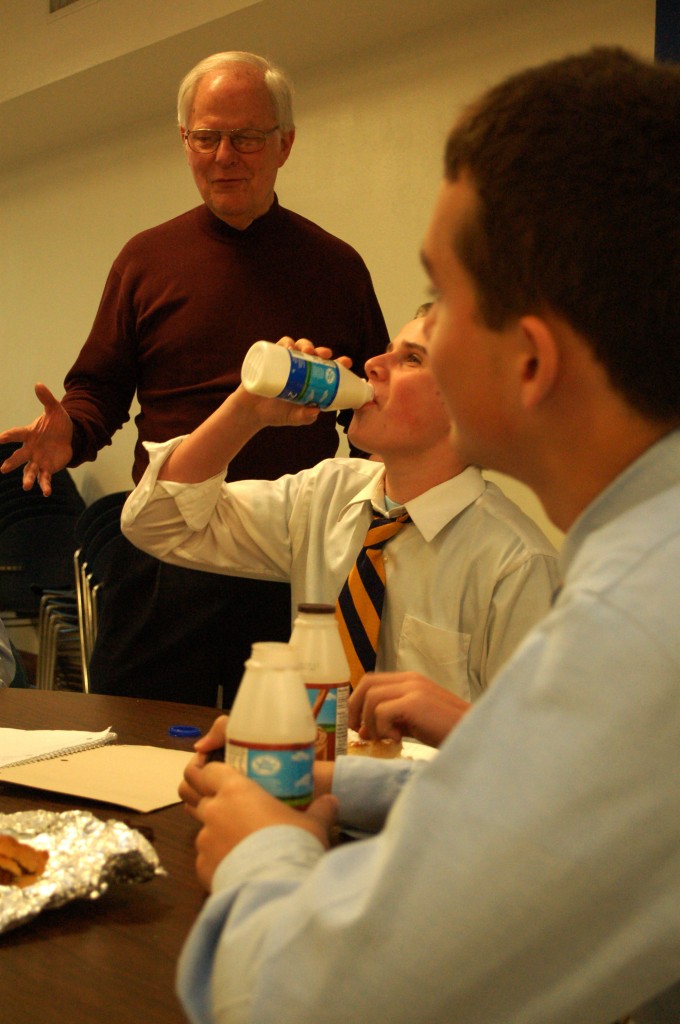 all corners of the New Orleans province. He began his Jesuit career at Strake Jesuit in Houston before spending nine years recruiting young Jesuits in the province headquarters in New Orleans. Father Postell proceeded to take over as president of his alma mater Jesuit New Orleans, staying at the helm for six years before getting the call to assume his current role as president of Jesuit Dallas.
In 1992, Father Postell was relocated to Jesuit College Preparatory School in Dallas, a school at which he hadn't previously served. "I wanted to go to Dallas because it was a young school, just taking off, and we could really do things." And, as the saying goes, the rest is history. In his nineteen years as president of the growing institution, Father Postell has left an indelible mark on the Jesuit community and brought about lasting, positive change for the community. Under Father Postell's watch, the school has seen its enrollment grow by nearly 50% and its student aid triple.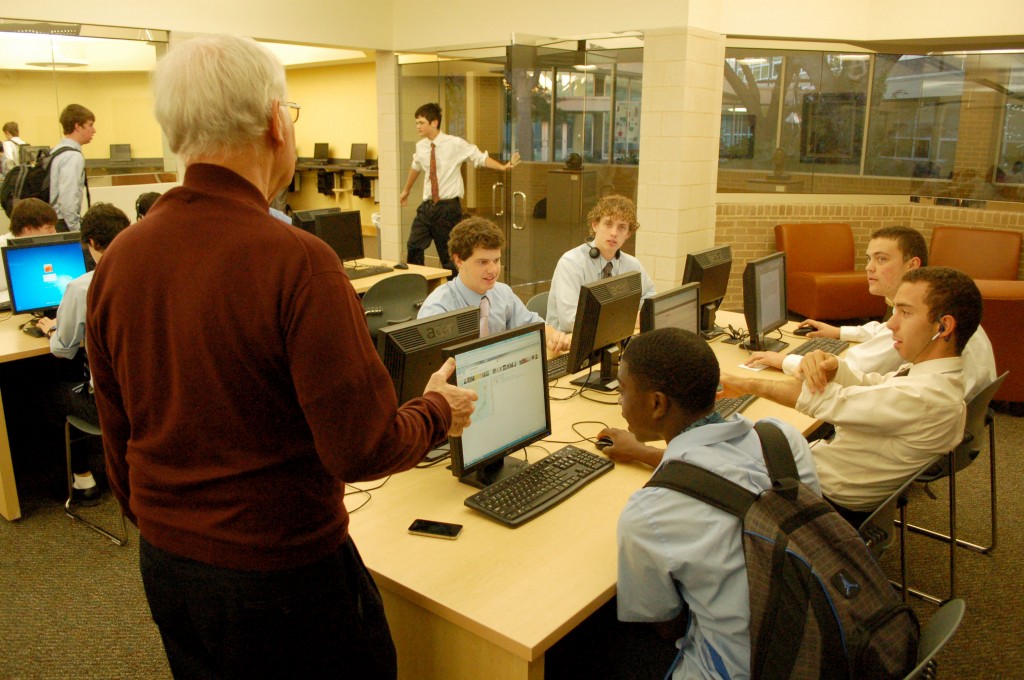 He has kept a sense of continuity in the school during never ending construction and left Jesuit with pristine facilities that include a new football stadium, a student amphitheater, and state of the art science labs. He calmly piloted Jesuit through the long litigation process to gain admittance into the University Interscholastic League (UIL), and has watched his students grab dozens of city, state, and national championships. Most of all, Father Postell has strengthened the community at Jesuit by creating a family of loving parents and dedicated teachers and equipping students to handle the challenges that lie beyond 12345 Inwood Rd.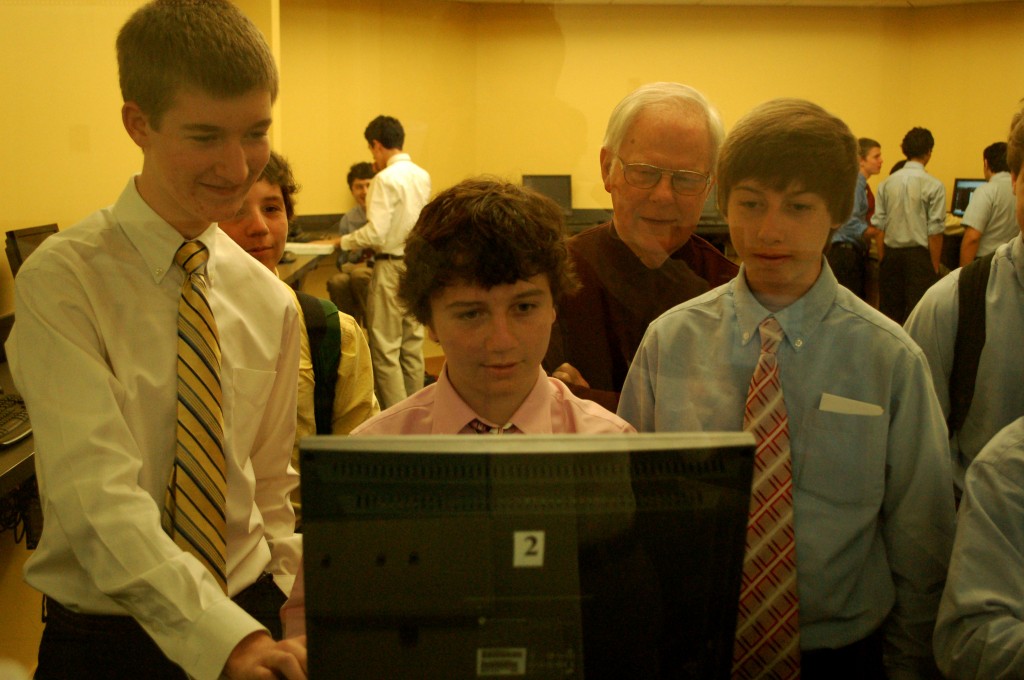 Juniors Clark Durham and Jordan Tranchina had the chance to interview Father Postell about his life and time as president of Jesuit College Preparatory School of Dallas. Below is the transcript of the hour long interview that took place Monday, May 16, 2011.
CLARK DURHAM: As you know, if you were to leave the priesthood today, upwards of four dozen women would leave their husbands to try to get a date with you. Have you always been such a personable, charismatic person?
FATHER POSTELL: As a matter of fact, when I was in elementary school I considered myself very shy. One of the things my Jesuit high school education and my Jesuit education did was give me a chance to stand up in front of a group and speak. You know I tell this story very often: the primary fear of most adults is speaking in public, outside of cancer. Well, when I was in high school I was forced not only to do public speaking but in my senior year we had a gruff old math teacher who was fifteen minutes late [to class] -every morning. He told me as the class president, "You have to run a class meeting every morning." By the time I got to college I could have done anything. I had the normal public speaking opportunities in college, which wasn't much; when I became a Jesuit scholastic, like we have four Jesuit misters here right now, I taught five or six times a day. By the time I got to the seminary I was so equipped to speaking in public that even my first mass was never really an obstacle. But you gotta work on it, you gotta shake the hands.
DURHAM: Who influenced you the most to take up a life for Christ?
POSTELL: That's a very big question, life for Christ [laughs]. I feel a little egotistical to say that's what I'm doing right now. But, who influenced me to be a Jesuit priest, let's say? I always heard my parents speak well of the priests and the nuns. They never allowed the criticisms, maybe justifiable, I hear today. Deep down I saw them as being totally available for the parish or for the kids at the school, and I guess that went into my subconscious, but not my conscious, because I never wanted to do anything in the priesthood. But in time, when I had to make a selection, I looked around and thought, my God, out of 150 boys [in my graduating class] there is nobody to join the priesthood, so what the heck is the future of the church going to be? So what was my example? The priests and the Jesuits I saw around me.
DURHAM: When did you have the calling to become a Jesuit priest, when did you feel this is what I want to do with my life?
POSTELL: This morning at quarter to six when the alarm went off and I got up [laughs]. I love these guys who say they were driving in the car one day or walking and this realization of a vision came to them in the form of a trinity. I hate to disabuse you guys of any romantic notion but I never had any vision. Maybe it was when my girlfriend told me, "You are so full of it. Why don't you go be a priest?" I never had that invitation directly from God. It was maybe 1000 little reminders; something like you might be able to do that, or gee, we need priest. So I'm sorry to tell you I didn't have that realization; it's as clear to me seven minutes ago as it was seventy years ago. Just about that unromantic, just about that difficult.
DURHAM: Was there anything particularly memorable or transforming about the long initiation process of becoming a Jesuit?
POSTELL: I've grown a lot more green, environmental. Believe it or not the Jesuits did a good job of brainwashing me in service, service to the poor, social issues; I came up in a framework that would be considered liberal today, but over the past twenty years I've gotten to be a lot more environmentally conscious. I look at automobile pollution, I look at smog coming out of factories, I look at pollution of the water. When we build things around here, we always ask the question should we build out of a material more environmentally friendly? We even looked at how we power the plant around here, whether we should go underground or not. We found out we could do it, it would be cheaper. Next time I buy a car I'll really try to get one with good gas mileage; the car I have right now gets 30 miles to the gallon, maybe next time I'll get something in the forty [mpg] range.
DURHAM: In the late eighties and early nineties, was being assigned president of Jesuit Dallas high on your list? Was it something you wanted to do?
POSTELL: I came to Jesuit Dallas in 1992, and for six years before that I had the same job at Jesuit New Orleans. I thought I would be there for ten years, and they weren't lining up to take my place. A lot of young Jesuits really didn't want those kind of jobs, because I was seen as a hand-shaker, a fund-raiser, a guy who drove a big car and roared in to the country club; that's how they saw me. So, the chief called me in and said we have a little trouble in Dallas. I didn't know it at the time but my predecessor was dying and they needed someone to take his place, and they had someone to take my place in New Orleans but they didn't really have anyone in the bullpen up here. I wanted to go to Dallas because it was a young school, just taking off, and we could really do things.
DURHAM: When you came to Jesuit, did any aspect of the school, or the students, or just Dallas in general surprise you?
POSTELL: You might think, to an outsider coming in, that the initial impression would be this is Southwest, Texan, cowboy. But that wasn't my impression. The reason why is when I got here the overwhelming number of parents had moved in to Dallas. Dallas was very cosmopolitan; it wasn't a Fort Worth, it wasn't a stockyard. It was a good mix of everything, the [Dallas-Ft. Worth International] airport was relatively new, and my first two years, the demographics of Dallas changed drastically. American Airlines and JC Penny moved in, and it brought a lot of people from the north and east. In my first few years, we went from getting ninety or one hundred applications per year to well over four hundred, and now we're getting five hundred applicants per year. That wasn't by chance, that was the product of a lot of people moving in. So, my impression of Jesuit Dallas was that in many ways I could be in Cleveland or Indianapolis because it was so cosmopolitan. It leveled off, I might add; a lot of those people who moved in twenty years ago are here to stay.
DURHAM: When you first took over at Jesuit what was the first thing that you changed, what was your first big decision as president?
POSTELL: That presumes that I can talk about it [laughs]. I thought the structure of the board of trustees was something that needed to be revamped; the board needed to be more high-profile. I gave them a lot more say, and that gave me backup in the decisions I made. I thought the board of trustees was, not a paper organization, but I thought they could exercise a lot more power and responsibility, and they are the policy-making body of the school. So, I made sure we had the full compliment of members, and a two to one ratio of laymen to Jesuits. We had a permanent chair, not me, and they began to act as a true board of directors, not just a school board, but a board of directors. And I think that was the beginning of real good service and growth in the school; we became a responsibly run institution. I think we began to hold ourselves accountable to matters of business, faith, and personnel that we had not done up to that time.
DURHAM: As you know, Jesuit's long litigation process to get in to the UIL ruffled a few feathers around the state. How do you answer to those who hold contempt for the way Jesuit did business?
POSTELL: Not too many people like change. They really don't. The good old boys didn't want change, and even some of the old alumni didn't want us to sue because they thought conditions would be worse, and if we lost, the UIL wouldn't even give us a few games. So, people really didn't want this and I got advice saying please, don't make this worse than it already is. I personally thought things couldn't get worse than they were.  We were a big thousand-plus [student] enrollment school, and we were going to Houston, Kansas City, Mexico, Beaumont for games. That to me was second class, and it was horribly expensive. And, by the way, the trustees really supported our attempt to get in to the UIL, and I say that because the lawsuit wasn't the first time we tried to get in. We took a vote of all the superintendents in Texas, and I think the vote came out 1000 to 3 against us. Then, the second time we went to the legislature. Actually, the legislature at the time was creepingly conservative, and we got a little bit of a hearing: it might have been one out of three [legislators voted in favor of Jesuit]. So finally we decided we had nothing to do but sue them. It wasn't like we had an armed guard around school; half the school forgot we were even litigating, since it went for so long. After a while, we thought maybe this will never happen. But it did after an appeals process.
DURHAM: During your time as president, student aid increased exponentially. What has motivated you to expand student aid and open the door to students who otherwise wouldn't be able to go to Jesuit?
POSTELL: The school's bigger, guys. When I got here I think the total student enrollment was 600; enrollment is now over a thousand. That was an exponential gain, to use your word. The percentage of guys receiving student aid stayed the same, and so the number of students receiving aid increased along with enrollment. Secondly, we get interest from the Jesuit endowment, and the endowment has increased. We have hit over $30 million. And that is totally at the hand of financial aid. The foundation did a great job, and the stock market helped so our numbers continued to increase, and we had more money for financial aid. And thirdly, tuition was increasing. When I got here, tuition was around $7,000; now that number's over thirteen thousand, so a lot of families needed a financial boost. I think we've done a good job, finally, at getting the diversity pretty well entrenched in the spirit of the school. I don't know the exact diversity numbers, I don't go around asking "are you a minority?" But you would have to be blind to not see that we are more than just a lily-white school.
DURHAM: Twenty percent of today's Jesuit student body is not Catholic. Do you believe that having a good mix of Catholic and non-Catholic students ultimately improves the student experience?
POSTELL: The board of trustees set a policy that at no time should the ratio drop below 75% Catholic students. Now at the time I thought that's going to be very hard to maintain, but something has happened over the last twenty years. That's because of a two-fold influx of people, people coming from the Northeast which is statistically very Catholic and an influx of immigration from the south. It's become easy for the school to maintain 80% [Catholic in enrollment]. I was president of a school in another city [New Orleans] that was predominantly Catholic, but we would give preference, all things considered, to a Catholic applicant over a non-Catholic applicant. I remember one year we turned down two or three ninetieth percentile students, Protestant kids, because we had Catholic pressure. We don't have quite as much Catholic pressure here. Now, I'm not so sure I would really support, at least philosophically, a 99% Catholic student body. I think you need some diversity in race and intellection, and also in religion. So I think the internourishment of various cultures is a big growth opportunity for the school.
DURHAM:  What do you see as the biggest challenge for Jesuit students today, particularly in keeping up the faith in an increasingly secular world, and how do you think we can overcome the challenges that we face?
POSTELL: I think the Internet is a terrible distraction for kids. On one hand, it makes an unbelievable education opportunity; on the other hand, it has tremendous opportunities for corruption and distraction from what really matters. Sometimes I want to impose prohibition on the Internet [at
Jesuit ]and have, for any high school kid, only one password that allows programs that are acceptable. I think the amount of filth on television is unconscionable, and I think we are undermining the souls and the psyches of our young men and women, and I think that's a major problem. Everybody says drugs and video games are big distractions, but I don't think drugs are really the problem. I think respect for property is a problem, as is racism, but somebody needs to take control of the Internet.
DURHAM: You have touched and inspired so many students, so many kids love you. Why do you take such an active role in student life instead of just being a desk president?
POSTELL: Guys, paperwork is not the attraction you might think. I'm not so sure even at the desk you all are doing things you are really attracted to. I'll take people over paperwork any day. I've got a thousand opportunities out there to be entertained. I can remember when I was your age: we never went up to the priests or to the teachers, I mean it was unheard of. I'd like to think things today have changed a little bit, and even if they haven't I think it's my position to go up and engage ordinary kids. I don't think it's what I know or what I have to say that's important, but the fact that I'm making the gesture to say hello and make an impact. Because I don't remember a thing my priests and teachers [in high school] said to me, I can't remember one statement. But I do remember that they were always around and always acted interested. So that's why I try to be around. And by the way, it's remarkable fun to walk up to a table at lunch and listen to kids when they don't know that I'm listening. That's a real education [laughs].
DURHAM: What do you see as the biggest changes, physically and psychologically, around Jesuit since you became President?
POSTELL: Well, I've heard the phrase over and over again "boys will be boys." I don't really buy that, I honestly don't buy that. My take on the collective psyche at Jesuit is that we're now a lot more insightful, informed, protective than we were twenty years ago; I think most guys in the school are aware of what's going on outside of the school. I think, for instance, when it comes to environmental issues most guys know what green means. I'm not sure that most of the eighteen year olds voted in the mayoral election on Saturday, but if you look at the papers the percentage of adults that voted was very low. I think today's guys know so much more: quantitatively they know more about English, about science, about physics because of the Internet and because of the teaching.
DURHAM: Looking back, what would you say is your biggest accomplishment as president of Jesuit Dallas?
POSTELL: My biggest accomplishment  might be building up a team of faculty and parents who want Jesuit to be a very vibrant institution of Christian education. I never claimed to do it alone, I've never wanted to do it alone, but if I could get thirty or forty dedicated faculty and three hundred parents I think we can conquer the world.  
DURHAM: When I send my sons to Jesuit and they ask me about my time at the school and about Father Postell, what do you want me to say? What do you hope is your legacy at Jesuit?
POSTELL: I would like to be remembered as an older version of Brad Pitt [laughs]. I would think alumni of the future would want to send their kids to Jesuit because it is an institution that exists solely for students. I can't tell you the number of times I would say facetiously to a group of faculty or parents, "What do you think this is, a place for kids? Obviously the school is for us, not for kids, that's why we're making this decision." We make it about the kids because that's what we're here for. I don't care if it's senior rip down the flag day or bring in chickens; the school's for kids. It's not for us. Some of our rules are a little unique; our dress code is unique in this whole city. I defend that by saying, in the long run, [these rules] are better for the formation and the education of young people. I want to be remembered therefore as the president of a school that puts kids first.
DURHAM: How has your time as president of Jesuit changed your beliefs and opinions, or has it?
POSTELL: I believe growth and change can be accomplished, but it has to be done gradually. I like to say this is not my school, it's our school, so let's get some participation. Things can be changed and things can be improved, but the community must be a part of it; otherwise the perception is that decisions are an ego trip for the president.
DURHAM: What is one thing, not necessarily in education and appearance, but in general, what's one thing that has remained constant at Jesuit?
POSTELL: We have a vision. Our vision is based on Jesus Christ and so our education is that of a mission, it's not a job. So that means things are often harder. We have retreats, we have masses, we have prayer services, we have theology classes. But I think that sets the tone of a school like this and separates us from 99% of the schools around the country and even around the world. And the day we let that vision go is the day the institution will fundamentally change. Because that says basically that Jesus Christ died for all of us, and so we are all brothers and sisters. When we lose sight of that we degenerate into the same-old same-old.
DURHAM: One thing that's so special and meaningful about Jesuit is how kids associate and identify with their graduating class. So, I have to ask, how does this year's Jesuit Dallas Class of 2011 compare to your graduating class at Jesuit New Orleans?
POSTELL: When I graduated, my school was in the midst of fighting competition from two new big Catholic high schools, and our enrollment dropped for two or three years. And when we graduated, we didn't think much of our class unity or image or identity. Ironically, fifty-six years after graduating, the guys from my class meet for dinner once a month, and they are so tight. The stories they tell bear absolutely no resemblance to fact, at least not to the school that I attended, but I never correct them. So it's hard to tell. It's hard to tell the identity of a class three days after graduation and forty-three years after graduation. It's like measuring a marriage. Do you measure it four days after the marriage or forty years after the ceremony? But how does my class measure up to this year's class? The class of 2011 puts a lot more effort today in building class solidarity, community days being a big example. So, I think this class, because of some of the opportunities that have been given to it, maybe in forty years they will seem more unified than my class fifty-six years ago. It's hard to tell. I don't see anything wrong with either class.
DURHAM: In a word or short answer, what do you think makes Jesuit special?
POSTELL: It's complicated. We don't compromise. We have a vision, we have academic excellence, we have a huge number of families that go to bat for their kids and who put in the hours and sacrifice. And they don't put the responsibility of educating their sons squarely on the back of the school. You look around Dallas, you see some tony schools where parents pay a fat tuition and expect that the school will raise their kids. Or you look at big public schools where they graduate the kids and they [the graduates] never come back after three years. I taught at a public school when I was much younger, and I would be lucky if, in four classes, I would get three parents to come see me. At Jesuit, the lines outside the teacher doors go on for miles, and that is just great, because our parents really care. So, what makes Jesuit special? We have kids who want to succeed, who want to excel, who want to be great men and serve their community. And we have parents who want to get involved and help us nurture their young men.
Photography by Jack White '13