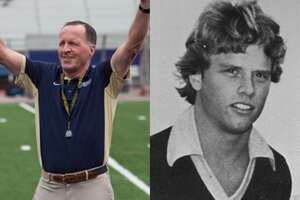 Interview with Charlie DeLong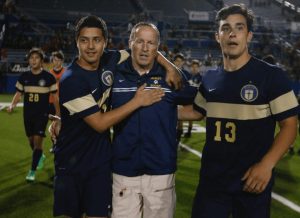 Coaching soccer at Jesuit Dallas since 1981, Charlie DeLong holds over 600 wins, an 87% win percentage, and is a 15-time TCIL State Champion and 2-time UIL State Champion in 2010 and 2017. Coach DeLong emphasizes his unmatched passion, which has supported countless Jesuit prospects, some making it pro. Charlie DeLong was inducted into the Jesuit Dallas Hall of Fame in 2020.
At what age did you start coaching?
I'm gonna say starting either in 1969 or 1970. At that time, I was about 21 or 22.
What is the first club you coached?
The first club I coached was a team called Club America, and it was in the Classic League and all that stuff. So I coached them for about a year or so, and then I went to Houston and played one more season of ball. Then when I came back, I started coaching the Texas Longhorns soccer team, and that was in the early 80s.
Who got you interested in soccer?
Well, when I was in college, I wrestled and stuff like that, and then I stopped doing that. But I had a bunch of different friends. So one day they asked, "Hey, look, we're going to have an intramural soccer team, do you want to play?" I said, "I've never played before." and they said, "Don't matter. Just come and play all right?". Because they're my friends. And from the first five minutes, I was in love with soccer and haven't stopped.
What got you interested in coaching?
I began as a player. I was really into soccer. Then I went to England and Scotland and got some coaching badges because the guy who was my mentor and my college coach saw something in me. So I went and did that. And then there's always youth teams and little kids teams and stuff, and I just enjoyed it. I found it almost as good as playing.
What are some of your favorite Jesuit soccer memories?
Oh, gosh, tons of them. Obviously, one of the biggest ones. Maybe winning the first UIL State Championship, but we've had many big time victories. One time we went 73 games, didn't lose, and then we lost the game, and then we went another 33, 34 games and didn't lose. So that was good. And then a lot of good memories with kids and games and comebacks and winning the first ever Meinster was great. I can't even list them all. I can't remember them all, which is a good thing that I had that many.
Since you started coaching, how would you say the game of soccer has changed?
Oh, gosh, it's played at a much faster pace now. Kids are fitter, kids are more technical, kids are much better coached in club soccer now. Eight, Nine, Ten, Eleven, and Twelve year old kids can play, so the game hasn't changed. It's just gotten faster and more technical.
What is your favorite part about coaching?
To see kids learn to play and appreciate what good soccer is. Yes, I want to see them compete and win, but I want to see if they can play good soccer and do it on a consistent basis and do it at pace.
What do you remember about the 1981 Jesuit soccer team?
Oh gosh, I think we only have maybe a couple of seniors on that team. But the 1980/81 that'd be my first year, all right, we had a good team. We did well. We went to the state Championship, and then we were winning, and then somehow we gave away two or three goals in the second half, and then we lost on penalty kicks. But that was the foundation for the next year's team that won everything.
I believe Adrian Winnubst was on that 1981 team. What do you remember about him?
Adrian was a very skillful player, and he could do it at speed. He had very good skills, very quick feet. I believe that unfortunately for him, he went to Europe with the Longhorn Soccer Club on tour and he got hurt. He hurt his knee and he had to have an operation. Back then they didn't have the refined operations they have now. But before then, that guy was great. He had professional ability and a professional future. Maybe if he wanted to do it, but he could do some stuff.
What are some of your biggest achievements as a coach?
Well, okay. It's easy to look up and say, oh, he won this and he won that and blah, blah, blah, blah. But I'd say the biggest achievement would be, hopefully, in my mind, that kids enjoy playing soccer, enjoy playing at Jesuit, and like it and want their sons to play here and that kind of stuff, that to me would be a bigger achievement than, say, winning a game or a trophy or something like that. Those are nice. There's no doubt. But to give a good experience to a kid, to enlighten them to what the game is and can be and look forward to enjoy it. There's nothing better than that.
Have you coached in the Dallas Cup before?
Yup. Two finals on the same night, won one and lost one.
What do you see in your future at Jesuit?
Not very long. Haha, a short future. Well, hopefully to keep on doing it as long as I enjoy it, the kids enjoy it, the parents enjoy it, the administration enjoys it, whether there's an enjoyment in what the process is and this and that. Once the enjoyment goes out, whether it's me or the kids or the parents or administration, well, then things become difficult and no longer fun. Soccer is a game that should be enjoyed. Yeah, we want to play well. We want to win, but foremost is to enjoy it, the friendships and the practices and the games. So that way as you get down the road in your 20s, 30s or 40s, you're still going to enjoy the game and have appreciation for it. That, to me, is the achievement. So however long that might last one year or five years. Don't know.
Adrian Winnubst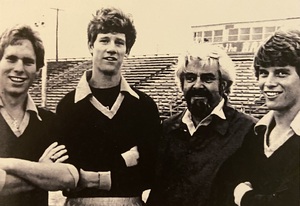 Adrian Winnubst, from the class of 1981, started for soccer for Jesuit Dallas every year of his high-school days, winning the Rangers three consecutive TCIL State Championships. He was awarded a two-time All-American, and a three time All-State and All-District, such recognition granting him a full-ride to Sam Houston State, a team where his legacy continued. In 2012, Adrian Winnubst was inducted to the Jesuit Dallas Hall of Fame.
At what age did you start playing soccer? 
Not as early as they start nowadays. I'm gonna say I was maybe nine or ten before I played on a team. 
Did you play for a club before entering Jesuit? If so, then what club? 
Yeah, I played for the Texas Longhorns club.
Who was your favorite soccer player growing up? Your favorite team? 
Well, my family is all from Holland and I got to see soccer way before your time and I was only like 11 years old. Johan Cruyff, he played for Holland, the national team and he also became famous at Barcelona. Have you heard of him?
[Interviewer Responding]
Yeah, I have heard of him. He invented a move called the Cruyff. 
[Adrian Resumes]
Yeah, I know the move you're talking about. The guy was caught and almost fell over. Yeah he was fantastic and it was amazing, he actually came to America and played. In the NASL for a few games. But yeah, I'd have to say he was my biggest influence, my favorite player as a kid. 
What position did you play? 
I usually played center midfield. 
Did you play other sports while you were at Jesuit? 
No, only soccer. I played all the sports in grade school but switched to only soccer at Jesuit. 
So what is your favorite Jesuit soccer memory? 
Oh, goodness. It was a game against a team from El Paso in the semi finals of the State Tournament. Well, they went up three to nothing in the first half, and it was pouring down rain fall and they were so cocky at halftime, I'll never forget it. Then we stormed back and scored four goals in the second half and made It to the finals, which we won also. 
How has soccer changed from when you played? 
That is a tough one. I mean the size of the players nowadays is just phenomenal. The size and the speed, I think is just a huge difference. The size of all these players, especially the defenders. And I guess even the physical part of it. It's a much more physical game now. I'd say those are the main things that I see a difference in. 
How was your transition from high school soccer to college soccer? 
Yeah, I guess we had a little bit more fun at Jesuit. It was taken pretty seriously. We had a serious program going at the time, so there were a lot of two-a-day workouts. Having to be really in really good shape for a whole season. So yeah, that'll be the biggest difference. 
What would you say your favorite thing about soccer is? 
Well, I always enjoyed that I could play and practice all by myself if I wanted to, or I could just have one other person and we could make goals out of trees or anything, we could play it anywhere at any time, all we needed was a ball and I could do it even by myself in the backyard with the trampoline or the garage door. That was always one of my favorite things about playing soccer. It's very easy to pick up and play anytime I wanted. I even used to play inside the house actually. 
What motivated you to reach and maintain a high level of soccer throughout your years at Jesuit and college? 
I'd have to say my love for the game and it was only fun if I was playing good and so, It motivated me to keep my skills, and practice my skills. That was my biggest motivation, just the love of the game.
Coach Charlie DeLong is my coach now, and he coached you his first year at Jesuit. What do you remember about him? 
He had a great soccer mind. I loved his laid back approach too, I never understood those coaches who get mad all the time. I definitely enjoyed playing for him. I actually played for him on my club team too with the Longhorns for a little bit while I was at Jesuit. 
Did you ever participate in the Dallas Cup with your Longhorns team? 
Yes, I played in the first two Dallas Cups. The first one, the final was at Jesuit I believe. I think it was the very first one when it was just getting off the ground. I mean there were not very many national teams coming, and I think the Longhorns won. And then the next year some teams came from Europe. There was actually a team from England. The Royal Navy. The actual guys in the Navy in England. In the finals to the Royal Navy, they came over here and we played in the finals against them and lost in overtime.
What's your biggest take away from Jesuit? 
My biggest takeaway would be the motto. Caring for others, being a man for other people and not just thinking about yourself. That would be the main thing.
Stay tuned to The Roundup for more soccer news!