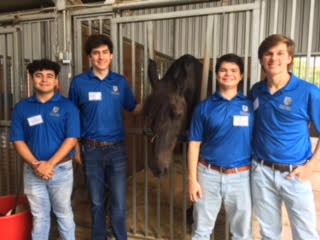 Man has a long and colorful history with horses. Whether used as a means of transportation, exploration, war, agriculture, ranching or just a fun trail ride, we have established a very strong relationship. One that now has evolved into even more profound and meaningful ways in the field of healing. Equine therapy is a relatively new area of humans interacting with horses with some astounding results.
Thirty-seven years ago Susan Schwartz volunteered at an equestrian club where she rode horses. The club began using horses as a part of a physical therapy for kids with cerebral palsy. "We saw such an amazing difference in these kids after they just rode horses for just one day, and I thought what would happen if they rode once a week?" That thought inspired Susan and close friend Evelyn Zembrod to found Equest Therapeutic Horsemanship located at the beautiful Texas Horse Park about 6 miles south of downtown Dallas. Their tagline aptly describes their mission: "Humans. Horses. Hope." They are the first therapeutic riding center in Texas.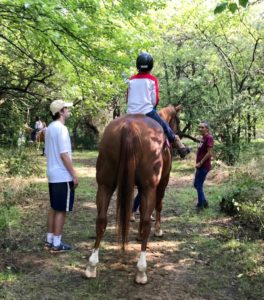 I recently participated in "Snowball Express," a community service project hosted by Equest for kids of "Gold Star families" that have lost a parent in service to our country. It was a unique and heartfelt experience.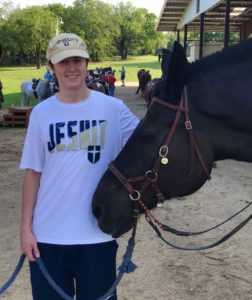 Through therapeutic horsemanship, or "Hippotherapy," led by licensed physical, occupational or speech therapists, riders develop independent skills that carry over to their everyday lives. Equest serves children, as young as two, who might face physical, cognitive, sensory or emotional challenges.  I learned that through a horse's multidimensional movement, a rider's muscles are strengthened as balance and circulation are improved. Additionally, motor skills and sensory input is provided with improved results. The fact that a horse is non-judgemental also fosters a unique bond between the rider and horse. Equest also has a proud relationship with veterans, through Equest's Hooves For Heroes, helping vets who might suffer from traumatic brain injuries, amputations, Post-Traumatic Stress, and anxiety challenges.
Several seniors at Jesuit have participated in volunteering at Equest.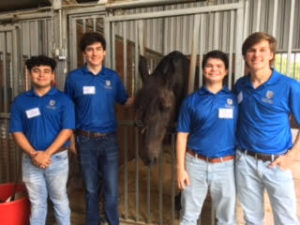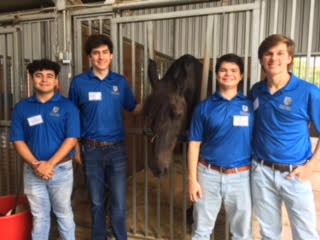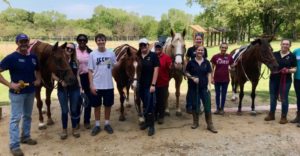 I'd like to make a big shout out to the awesome Equest staff for making my time such a rewarding experience. For more information contact Equest at 972-412-1099 or email equest@equest.org