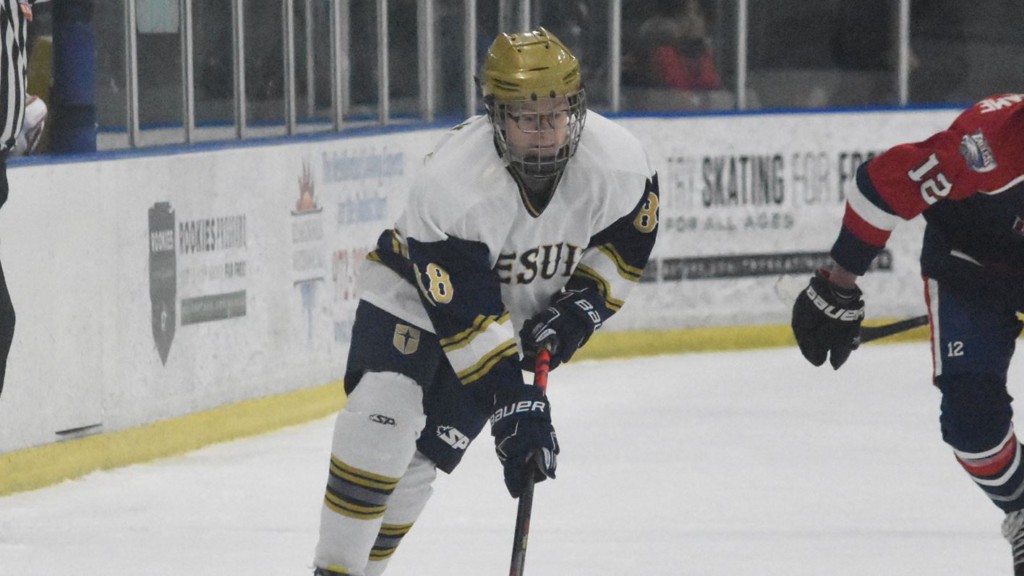 The Jesuit hockey teams had a blast in their 3 games in the Leveling Tournament, as both teams got off to a great start in their preseason tourney. Tournaments like these really help them learn from each other's mistakes without it affecting their record. With this rather promising start, I believe that this will be a good year for the hockey guys for both teams this year.
Varsity Games:
The first game against the Plano West Wolves was rather rusty. While Jesuit was able to start off with a 3-0 lead against Plano West, they almost let the lead slip away. Jesuit was able to grind it out in the end and stop Plano West from executing their 3-0 comeback in the final period. The Plano West game would eventually end with a score of 3-2. Probably one of the most impressive performance from a player in the whole tournament came from William Carney, senior goalie. He was able to muster a tournament high 20 saves. Props to him for that great individual performance. The three goals came from William Sahadevan '23, Charlie McCarthy '24, and Alec Rahlfs '22.
The McKinney game was rather a high scoring yet close game. Jesuit was down 4-3 in the final 20 seconds of the match, but Miles Dikun '21 was able to score a clutch goal that allowed Jesuit to end the game on a high note. Santiago Diaz '22 contributed to this high scoring as he scoring 2 goals for Jesuit. Miles Dikun '21 and Charlie Cohen '22 rounded up the final score sheet with each having one. Carney's backup, Arthur Trapp '22, got some playing action, recording 18 saves in the 4-4 tie.
The last game was certainly what Austin Gass '21, finished with 1 assist after 3 games, considered as "the best all around performance." And I would certainly agree with him. The team only allowed 12 shots and they executed on the 19 shots they had as they score 3 goals. Dikun scored again on this one while Dragogevic and Cohen finished the scoring against Southlake. Carney got the full start again with 11 saves in the game. Jesuit went on to win 3-1 as they were able to finish the tournament 2-0-1.
For the full statistics of the games and players, you can click on this link.
Reflecting on Varsity Play:
In conclusion, Jesuit finished second in the Gold Varsity Division and the team is certainly proud of the direction the team is headed. "Even if we do not have those dominant seniors that we had last year, we have the right tools to win it all at the state tourney, and even nationals if we keep up with the momentum produced from the Leveling Tournament," Josh Reinboldt '21 on the team's performance and future.
This level of confidence coming from a team that lost many of its key players due to graduation is promising and I expect Jesuit to have another top tier finish in the standings and tournaments this year.
Junior Varsity Games:
Junior Varsity did not share the same amount of success as Jesuit Varsity. However, they did have some signs of being a solid team this season.
The first game against Mansfield was a terrible showing. JV lost 3-0, as they simply could not stop Mansfield's aggressive play as they put up 35 shots against Jesuit. To compare, Jesuit only had 15 shots. There was a misconduct penalty in the 2nd period that Jesuit could have executed on but failed to do so. Mansfield only allowed 2 shots in the 2nd period. This was a game to try to forget about but one to try to build off on as well.
Jesuit played better in the second game against Denton County. While they had much less shots on goal as the game before, the defense played better, only allowing 22 shots compared to last game's 35. The game remained scoreless until the 3rd period. Jesuit got their first lead of the tournament with a goal coming from Ryan Engelhardt and the assist coming from Conor Parro, an 8th grader from, coincidentally, my old middle school, Christ the King. Jesuit was up 1-0 until Denton was able to tie it up with 1:16 left in the game. The real heart-breaker was when Denton scored again in the final 25 seconds. Jesuit had this game in their grasp, but they just could not hold on.
The final game Jesuit played was certainly their best like the varsity team. It was truly satisfying to see Allen lose and not clinch the first place tie with a 3-0-0 record. While this game seems similar to the Mansfield game in terms of total shots for both teams, Jesuit having 11 and Allen having 34, this game had way less penalties against Jesuit. Allen, on the other hand, had a total of 5 penalties, one of the reasons why they lost. Another reason why Allen lost was because of the perfect game goalie Andrew Zang '23 had, even with 34 shots at him. He was also a new starter subbing in for Jayson Hess '23 for that 3rd game. The only goal in the game came from Tristian Walthall '23 and the assist came from Travis Hogan as Jesuit was able to secure a gritty win.
Andrew Zang commented on the clutch goal that Walthall scored. "Tristan gets a long pass and goes on a breakaway. All alone on a breakaway, Tristan taking aim and shooting, goes right over Allen's goalie Alex Dicker to give Jesuit a 1-0 lead. Tristan's goal was the only one of the game."
Reflecting on Junior Varsity Play:
In conclusion, Jesuit JV Hockey finished 2nd to last with a 1-2-0 record. Nothing to be too proud of. Although they had improvements and an upset victory against Allen in their last game throughout the three games, I believe Jesuit should be able to have a solid finish this season. But, in order to accomplish that, they need to make sure that they get more shots on goal and improve on offense throughout the season. And lastly, they NEED to improve on defense. Allowing 30 shots a game is just not going to cut it for most games.
For the full statistics of the games and players, you can click on this link.