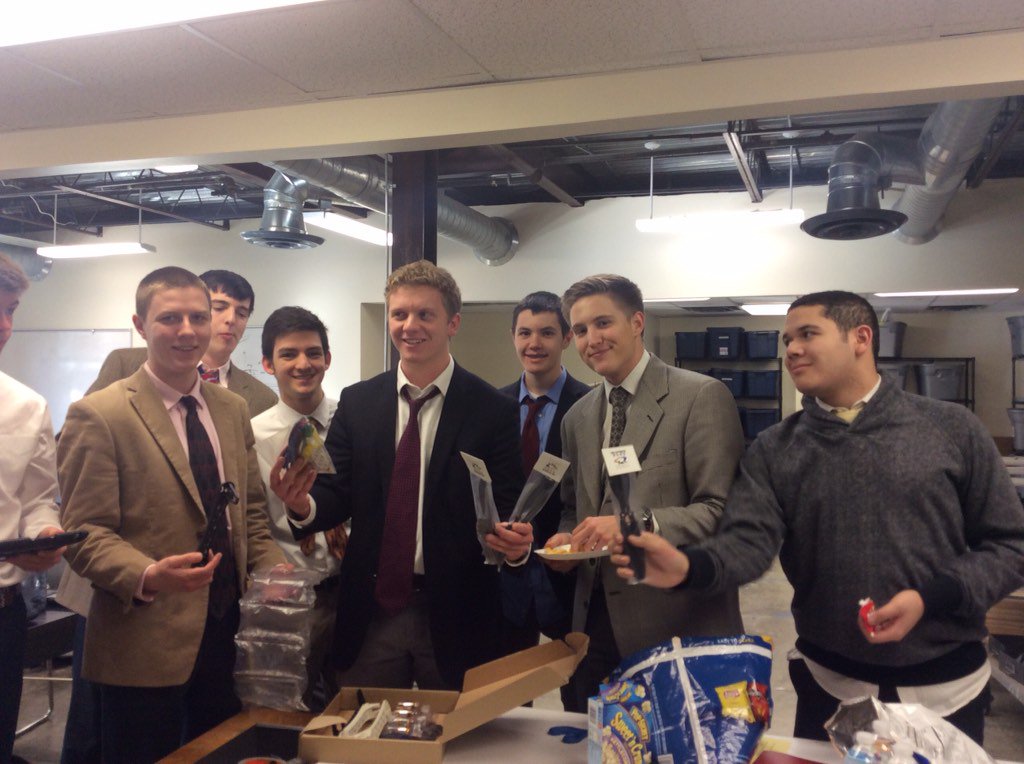 "Hands On"
What's the first thing you think of when you hear the words "Engineering Club?" Well, to members of the Jesuit Engineering Society, the first words that come to mind are "Hands On."
The Jesuit Engineering Society was started at the beginning of 2013 by students who showed an interest in engineering but couldn't do any extracurricular activities because of their workloads. These students talked to Mrs. Julie Carver, a Physics and Engineering teacher at Jesuit, about creating the Jesuit Engineering Society, a club based off of student-driven projects that can work around a flexible schedule. One of the goals of JES is to have students work on projects that they're interested in, collaboratively and effectively, while gaining knowledge and experience in the field of engineering. JES Vice President of Projects Michael Boyson '16 describes the club as a "great way to get hands-on engineering-type [knowledge]. Whether it be electrical or mechanical, there are a lot of different projects that are going on where you can get a really in depth experience." Likewise,  JES President Jeremy Lane '16 said that the club is "focused on developing projects and doing research hands-on to work towards cleaner energy and to develop students in the Engineering Field." One of the huge perks of the JES is that it allows students to not only work on projects of their choice but also make it so students can work on the projects whenever it fits their schedule. Also, there aren't any required meetings, making the amount of work one devotes to the club entirely based on oneself. The motivation for projects in JES comes from students' own interests. Here are some of the projects that have been going on recently:
Project 1: Alternative Wind Energy Turbine
One of JES's biggest and most ambitious projects is the wind turbine. JES focuses on projects that help teach students ways that engineering can support society in different fields of research. Since the summer of 2014, they've tirelessly worked on building an alternative wind energy source. They drew concept designs, came up with plans, and eventually built the turbines. After receiving custom parts for the turbine, JES started the construction in January of 2015, and now after working hard the past several months, the wind turbine is almost complete. One of the goals JES and Boyson have in mind for the turbine is to "implement the wind turbine into Jesuit, specifically creating an alternate source of energy… like being able to charge your iPad." So, keep an eye out around Jesuit, in the near future, there might be a wind turbine around campus helping to provide power in the school.
Project 2: Pedal Car
JES's pedal car has always been a favorite of Jesuit, having its first debut on Ranger Day of 2014 and making another appearance in 2015 at Ranger Day. Since the completion of the pedal car on Halloween of 2014, JES has recently resurrected the car for another plan in mind. Stage 2 of the pedal car, which is currently underway, involves attaching a battery pack to the car and motorizing the vehicle. Since then, JES is in the process of fine-tuning the car, making it more stable and fitting it for a motor. Who knows, maybe next Ranger Day the motorized-pedal car might make another reappearance.
Project 3: Scale Model
The scale-model project has been an ongoing project for a long time at JES, with the hopes of planning, designing, and building a scale model of Jesuit. The first stage of the design process is to build the platform and model it in a 3D model program. Then they will build the real model. One of the aspirations of this project is the possibility that after the model is complete, it could be displayed around Jesuit as one of its art pieces.
Project 4: Aquaponics
"A system of aquaculture in which the waste produced by farmed fish or other aquatic animals supplies nutrients for plants grown hydroponically, which in turn purify the water" (JES Moodle page project description)
Aquaponics is one of JES's most recently started projects, lead by Luke Theivagt '18 and Jacob Totah '18. Theivagt describes it as a "cycle," stating, "Fish waste is pumped into the plants, and plants turn it into [water] for the fish." Currently, the aquaponics team is in the process of designing and constructing the tank system that controls the movement of the waste and clean water, which is close to being finished. Theivagt even hopes for the possibility of displaying the finished product somewhere around Jesuit, spreading awareness for the Engineering Club and providing healthy solutions to things like agriculture and hydroponics to Jesuit students.
Project 5: Drone
JES has recently started another project: the construction of a drone. After people in the club showed interest in making a drone, JES ordered a kit for building a quadcopter flying drone, and currently, they're in the process of building the drone. Once it's done, they plan on attaching a camera, flying it around Jesuit, and taking shots of the campus.
Project 6: Water Conservation Research – Fracking Waste Water
The fracking waste water research project is a research project in JES lead by Joey Merkel '16, Jeremy Lane, and Joe Carver '17 that was started in 2015. Lane describes the project as "trying to research how we can take a lot of the water that is poisoned during the fracking process and purify it to save a lot of the environment." After starting the project and beginning to research it, JES presented their finished research project, was awarded funding for the research, and continued the research last fall in conjunction with UNT. Since then, they've been conducting more research, coming up with solutions to societal problems such as environmental issues, as well as a vast amount of engineering fields, reflecting JES's drive to show students how they can take part in the world through engineering.  
With all of these projects in mind, JES really shows how students can make a difference in the world. With engineering, there are tons of different fields you can go into, such as aeronautics, civil engineering, biomedical, petroleum, mechanical, etc. All of these projects by JES offer tons of different ways to make lives better and improve our world. Projects like the aquaponics project emphasize how even as students we can learn how to overcome some of the serious problems in our world today. Julie Carver, the JES director, explains her fascination for engineering comes from being able to "figure things out… and to look for ways that you can positively affect the world." Jesuit Engineering Society really focuses on providing students with the knowledge and skills that allow them to make a change in the world, one screw at a time.