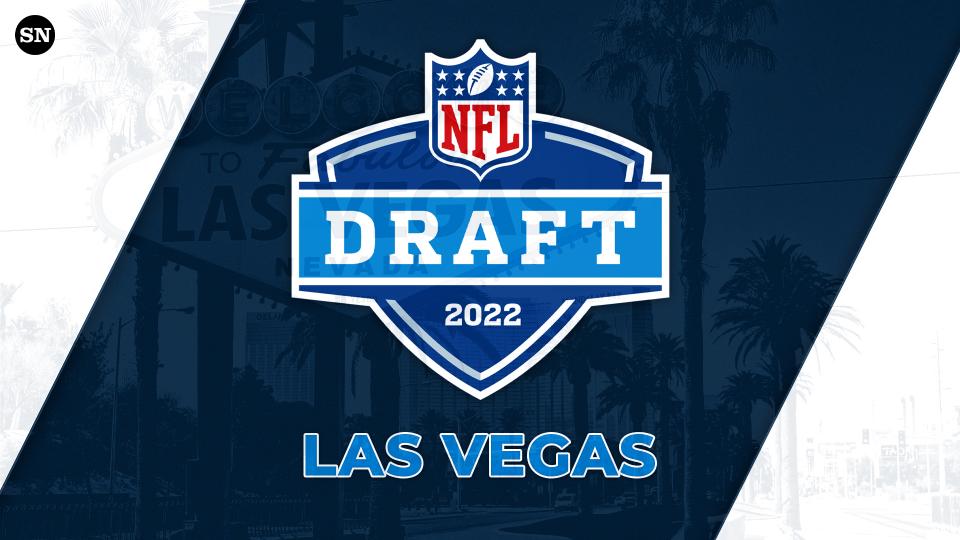 The first round of the NFL Draft has come and gone, and with it came surprises, head-scratching selections, and picks that will either define a franchise for the next decade or set a franchise back for the next decade. The defining story for the 2022 draft was the unpredictability of it all, and there is possibly no better example of this than the fact that the first quarterback of the entire draft didn't go off the board until pick #20. But maybe I'm getting just a little bit ahead of myself, let's go through and grade these picks, starting with…
#1 Overall (Jacksonville Jaguars): Travon Walker, EDGE, Georgia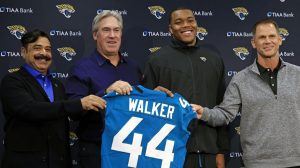 A meteoric rise indeed. With this pick, we have now seen little-known edge-rusher Travon Walker ascend up the draft board after being a major key piece to Georgia's national championship run this past season, and be selected first overall by the Jacksonville Jaguars. And to be honest, I'm not sure I like this pick. I don't think Walker is a bad player, but I don't know if he is worthy of the #1 overall pick. I thought Jacksonville should've selected Aidan Hutchinson out of Michigan. To think that Walker would go from a guy whose name not many (outside of Georgia football fans, of course) knew to the number one pick in the NFL Draft is fairly mind-boggling. But then again, it speaks to that name that not many knew: why didn't the mainstream fans pick up on this guy when the college football season began? Hmm…
Grade: C+
#2 Overall (Detroit Lions): Aidan Hutchinson, EDGE, Michigan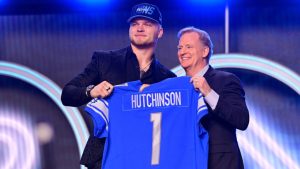 I like this pick for Detroit, and if you couldn't figure it out in the previous paragraph above, I was surprised that the Jags decided on the less-proven Walker over the safer Hutchinson. He had a truly dominant season for the Wolverines this past year, and I thought this was a solid pick for Detroit. They accomplished it without even having to move a finger. Barring a significant injury, I believe that Hutchinson will anchor the Lions' defensive line for years to come and develop into a quality edge-rusher that will feast on the rest of the NFC North's quarterbacks.
Grade: A-
#3 Overall (Houston Texans): Derek Stingley Jr., CB, LSU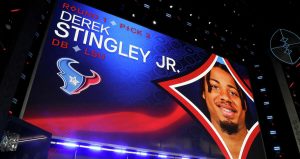 While some people saw this as a reach, I think this pick will work fine for Houston. They were a team in need of talent at pretty much every level, and we have to remember just how freakin' good Stingley was at the tail end of his high school career and the first couple of seasons at LSU. It wasn't until injuries started to bite him again and again that he didn't quite look like the consensus #1 pick this past season. But, Stingley's insane talent cannot be ignored, and I believe that was at least a part of the Texans' thought process when making this selection. Assuming he stays healthy, he can slide in and immediately be Houston's new DB1. Good pick, Jack Easterby.
Grade: B+
#4 Overall (New York Jets): Ahmad "Sauce" Gardner, CB, Cincinnati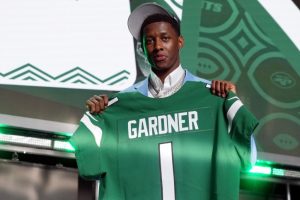 The Jets are making strong selections in the NFL Draft. What kind of world are we living in?
Kidding aside, I really, really like this pick for the Jets. They only intercepted a mere seven balls last season, good for dead last in the NFL, and they needed a ball-hawking defensive back that also has a knack for making key plays with his tackling ability. Gardner fits both of those categories, as he never gave up more than 13 yards to any receiver during any game this past season (which is absolutely absurd), and while I think his tackling skills are just good rather than great, he has shown to be more than capable in that department. General manager Joe Douglas is really trying to turn the ship around in the Big Apple, and this first selection is a solid start for New York.
Grade: A
#5 Overall (New York Giants): Kayvon Thibodeaux, EDGE, Oregon
As for the other New York team…
The Giants started off their draft with a bang, taking the man who I thought should have been the #1 pick up until very recently, that man being Kayvon Thibodeaux with the fifth overall pick. I was a tad surprised that Thibodeaux slid to the fifth pick, but the Giants definitely landed a player who I believe could anchor the defense for the next few years and beyond if everything goes according to plan. Maybe this good selection had something to do with the fact that Dave Gettleman is no longer serving as GM of the team. Just something to think about, folks.
Grade: A-
#6 Overall (Carolina Panthers): Ikem Ekwonu, OT, NC State
A part of me wanted Carolina to draft Kenny Pickett with this pick, but perhaps I might have underestimated how badly they need help on the offensive line. That unit did starting quarterbacks Sam Darnold and Cam Newton no favors last season, as they both struggled mightily throwing the ball (although Newton is rapidly running out of gas and Darnold, well, just sucks). It is pretty likely that Carolina wants to go in one of two directions with this pick: 1) they want to give Darnold one more chance and give him some help on the line, or 2) they want to trade for an experienced veteran signal-caller, say, Jimmy Garoppolo, and give him the best chance to succeed. This one is weird to me: I like it, but at the same time, I don't really like it…? Eh, I think the good outweighs the bad here.
Grade: B-
#7 Overall (New York Giants): Evan Neal, OT, Alabama
Hey look everyone, it's the Giants picking again!
With this one, New York flipped to the other side of the ball, giving Daniel Jones his new blindside blocker. Starting left tackle Nate Solder has not been good since signing with the G-Men, and they badly needed help in that area. And with some of the tape I've seen on Neal, I really think he could be the answer to that problem. He's tough, physical, basically everything you want out of a blocker. I don't know if it solves the answer to the question, "Is Daniel Jones a legitimate NFL quarterback?" but I guess we will find out this upcoming season. No pressure Danny!
Grade: B+
#8 Overall (Atlanta Falcons): Drake London, WR, USC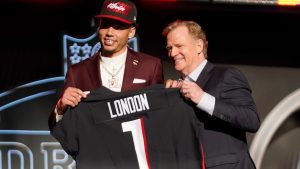 I'm going be honest. I did not expect London to be picked this high. I thought Atlanta might go with Ohio State's Garrett Wilson, as I thought he was just a tiny bit better than London and he was higher on most draft boards that I'd seen, but I guess this works too, as with star wideout Calvin Ridley set to miss the entire 2022 season due to his suspension because of betting on games (nice one, dude), the Falcons needed a big-play wide receiver. Again, even though I was a little higher on Wilson than London, this pick works, as London stands 6'4″ and about 215 pounds, so he's got a nice frame and the ability to threaten defenses with his physicality and win receptions downfield. Again, even though I thought Wilson should've been the pick here, this definitely works. Maybe London will pan out and be better than Wilson. Who knows.
Grade: B+
#9 Overall (Seattle Seahawks): Charles Cross, OT, Mississippi State
Okay, this one was, in my view, the first real reach of the draft. And again, when I say "reach", I am not bashing on Cross as a player. I just thought he went a little higher than he was projected to go. That being said, though, I can admit that I was not certain of what was going through the Seahawks' minds when this selection was being made. I guess they believe in Drew Lock enough to make him the full-time starter, and they wanted to give him some new protection, as well as bolster an offensive line that is largely middle-of-the-road, if not plain bad. I guess this pick makes sense in that regard, but there were other holes on the roster, particularly at the game's most important position, because I'm not certain if part-time wanna-be rapper Lock is a legitimate starting quarterback in the NFL.
Grade: C-
#10 Overall (New York Jets): Garrett Wilson, WR, Ohio State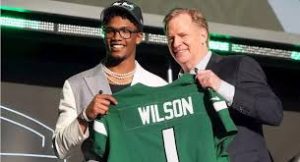 Now that the Helicopters (lol) had addressed the defensive side of the ball with the selection of Sauce Gardner, they now turned their attention to getting franchise quarterback Zach Wilson some more offensive weapons. And Garrett Wilson (geez this is gonna get really confusing) will do the job nicely, as he is a smooth route-runner as well as a legitimate deep threat for Zach to hurl the ball to downfield. I find this pick even more appeasing for the Jets because Zach Wilson and his playing style have been repeatedly compared to a young Aaron Rodgers, and I'm not saying that Zach is not capable of reaching those heights. But, in order for him to get anywhere close to that level, he needs elite weapons to throw to. And Garrett Wilson fits that bill.
Grade: A-
#11 Overall (New Orleans Saints): Chris Olave, WR, Ohio State
When this pick was first announced, I was a little bit confused, but after I thought about it a little more, I decided I liked this one. Jameis Winston looked really good last season before he tore his ACL in a Week 8 game against the Buccaneers, and keep in mind, that 14 touchdown-3 interception ratio he had was without star receiver Michael Thomas. I think Winston is really ready to turn the corner, and as long as he can keep what Sean Payton taught him in mind, he should be good. But let's talk about Chris Olave: he has the potential to become one of the best wideouts in this draft, maybe even the best. Like Garrett Wilson, he is a silky-smooth route runner, and he has the potential to dominate on all three levels. Assuming Thomas comes back healthy and Winston keeps up that solid, steady play, Olave will add another big-play weapon to that sneaky dangerous New Orleans offense and he will fit in seamlessly with Thomas in that wide receiver corps.
Grade: A
#12 Overall (Detroit Lions): Jameson Williams, WR, Alabama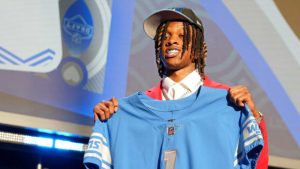 As an Eagles fan, I really wanted Williams to fall to us, and after we traded up to the thirteenth pick, I thought it was going to happen. I was ecstatic.
But no, the Lions had to steal our thunder (for the moment).
But more on that in a minute! Anyway, Williams is a lightning-fast receiver who excels after the catch and is a threat to come up with a chunk play basically any time he catches the ball. Even though he tore his ACL in the National Championship Game this past season against Georgia, he looks to be recovering very nicely, and his game-changing ability is a must-need for a Lions offense that is, well, not good. He will pair nicely with emerging young wideout Amon-Ra St. Brown, and he gives Jared Goff another speedy target. Big fan of this pick. Just wish he lasted one pick later…
Grade: A-
#13 Overall (Philadelphia Eagles): Jordan Davis, DT, Georgia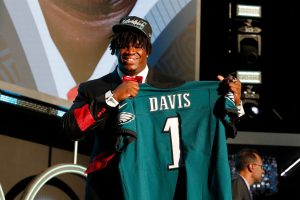 As an Eagles fan, I was at first a bit skeptical of this pick being this high, as I had seen Davis pegged at various spots on draft boards, ranging from top 15 or top 10 to as low as the third round. But after I thought about it a little more and saw some of his tape, I was convinced that he would be a star along the defensive line for us for years to come. Fletcher Cox isn't getting any younger, and the fact that we brought him back on a 1-year contract that isn't exactly the richest one on the market is a fair suggestion that both sides could part ways next season, giving Davis a possible opportunity to start in Year 2. But for now, though, I like this pick. The d-line was aging, and we needed an infusion of youth, and we got one in this monster of a human being.
Grade: B+
#14 Overall (Baltimore Ravens): Kyle Hamilton, S, Notre Dame
I will say, I do like this pick, but I'm not sure I like it as much as a lot of others do. I mean, the Ravens did just sign former Saints safety Marcus Williams, an extremely solid player but one who will likely always be known for being on the other side of the Minneapolis Miracle in 2017, to a massive 5-year contract. But not to take anything away from Hamilton, he's a super versatile player and he's got a keen sense for the ball when it's in the air. I like it, and I see the Ravens' thought process here, but if it were me, I might have at least considered taking a WR to bolster an extremely poor corps after trading away Marquise Brown to the Cardinals. I think this pick works, though.
Grade: B-
#15 Overall (Houston Texans): Kenyon Green, OG, Texas A&M
Yes, I get that the Texans have star tackle Laremy Tunsil under contract after that ridiculous trade with the Dolphins a couple years back. But besides him, the Texans were basically devoid of talent on the offensive line, so this pick makes a lot of sense. Green is a solid prospect with good hands and physicality along the line, and he should be a viable Day 1 starter for Houston. Plus, he's staying relatively close to where he played in college, so that's always good. Solid pick that is another good step toward protecting their quarterback of the future who is apparently Davis Mills…?
Grade: B+
#16 Overall (Washington Commanders): Jahan Dotson, WR, Penn State
In order to give new quarterback Carson Wentz every chance to succeed, the Commanders drafted Dotson as a speedy slot option to hit on crossing routes and everything in between. Although, looking back at this selection, I am just a little tiny bit confused on why Dotson went this high. Shouldn't his size and fairly slight frame scare teams off a little bit? I mean, I guess this works, because Washington was badly in need of wide receivers alongside franchise star Terry McLaurin and following Curtis Samuel's departure a year ago, but I'm still just the slightest bit perplexed that Dotson went as high as he did. Forgive me if I don't get it…
Grade: B-
#17 Overall (Los Angeles Chargers): Zion Johnson, OG, Boston College
The Chargers have invested heavily in the offensive line over the past couple of drafts, taking Rashawn Slater last year with the 13th overall pick, and now taking Johnson out of Boston College with this selection, and I must say, I like the Chargers' approach here. In order for Justin Herbert to reach his superhuman potential to the fullest capability, he needs all the protection he can get, and I think, if everything lines up correctly, Johnson could be a solid Day 1 starter for Los Angeles. Good pick here, boys.
Grade: B
#18 Overall (Tennessee Titans): Treylon Burks, WR, Arkansas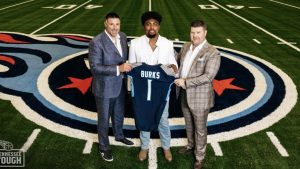 As an Eagles fan, we were supposed to have this pick, and when I saw we were trading it to Tennesee, I was then despondent because we no longer had any first-round picks, and I was still reeling slightly from not getting Jameson Williams. But then, I saw who we actually got in return, this guy named A.J. Brown, or something, and I was much happier. But anyway, the Titans selected what could be his replacement, as Burks has been repeatedly compared to Brown on multiple occasions. His solid size, impressive burst off the line of scrimmage, and aggressiveness is sure to please Tennessee, but in my opinion, you can't feel the greatest about trading away a proven young star and drafting an unproven prospect as his replacement. That lowers the grade a little for me.
Grade: C+
#19 Overall (New Orleans Saints): Trevor Penning, OT, Northern Iowa
I really like this pick for the Saints. Terron Armstead, a staple of the offensive line for years, had departed for Miami in the offseason. So, New Orleans needed a viable replacement for him and some more protection for Famous Jameis. This pick works in both those areas, as Penning could (and very likely will) be a Day 1 starter for New Orleans, slipping right into Armstead's former spot. If Penning for some reason flops, it could be crisis for the Saints, but I don't think that's going to happen. They needed some interior line help, and they got it here.
Grade: B+
#20 Overall (Pittsburgh Steelers): Kenny Pickett, QB, Pittsburgh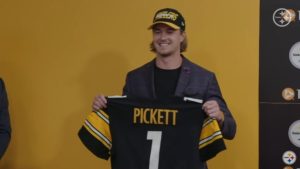 And we finally have our first quarterback off the board!
Pickett was seen by many as the most NFL-ready prospect in an extremely weak quarterback draft class, but I like this pick for Pittsburgh, as they were precariously low on quarterbacks after Ben Roethlisberger's retirement and Dwayne Haskins' sudden tragic passing. It was down to the newly-signed Mitchell Trubisky and backup Joshua Dobbs, but with the selection of Pickett, there is now a competition brewing between him and Trubisky for the starting job. Pickett has shown good poise in the pocket and has great touch on his deep ball, qualities admired by NFL scouts and coaches. The fact that he wears two gloves while playing is somewhat odd but also reminiscent of another current NFL quarterback, Teddy Bridgewater. Will Pickett become better than Bridgewater? Who knows. But, for a team in dire need of a signal-caller, this was a solid selection.
Grade: B
#21 Overall (Kansas City Chiefs): Trent McDuffie, CB, Washington
I really like this pick for Kansas City. Their defense has been notoriously inconsistent ever since the Patrick Mahomes era began, and while McDuffie isn't necessarily promised to be a game-changer on that end, he's still a very solid selection. McDuffie holds a ton of promise as a lockdown corner, he has good acceleration when backpedaling, and he's capable of holding his own against bigger, more physical receivers. The Chiefs defense needed a boost, and McDuffie gives them one. Good pick here.
Grade: B+
#22 Overall (Green Bay Packers): Quay Walker, LB, Georgia
Uh…what?
Green Bay, what are you doing? Aaron Rodgers just committed to your franchise for four more years after rumors ran rampant that he would leave this offseason, and you traded away superstar receiver Davantae Adams. To replace him, you added Sammy Watkins to your now-porous receiving core. Ok, that's fine, just address the position through the draft. But no, they instead take a linebacker who many believe to be overdrafted! I saw some boards predicting this guy to be picked in the middle of the second round! I mean, I get that all the great wide receiver prospects were off the board, but that doesn't mean that there aren't still good wide receiver prospects available! I am not bashing on Quay Walker. I think he'll be a fine player at the NFL level, more than capable of holding his own against professional competition. But this selection by the Packers is just…no.
Grade: D
#23 Overall (Buffalo Bills): Kaiir Elam, CB, Florida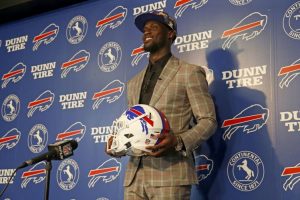 A solid-not-spectacular pick for Buffalo here. I guess I understand their thought process here, as they have a bit of a hole at corner, and they don't know how good Tre'Davious White will be as he comes back from a torn ACL. So I guess this makes sense. But they had other needs that could have been addressed with this pick, like maybe adding another receiver to make up for the (likely) loss of Cole Beasley and possibly Emmanuel Sanders? Or maybe offensive line depth to give Josh Allen a little more protection? I don't know…I don't hate this pick, nor am I bashing on Elam. I actually liked what I saw from him. But I just felt like…maybe there could've been other, possibly bigger, holes that could have been filled with this selection.
Grade: C+
#24 Overall (Dallas Cowboys): Tyler Smith, OT, Tulsa
Oh yes baby, it always makes me happy to see the Cowboys screw up in the draft.
The Cowboys had some other issues on the roster that needed to be addressed, and I get that their offensive line was one that needed retooling. So I'm not going to go crazy and give this pick an F. But, almost identical to the Bills pick, there were other, bigger holes on Dallas' roster that they should have filled with this first-round selection, but for them, the o-line is probably not something that they should have addressed with their first pick of the night. I agreed more with their third-round selection of WR Jalen Tolbert out of South Alabama, as they needed another potential playmaker to fill the void left by Amari Cooper. But this one? This is not it.
Grade: D+
#25 Overall (Baltimore Ravens): Tyler Linderbaum, C, Iowa
I actually think that Linderbaum could be a really, really good center in the NFL, based on what I saw from him, but I'm not as certain about the fit between him and the Baltimore Ravens. Sure, Baltimore needed a little help on the offensive line, but I don't think the version they had last year was anything awful, like their AFC North counterpart Cincinnati. I thought the Ravens should have, at the very least, considered taking a wideout now that they have what is probably the worst wide receiver core in the entire league. No Marquise Brown, no Sammy Watkins, not a lot of talent for Lamar Jackson to throw to. All you can hope as a Ravens fan is that Rashod Bateman takes a massive leap forward in his second season. But anyway, I really like Linderbaum as a player, but I'm…uncertain about the fit here.
Grade: C-
#26 Overall (New York Jets): Jermaine Johnson II, DE, Florida State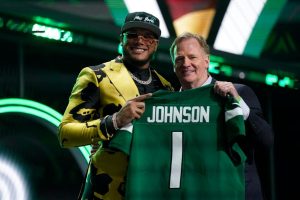 As an Eagles fan, I was kind of hoping Johnson would slip far enough into the second round to where we could snatch him up with our 51st overall pick, but the Jets ended that fever dream pretty quickly with this selection. And again, the Jets are making smart moves in the NFL Draft (what?!), as this one looks to me like it could be one of the biggest steals of the entire draft. Johnson is just oozing with raw talent, and if the Jets can harness it and coach it properly (that is a question mark, this is the Jets we're talking about here), Johnson could, to me, turn into one of the best players out of this draft class. The Jets making another smart…efficient…pick.
No seriously, what is going on?
Grade: A-
#27 Overall (Jacksonville Jaguars): Devin Lloyd, LB, Utah
I really like Devin Lloyd as a player, and I think he could blossom into a really solid player at the NFL level. And I see the Jags' thought process here, as they heavily emphasized the defensive side of the ball in the first round. I think this pick will end up working, but something kind of…bugs me about the fit between Lloyd and the Jags. I don't know if Myles Jack will be coming back next season or not, but assuming he does, he will take the starting spot back immediately, and Lloyd could play one of the outside positions, but I'm just not really sure if he'll get consistent playing time on the field with so much else in disarray in Jacksonville. I almost want to give this pick an incomplete grade, but I won't because I'm not doing it for anyone else here.
Grade: C+
#28 Overall (Green Bay Packers): Devonte Wyatt, DT, Georgia
Yeah, you already know what I'm going to say here.
Look, I'm not bashing on Wyatt, I do not think he's a bad player. He could be a fantastic player at the NFL level. But again, for the last time Green Bay, what is the most glaring hole on your roster ever since you traded away Davantae Adams? Do you think an overrated, inconsistent Sammy Watkins is going to immediately solve your problem and pick up right where Adams left off? Well, I can answer that for you: no! I understand the fact that the Packers' defense has notoriously underachieved in the playoffs, and this past postseason was no different, as the unit collapsed late in the Divisional Round loss to the 49ers. And Wyatt will certainly provide defensive depth. But I don't think he's going to start Day 1, and again, wide receiver is still the team's most glaring weakness, in my opinion. Don't you want to keep Aaron Rodgers as happy as can be in the twilight of his career?
Grade: D+
#29 Overall (New England Patriots): Cole Strange, OG, Chattanooga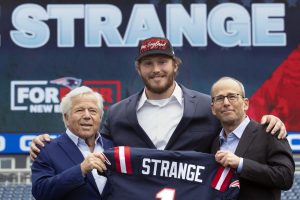 This is a very Belichickian selection, as we all know that Darth Hoodie loves his offensive lineman. But this pick is a bit…strange (pun intended). I don't know if Strange is going to be an elite player or not, and while I'm pretty sure he'll be decent at the NFL level, there were other needs that the Pats needed to address in the first round. I get trading back in the draft is basically a Patriots tradition at this point, but still, this is kind of just a middle-of-the-road pick here for me. I know Shaq Mason was recently traded to guess who? The Buccaneers! And Strange is likely his replacement, but I don't know if I trust Strange to come in and produce right off the bat. Just kind of "meh" for me.
Grade: C
#30 Overall (Kansas City Chiefs): Cole Karlaftis, DE, Purdue
As a future Indiana Hoosier, I don't really like anyone who comes out of Purdue, but I won't be a biased fan in this section. This selection, for me, borders on somewhere between good and just ok for Kansas City. I understand what they were thinking, as the future of Frank Clark is murky and the team probably really wants some defensive depth, seeing how the unit struggled as a whole last year (it doesn't help matters that Tyrann Mathieu is now with the Saints). For me, I like this pick. This is a solid, but unspectacular, selection that should give the Chiefs some more depth on the defensive side of the ball. Who knows, maybe Karlaftis takes over for Clark or something…
Grade: B-
#31 Overall (Cincinnati Bengals): Daxton Hill, S, Michigan
To me, this pick has "steal" written all over it. I really like this pick for the Bengals, who are coming off a surprise run to the Super Bowl, and even though they lost to a more talented Rams team, they are looking to get back to the top of the AFC once again. And Hill can add some solid depth to a defense that, even though they performed well in the playoffs, they likely have one too many question marks on that side of the ball (cough, Eli Apple). Hill was a very impressive player for the Wolverines during their College Football Playoff run, and he can more than likely provide that same kind of output for a Bengals defense that will gladly welcome another playmaker. Nice pick here, Cincy.
Grade: A-
#32 Overall (Minnesota Vikings): Lewis Cine, S, Georgia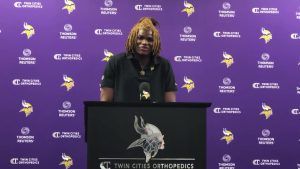 I really like this pick and I think it'll work out nicely for Minnesota, as with the final selection of the first round, the Vikings took a defensive back in Cine to bolster a secondary core that really, really needs it. Cine was a solid-if-not-spectacular player at Georgia and was a key cog of that absolutely legendary defense that rode all the way to a win in the College Football Playoff National Championship Game, and so I think he will fill in nicely and add in some depth to a Vikings secondary that, outside of veteran Patrick Peterson, doesn't have a lot of promising pieces to work with. Cine could very well change that, though.
Grade: B
So that's the first round of the draft…yay?
Stay tuned to The Roundup for more NFL and sports news!