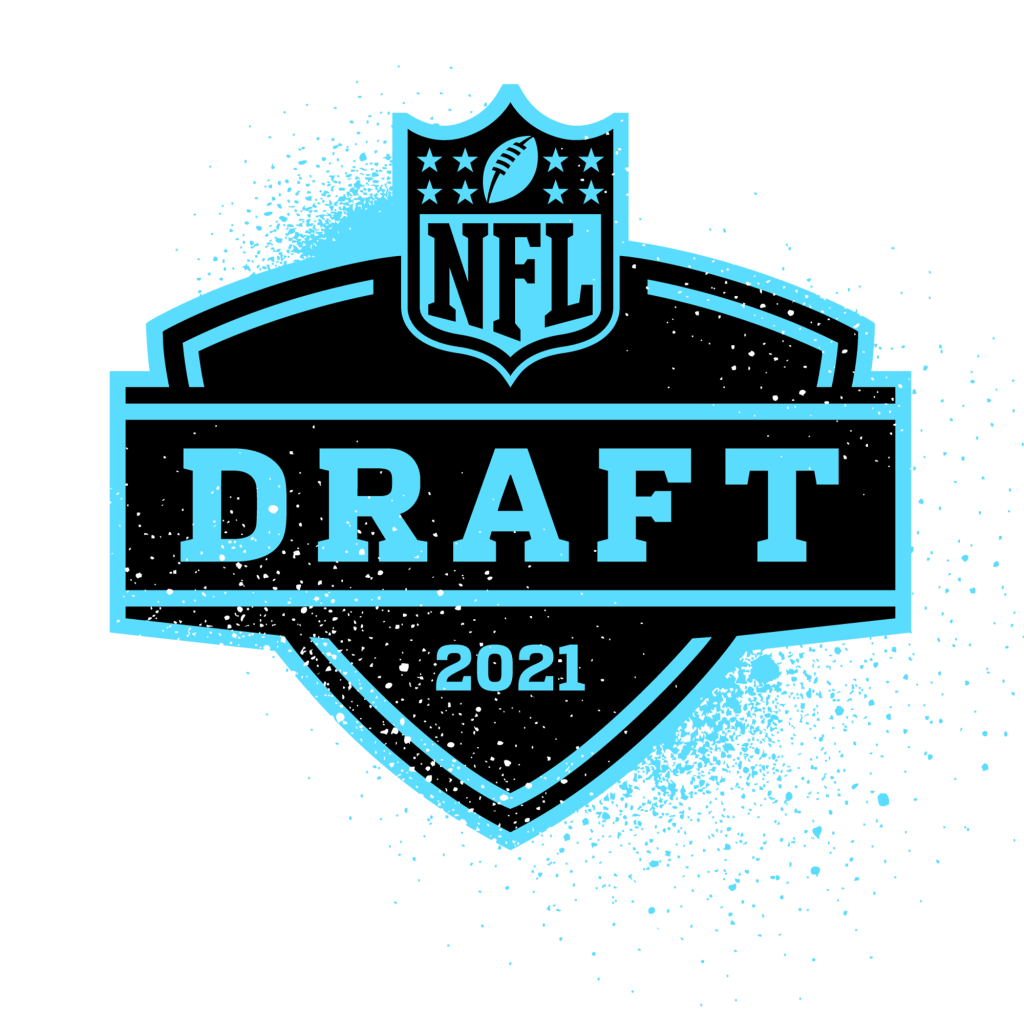 24The NFL Draft has come and gone for 2021, and whether you liked your team's first-round pick or not (I personally did, for those who were wondering) the picks have been made and holes on the roster have been filled. Now, the level to which those holes have been filled varies from team to team, but today I'm here to grade every team's first-round draft pick according to the grading scale that exists in the mind of yours truly. Anyway, let's get into it.
Jacksonville Jaguars: Trevor Lawrence (QB, Clemson) #1 Overall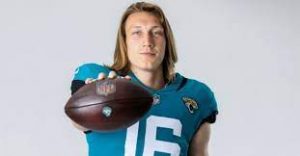 There was literally no brain-power involved in making this pick. Lawrence was (and still is) considered a generational prospect at quarterback, and there hasn't been this much hype around a prospect since a certain someone named Andrew Luck heard his name called by the Indianapolis Colts #1 overall in 2012. Lawrence will fill one of the Jags' biggest needs, as mustache king Gardner Minshew II has not shown that he can be a decent option at QB consistently and backup Jake Luton had one good game starting in place of Minshew, but he's a massive enigma as a sixth-round pick a year ago. Lawrence will do nicely.
Grade: A
New York Jets: Zach Wilson (QB, BYU) #2 Overall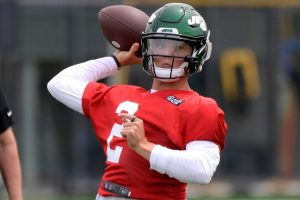 Again, not much brain-power involved in this selection. The Jets and Wilson had looked like they had fallen in love with each other by draft night with all the rumors that had been flying around for months linking the franchise and the prospect together. Wilson does fill the hole left behind by Sam Darnold, as New York traded him to the Panthers for little more than a bag of half-eaten potato chips and some wadded-up gum (no, it wasn't actually chips and wadded-up gum). The Jets are really hoping that Wilson turns out better than Darnold did in his time with the franchise, and if he doesn't, new head coach Robert Saleh and his staff will have their work cut out for them. But in the meantime, this definitely works.
Grade: A-
San Francisco 49ers: Trey Lance (QB, North Dakota State) #3 Overall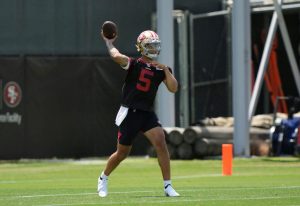 Jimmy Garoppolo, the door is just around here, if you would ever so kindly step this way, please.
After weeks of Mac Jones rumors, the 49ers made the correct move in my eyes, taking the high-risk, but potentially high-reward as well, Trey Lance from NDSU with the #3 overall pick. This is a boom-or-bust pick for San Francisco, as there is nearly no tape on Lance, at least for this year, as he opted out of the season due to concerns over COVID-19. This also fills a hole for the Niners, as Garoppolo was a good quarterback during San Fran's run to the Super Bowl in 2019, but his 2020 season was plagued by injuries and inconsistent play. But if I'm a Niners fan, I'm thankful that we did not choose Mac Jones, as one of the main complaints I have against Jones is that one of the reasons he did so well is because of the team around him. The Lance pick definitely works for the 49ers here.
Grade: A-
Atlanta Falcons: Kyle Pitts (TE, Florida) #4 Overall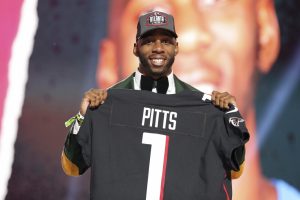 When the attempt to trade down in the draft failed for the Atlanta Falcons, I guess they turned their attention to squeezing the most juice out of their aging core for one final run to the postseason, as the selection of Kyle Pitts fills a big need at tight end and it gives QB Matt Ryan another massive weapon in his arsenal. Pitts was seen as one of the best TE prospects in history, and it was a near-surefire bet that he would be taken in the very least in the top 10. But the Falcons likely made the best selection possible for their position, but it's becoming more and more obvious that they have got to shake up their team sometime soon.
Grade: B+
Cincinnati Bengals: Ja'Marr Chase (WR, LSU) #5 Overall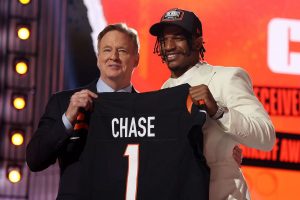 To quote Loki from the 2017 movie Thor: Ragnarok: "You had one job. Just the one!"
When a generational talent at offensive lineman falls into your lap at the tail end of the top five and taking into consideration the main reason Joe Burrow's season ended early is because of his extremely suspect offensive line not blocking for him, you have got to take him! I mean, come on! Was the possibility of reuniting Burrow with his former #1 receiver too good to pass up, Cincy? And before everyone hounds on me for blasting the pick, I see nothing wrong with Ja'Marr Chase. He is a fantastic player and will give Burrow another weapon on the outside. But how, exactly, will Burrow be able to get the ball to him if he's running for his freaking life every play, like Patrick Mahomes was during this year's Super Bowl? Again, don't get me wrong, I love Chase as a player and I think he will be quite a good player. But Bengals, come on! The fit for Chase and the fact that they failed to address the biggest need on the roster in the first round lowers the grade for me.
Grade: C+
Miami Dolphins: Jaylen Waddle (WR, Alabama) #6 Overall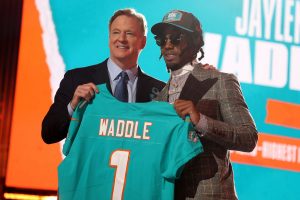 I'll admit, I was a bit surprised that Waddle was taken this early, but after I thought about it a little more, I decided that it was for the best for Miami. Waddle is an excellent player, and he has game-breaking speed and his potential as a returner is something that the Dolphins couldn't exactly pass up. Reuniting Waddle with Tua Tagovailoa was a great move, as Tua needs all the help he can get in order for him to take a leap forward this season, and this selection by the Dolphins will help. This one was a good pick.
Grade: B+
Detroit Lions: Penei Sewell (OT, Oregon), #7 Overall
The Lions got the best offensive tackle in the class and one of the best, potentially, in history, and they didn't even have to trade up! But there exists a problem for me, and that is that the offensive line wasn't really a glaring need for Detroit. Regardless, though, this will be good for new quarterback Jared Goff, as the Lions are quietly building one of the better offensive lines in the league and that will give Goff some much-needed protection in the pocket for an extended amount of time. The Lions just have to hope that he can make the throws he needs to lead his team to at least a few wins this season, though. It's still not looking pretty in Detroit. But this was a solid pick.
Grade: A-
Carolina Panthers: Jaycee Horn (CB, South Carolina) #8 Overall
This pick, and fit, is…odd. The defensive back was not necessarily a glaring hole for the Panthers, but they chose to go in that direction in the first round, as they took Jaycee Horn #8 overall. And that brings me to the prospect they picked: if they wanted to get the best cornerback possible in the top 10, they should have just gone with Patrick Surtain II! He was considered a better prospect than Horn, and in my opinion, Surtain was just the better player and I expected him to go off the board first. I don't know if I like this pick for the Panthers, as I don't expect the fit between Carolina and Jaycee Horn to be super smooth right away.
Grade: C
Denver Broncos: Patrick Surtain II (CB, Alabama) #9 Overall
Again, cornerback was not necessarily a massive hole to fill for the Broncos, as they already had signed solid DB Ronald Darby and former Bears standout Kyle Fuller. I mean, at least Surtain fell into their laps at #9 so they could take, in my opinion, the best cornerback prospect in the draft. But if I were Denver, I would have probably taken a leap of faith and taken Justin Fields to compete with struggling starter Drew Lock for the starting QB position in 2021. The fit will be good, as Surtain improves an already really good Denver secondary, and I'm pretty sure Surtain will grow into a solid player for the Broncos. But I think the decision to pass up on a QB in the first round will come back to bite them.
Grade: B-
Philadelphia Eagles: DeVonta Smith (WR, Alabama) #10 Overall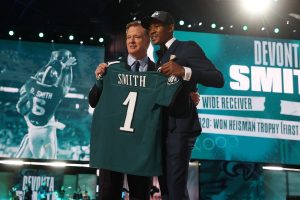 The Eagles got their guy.
Sure, a trade-up with a division rival was required (thank you, Cowboys!), but the Eagles landed in the last spot of the top 10 with the move and took the guy they had their eye on for a good while, while simultaneously admitting that the wideout they took in last year's draft, Jalen Reagor, was not good enough to get consistent playing time on the field. No disrespect to Reagor, of course, he's a solid and promising young player. But Smith will likely outshine him on the field, at least this year. The biggest concern about Smith is that he only weighs 175 pounds and will be playing against 200-pound+ corners and safeties, but he dominated those guys on the college level no problem. The question is, will he be able to do the same in the NFL? I think the answer to that question will, eventually, amount to a healthy yes. This pick is really good for Philly, as they desperately needed wide receiver help after Travis Fulgham led the team with a measly 539 receiving yards. Overall, I like this pick. Have your high grade, Eagles.
Grade: A-
Chicago Bears: Justin Fields (QB, Ohio State) #11 Overall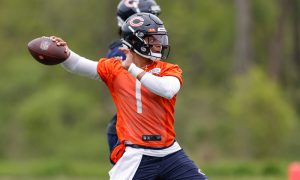 Like the Eagles, the Bears have their guy. Or at least, they think they do.
A trade-up with the Giants was required to make this pairing work, but Chicago finally got up the board enough to draft a top-tier quarterback after the Mitch Trubisky experiment failed…miserably. In addition, Nick Foles and his horrible contract were still on the books and Andy Dalton had taken over the starting QB spot, so Chicago needed to at least try and sort out the mess at the game's most important position. Fields will do nicely, as his toughness and love for the game are unmatched. The big dilemma is, will the promising skills he flashed at Ohio State translate onto an NFL football field? I think, to an extent, the answer is yes. At least, I think Fields will be better than Trubisky. This is a good pick for the Bears.
Grade: A
Dallas Cowboys: Micah Parsons (LB, Penn State) #12 Overall
The Cowboys did trade down with the Eagles, so it was really out of the question as to whether they could get one of the top cornerback prospects in the draft. However, they did bolster their already solid linebacker corps with the addition of the versatile Micah Parsons. Parsons was seen by some as the best defensive player in the draft, and even though Dallas couldn't get their hands on Jaycee Horn or Patrick Surtain II, Parsons will do nicely, as he adds depth to a very good linebacker corps that now has a couple of medium-sized holes with the retirement of Sean Lee and the (potential) departure of Leighton Vander Esch. Solid drafting here, Cowboys.
Grade: B+
Los Angeles Chargers: Rashawn Slater (OT, Northwestern) #13 Overall
The Chargers went out and filled one of their most glaring holes in the draft with the selection of Rashawn Slater, as it boggles my mind how Justin Herbert threw for 31 TD passes last season behind that offensive line. Slater and new signing Corey Lindsley will bolster the offensive line corps massively and it will probably help Herbert take another big step forward this season. Good pick here.
Grade: A-
New York Jets: Alijah Vera-Tucker (OG, USC) #14 Overall
Vera-Tucker was seen as one of the last of the really good offensive line prospects in this year's draft class, and the Jets made a good move taking him, as Sam Darnold was running for his life every other play last season (or getting pounded and landing on his back), and New York doesn't want their new franchise quarterback to suffer that same treatment. Mekhi Beckton is a solid emerging left tackle, but the Jets needed another young piece along the line in order to protect Zach Wilson more effectively. This pick will do nicely for the Jets. Good job, guys.
Grade: B+
New England Patriots: Mac Jones (QB, Alabama) #15 Overall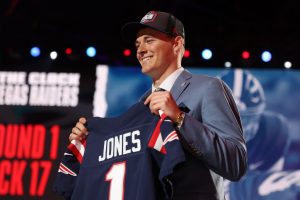 In my opinion, the Patriots made the best out of a not-so-great situation, as nearly all of the top-tier quarterbacks were off the board, and New England settled on taking Mac Jones, and (here comes my top criticism of Jones) I think Mac Jones was so good only because of the team around him. I mean, did you see who he was throwing to every game? However, Jones did land in the best place for him to develop his skills and become a potentially great NFL quarterback, as New England has been known to be one of the best franchises in sports in terms of developing young players (have you ever heard of a guy named Tom Brady?). Although I'm sure the Pats would've liked Justin Fields, Jones works for them at this point.
Grade: B
Arizona Cardinals: Zaven Collins (LB, Tulsa) #16 Overall
The Cardinals took a versatile linebacker that can play multiple positions in the first round. Sound like anything familiar? Yes, I am in fact referring to the selection of Clemson's Isaiah Simmons in last year's draft, and he was also taken by Arizona. In my opinion, even though Collins is a good player and a solid prospect, the Cards just took another Isaiah Simmons. Where on the field they'll put him remains to be seen, as well as whether he gets any playing time on the field at all. This pick was okay, but Arizona had other holes that they could have, and should have, addressed here.
Grade: C-
Oakland Raiders: Alex Leatherwood (OT, Alabama) #17 Overall
When the Raiders basically dismantled their entire offensive line during free agency, I thought, "Yeah, a pick in the first round used on an offensive lineman seems reasonable for the Raiders, I could see that happening." And in fact, that did happen. But the problem is that it was one of the prospects that no one was expecting that Las Vegas ended up taking. I'm not bashing on Leatherwood, he's a good prospect. I just don't really see how this helps Vegas in the short term. They want to win now, right? Quarterback Derek Carr just had one of the best seasons of his career, and Josh Jacobs looks like an emerging star at running back (assuming he can stay healthy). Add on the solid and stingy defense that the Raiders possess, and the team doesn't look bad at all. But this pick? And in the place it was? Not doing it for me. There were just better players and better fits on the board.
Grade: D
Miami Dolphins: Jaelan Phillips (DE, Miami (FL)) #18 Overall
A solid pick for Miami here, as the departure of Shaq Lawson and Kyle Van Noy (but added emphasis on Lawson), left the Dolphins in need of another talent on the defensive line. Phillips does just that, as his work ethic cannot be overstated and he could be a steal for a young Dolphins team that looks to break out this season. I don't have a ton much to say here, but I like it. At least this team didn't completely screw up like the team before them did. Phillips has major steal potential, and he could grow into a really good player. I like this pick.
Grade: B
Washington Football Team: Jamin Davis (LB, Kentucky) #19 Overall
A solid WFT defense gets another potential impact player at the tail end of the top 20, as like Phillips the pick before, Jamin Davis starred at Kentucky and could be a major cog in the machine that is the Washington defense. A team that is looking to repeat as NFC East "champions" made a solid pick here, and while they maybe could have considered taking a wide receiver to complement emerging star Terry McLaurin on the outside, this works too.
Grade: B+
New York Giants: Kadarius Toney (WR, Florida) #20 Overall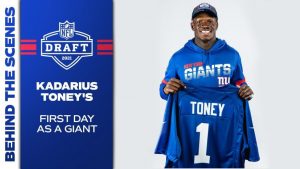 The Giants made the right pick here in my opinion, despite what others might think. Toney was considered one of the last of the top-tier WR prospects, and I was somewhat surprised that Toney was still on the board at pick #20 despite the fact that he was slipping down some draft boards in the weeks leading up to the draft. I think that Toney can become a really good player down the line, and I think the possibility exists that Toney could function really well in a Giants system that needs someone to operate out of the slot after adding multiple big-name receivers this past offseason. Not the absolute best pick in the world, but the right one for New York. Good job, guys.
Grade: B+
Indianapolis Colts: Kwity Paye (DE, Michigan) #21 Overall
The Colts were in need of another defensive end to wreak havoc along the end of the defensive line (get it? end of the line? defensive end? I'll leave…) and Paye does the job nicely. While Justin Houston was alright last season, he couldn't stay healthy consistently and he just wasn't the player he was with Kansas City a few years back. And also, that's part of the reason why Houston still doesn't have a home for the 2021 season. However, Paye is an underrated prospect who played for a solid football program under Jim Harbaugh at Michigan and he could emerge as a steal for an underrated Indianapolis team.
Grade: B
Tennessee Titans: Caleb Farley (CB, Virginia Tech) #22 Overall
The Titans addressed the loss of top cornerback Adoree' Jackson with the addition of Virginia Tech's Caleb Farley with the 22nd overall pick. This was solid, and I'm pretty surprised that Farley slid down the board this far. But my one gripe here is that the Titans had other positions, particularly on defense, they could have addressed, but this pick will do. I guess I'm just pretty surprised that Farley slid down the board this far. Good depth pick for Tennessee.
Grade: B-
Minnesota Vikings: Christian Darrisaw (OT, Virginia Tech) #23 Overall
The Vikings addressed one of the worst offensive lines in the league in the first round by trading down and taking Caleb Farley's Virginia Tech teammate, Christian Darrisaw, with the 23rd overall pick. To me, Darrisaw could be a boom-or-bust prospect: he could be really good, or he could crash and burn at the NFL level like a certain someone who also plays along with that Minnesota offensive line (cough, Garrett Bradbury, cough). It was good for the Vikes to address arguably the biggest problem on their roster, and I'm intrigued by Darrisaw, as he was a solid player at Virginia Tech and I have to wonder whether he'll go down the Bradbury path or not.
Grade: B-
Pittsburgh Steelers: Najee Harris (RB, Alabama) #24 Overall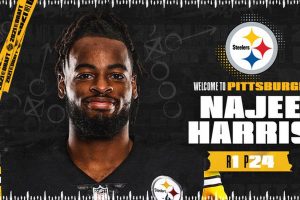 The Steelers addressed a unit that ranked fourth-to-last in overall rushing yards in 2020 got a generational talent at Alabama at the tail end of the first round. Harris could be a solid player for Pittsburgh in the coming years, and the Steelers focused on players that fit their roster just because there were no real generational talents left on the board at pick #24. Harris had an amazing career at Bama, and his physical style of running could serve the Steelers well, as they've had a reputation for grinding out wins and being extremely ground-and-pound and physical. Not a bad pick here.
Grade: B
Jacksonville Jaguars: Travis Etienne (RB, Clemson) #25 Overall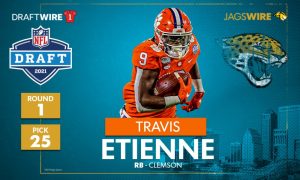 I understand the Jaguars' thinking here, as they apparently thought that Etienne was too much of a dynamic runner to pass up. But, has anyone ever heard of this guy named James Robinson? 1,000-yard rusher as an undrafted rookie in his first year in the NFL? No? Maybe new head coach Urban Meyer plans to use a 2-halfback set to present defenses with a two-headed monster at running back, but there may be demands from one player or the other to have more carries as the season goes on. Tread carefully with this one, Jacksonville.
Grade: C
Cleveland Browns: Greg Newsome II (CB, Northwestern) #26 Overall
I really like this pick for the Browns here. They wanted to upgrade an already strong defense, and they did that with Newsome sliding into one of the defensive back spots. Newsome is a versatile corner, and he looks like he'll be an amazing fit into a Cleveland system that is looking for another dynamic corner outside Denzel Ward. I think Newsome has "steal" written all over him, and I wouldn't be surprised if Newsome grows into a really good player at the NFL level. Good picking here, Browns.
Grade: A-
Baltimore Ravens: Rashod Bateman (WR, Minnesota) #27 Overall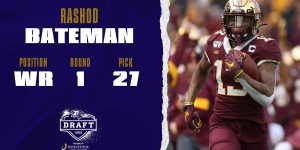 The Ravens did sign Sammy Watkins away from the Chiefs this past offseason, but they wanted another weapon to support Lamar Jackson and to add talent to a poor overall wideout corps. Bateman just does that for Baltimore, as he is a serious downfield threat and can explode for a big play when you least expect it. I really like this pick for the Ravens, especially given who was on the board at pick #27, as I think Bateman could come in and be an impact player almost immediately. Good pick, Ravens.
Grade: B+
New Orleans Saints: Payton Turner (DE, Houston) #28 Overall
Some people might say that the Saints should have taken a quarterback in the first round, but I don't think they should've had their sights set on a QB that high in the draft. They already have Famous Jameis and walking Swiss army knife Taysom Hill so they have two interesting options at the game's most important position in the wake of Drew Brees' retirement. As for the pick, Payton Turner works I guess, but in my opinion, they should have loaded up on offensive depth, like maybe taking a receiver that could help out alongside Michael Thomas (Elijah Moore, anyone?) or another running back that could add depth to an already solid two-headed monster at the position that consists of Alvin Kamara and Latavius Murray. But to me, Turner is a bit of a raw prospect and while he did have some really good moments playing for the Cougars, he looks like he'll be a long-term project for New Orleans at this point. As I said, I guess it works, but there were better options out there.
Grade: C-
Green Bay Packers: Eric Stokes (CB, Georgia) #29 Overall
The Packers once again failed to address a receiving corps that, outside of superstar Davante Adams, was nothing short of a dumpster fire. But I suppose this was also a good pick, as Stokes will likely come in and replace Kevin King, who famously got burned multiple times in this past year's NFC Championship Game and was released shortly after the Packers lost to the eventual Super Bowl champion Tampa Bay Buccaneers. But the fact that Green Bay did not try to take someone like Elijah Moore or maybe even Rondale Moore lowers the grade on this pick for me, as while Stokes is not a bad player and I'm sure Green Bay is thankful to have someone opposite Jaire Alexander that isn't currently labeled as nothing more than burnt toast, I think they should have taken a wide receiver in the first round in the midst of all the Aaron Rodgers drama.
Grade: B-
Buffalo Bills: Gregory Rosseau (DE, Miami (FL)) #30 Overall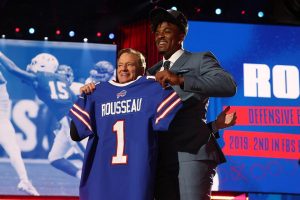 The Bills needed an infusion of youth along their defensive line, and Rosseau does the job nicely, as he was a solid player at Miami and I think he has the potential to develop into a really solid player for a Bills team that has aspirations to reach the Super Bowl this year. I know I said "steal potential" for about a dozen guys on this list, but Rosseau fits the bill, as he had a lot of good moments for Miami as he wrought havoc on the edge and he could do the same and be a nightmare for some opposing NFL QBs. Overall, good pick here, Buffalo. I like what you did here and I think Rosseau has the potential to be sneaky good in the next couple of seasons.
Grade: B
Baltimore Ravens: Odafe Oweh (DE, Penn State) #31 Overall
This pick made a lot of sense for the Ravens, as their top two edge-rushers/defensive ends, Yannick Ngakoue and Matthew Judon, both departed in free agency for the Raiders and the Patriots, respectively, this past summer. That being said, it's looking fairly likely that Oweh will be asked to fill some pretty big shoes early in his career, as he will look to cause havoc on the edge and try his best to replace the production that Ngakoue and Judon brought on defense. Overall, I really like this pick and I think the Ravens knew what they were looking at in Oweh and I think he has the potential to be a really good player down the road (ever heard that one from me before?). Nice job here, Baltimore.
Grade: A-
Tampa Bay Buccaneers: Joe Tryon (DE, Washington) #32 Overall
A team that brought back nearly all of its starters and are the defending Super Bowl champions probably didn't really have to think a whole lot about the draft, but the selection of Joe Tryon with the final pick of the first round serves as added depth to an already unbelievably talented roster. Tryon had some pretty solid moments at Washington and he'll likely spend the first few seasons of his career in Tampa as a backup or a rotation player, but that's not necessarily a bad thing, as he will get his moments to shine on a team filled to the brim with talent and a good deal of experience. I like this one, Tampa. Although it wasn't like you had to do too much to your roster anyway, you brought back basically everyone and are the defending Super Bowl champs…come on.
Grade: B
Well, that's it for this piece, but stay tuned to The Roundup for more NFL and sports news!