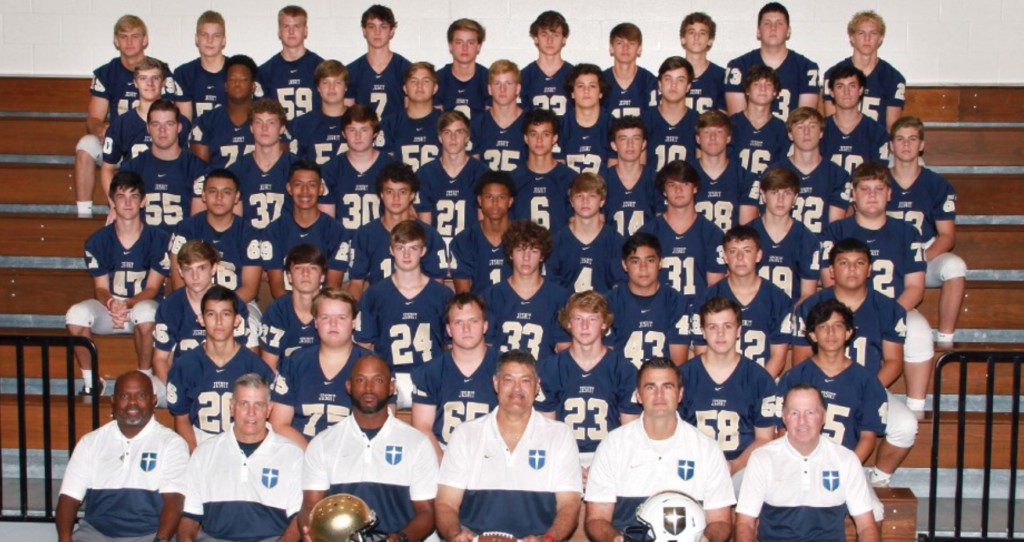 While Jesuit's varsity team looks to be making a deep push in playoffs, the JV and two freshman teams have their last game on November 7th, effectively ending their season. While varsity gets most of the hype and camera coverage, these three teams below them are critical, helping to develop young football players and prepare them for future years as they become the leaders of the program. Here's a quick rundown on how their seasons have gone:
Freshman Blue
Starting hot with a tight win over Arlington, the freshman blue team has garnered a 5-3 record. These wins have come against Arlington, Wylie, Plano West, McKinney Boyd, and McKinney. Their best win of the season came against Plano West, as they skunked West 27-0. The blue team has relied on the arm of quarterback Jack Barr and a multitude of talented receivers, coupling their impressive pass game with a hard-nosed run scheme. As a result, the blue team has seen a plethora of big plays develop, from great throws from Barr to miraculous catches by his receivers. With JV coming up next year, the connection between players should be further developed. This will ultimately give Jesuit a threatening offense once these Freshmen are on varsity.
Freshman Gold
Starting off on a two-game losing streak, Jesuit's freshman gold team has pieced together an impressive season, holding a 4-4 record right now. Their best win of the season was against Prosper, a team who came into the game having dominated all their other opponents. However, this team exemplified their tenacious attitude, coming away with a 16-14 win. This win almost seemed like a catalyst for the varsity's triumph over an at-the-time undefeated Prosper. Gold team's success offensively can be contributed to a solid running game that complements the quarterback running the ball. The team has a nice 1-2 quarterback combo paired with dynamic receivers like Callen Singhania and Mercer Fernandez, stressing defenses vertically and thus opening the middle of the field up. Defensively, a stingy defensive front seven has helped corral offenses, pairing nicely with the athletic defensive backs. Playing a 3-4 defense helps not only the gold team but all of Jesuit's football program. The outside linebackers play a flex position that helps them read run or pass while safeties cover vertical threats and the inside linebackers plug the run gaps, a scheme that the Gold defense has bonded well with.

Junior Varsity
JV often has the hardest schedule of the three underclassmen teams, as they play against giant public schools who have lots of depth on the JV. However, Jesuit has much smaller numbers, leading to depth issues that the varsity plugs by calling up sophomores and juniors, leaving the JV with little depth at all skill positions. However, despite straining the JV team, they have still come away with a respectable 4-4 record.
Quarterback Gage Roy has continually thrown absolute bombs to his amazing receiver crew, consisting of athletes like Ford Butler, Hunter Krepp, Brennan Graham, Cole Younger, and Alex Dondis. Every game, the wide receiver-quarterback connection has given the JV an advantage on offense, as Roy's big arm can throw up to 50 yards that the speedy receivers track down, separating themselves from the defensive backs. Defensively, athletes like Jack Tchoukaleff and Kyle Nolan anchor the front seven. Both playing outside linebacker, they are tasked with forcing all plays inside, not breaking contain, helping the inside backers like Charlie Freeman and Garner Galbraith flow to the ball to go along with the d-line's pursuit, a unit lead by Will Reading. On the back end, the defense has been bolstered by transfer Dechi Peterson. He and  Brady Kinzer have done a great job of disrupting the quarterback's read.
 Thoughts on the Season
Jack Tchoukaleff '22 thought "the energy all season has been insane, as it has helped both sides of the ball excel in tough conditions." Charlie Freeman '22 reiterated this point, highlighting the "fun the whole team has each game, as they play together and cheer on whoever is on the field at the moment. It shows how close we are and hopefully, it carries over to when we play varsity." Lastly, Kyle Nolan '22 said, "Playing JV has been a great experience, as practicing with the Varsity has given [him] the tools to be successful and show [him] that hard work pays off."