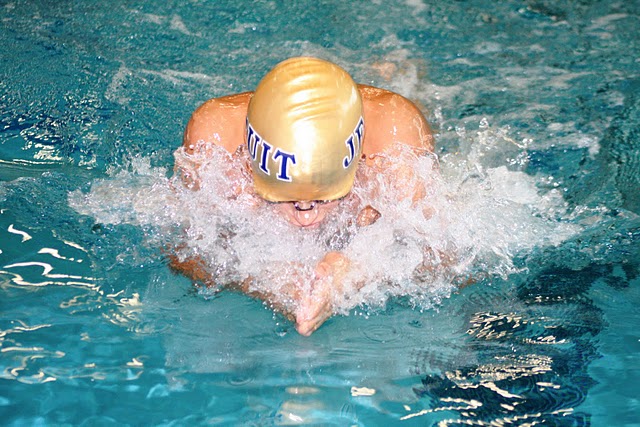 Winning the gold medal in an Olympic event seems like an almost impossible task, but with Jesuit's current varsity swimmers, this school could possibly hold the Michael Phelps of the 2020 Olympics. At the Texas Interscholastic Swimming Coaches Assocation (TISCA) swim meet, Nolan Daniels '16, Brendan Feehery '15, Aiden Quinn '15, and Jack Ayers '17 competed in the 200 freestyle relay and the 400 freestyle relay with flying colors, dominating the previous school records held by Jeff Girrard, Eric Gusa, Andrew Hansen, and Jeff Ship for the 200 free style relay and Eric Futscher, Mead Robuck, Matthew Bedard, and Nolan Daniels for the 400 free style relay.
Michael Boyson '16 described how Jesuit dominated these events to "place 8th overall at the meet." He swam the 100 butterfly and in 59.3 seconds, a new personal best. He also swam the 200 free relay and 400 free relay for the B squad. He commented on the efforts of the four fantastic free relay swimmers, saying, "Their hard work and dedication to the sport together earned them the tie for first" in the 200 free relay.
The new school record for this relay, 1:26:25, replaces the already amazing 1:26:33, giving Jesuit the tie for first with Southlake Carroll. Furthermore, the time 3:12:96 shrunk a whopping 1:73 seconds to 3:11:29 for a third place seat in the 400 free relay.
Ayers, the anchor for the group, summarized the experience as "fun and slightly daunting." He explained his responsibility to "keep pace with the record times" despite facing the heavy weariness from his previous events, the 100 fly and 200 free. In the end, however, "it was worth it when we got the record," said Ayers. Although an underclassman, Ayers swims at the varsity level in swim meets. He noted that "it's nice not to be a freshman anymore", and that he enjoys gaining experience at such a high level.
The records set at the TISCA swimming event only mark the beginning of what the swimming team hopes to accomplish at the upcoming regional swim meet, and as the season continues, our varsity swimmers will keep working to bring a trophy home.