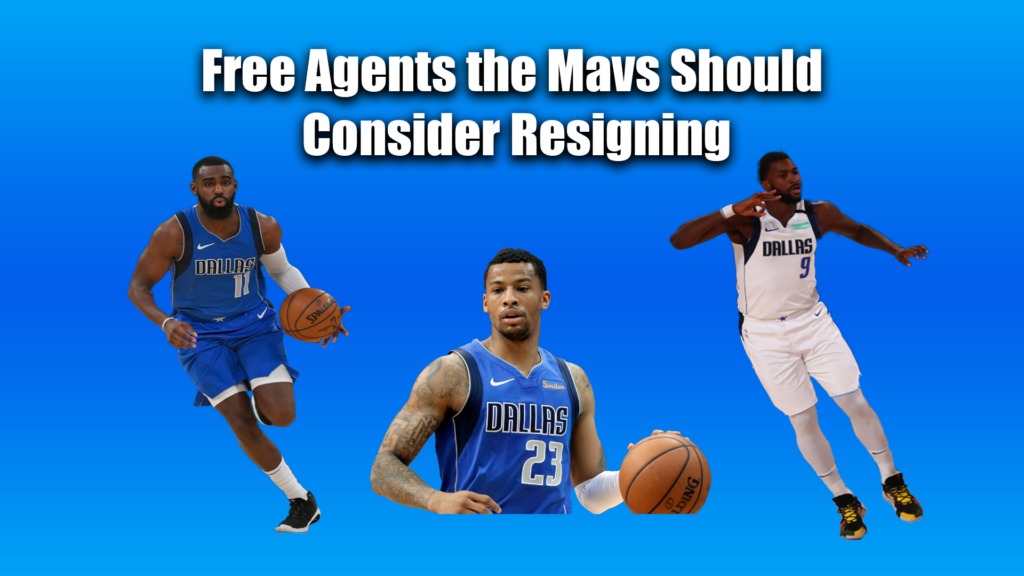 The Dallas Mavericks are looking to add a 3rd star and have made everyone available except Luka Doncic and Kristaps Porzingis.
I have heard rumblings that they could be interested in Giannis Antetokounmpo in 2021 NBA free agency or even Tobias Harris via trade.
To be in an excellent position to get either of those two players, the Mavs need to be smart this offseason. Smart moves can be through acquiring big contracts with one year left or trading their players who have a cap hit past 2021.
The Mavs' decisions this free agency will determine what their future aspirations are. That could be saving up cap space for Giannis Antetokounmpo or going all in for Bradley Beal via trade during the 2022 free agency period. The Mavs have most of their roster spots filled up, so I would not expect them to be heavy buyers of this free agency. Still, Dallas should be thinking about resigning their free agents. The Mavericks have some guys who are either player on an upcoming option or an expiring contract that can still significantly impact a team looking to contend for a title in 2021. So, without further ado, I will go over some of the guys that I believe the Mavs should consider resigning this off-season.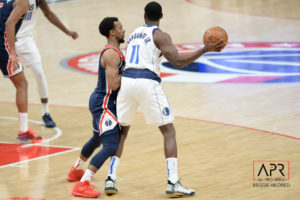 Tim Hardaway Jr.
Many people believed THJ was just a throw-in for the Kristaps Porzingis trade, but they were wrong. THJ has proven to be one of the many reasons why the Mavericks offense was unstoppable.
Tim Hardaway Jr. had a breakout season with Dallas. He was able to average a career-high 40% 3P% while scoring around 16 a game.
Tim Hardaway Jr. is technically not a free agent yet. THJ has an $18.9 million player option, and it gives him a lot of versatility in contract negotiations with the Mavericks. He could accept his player option and become a free agent in 2021. He could also do what Dwight Powell did and take his player option while signing a long term deal. I would hope that he goes the Powell route and agrees on a team-friendly contract.
Tim Hardaway Jr. has expressed his interest in staying with Dallas as his permanent home. THJ has compared himself to Michael Finley as he views himself as a perfect third option to help Luka Doncic and Kristaps Porzingis thrive. He's not wrong. 
On top of the 40 3P%, his catch and shoot percentage from 3 was 42% on five attempts. For comparison, Buddy Hield, a 3 point contest winner, shot 41% from 3 on five attempts. Tim Hardaway does not hog the ball either, although he has moments where he takes wild shots. 
Also, THJ opened a donut business in Dallas called The Salty Donut. I have never personally tried their donuts, but looking at the pictures and reviews, they must be one of Dallas's best ones. Finally, his dad and former Heat legend, Tim Hardaway, expressed that he believes Dallas is a good fit for his son and hopes that he stays there long term.
To wrap things up, Tim Hardaway Jr. is a player that can become part of the Mavs core. The main question about him is how much money he is going to demand. Are the Mavs confident enough in themselves to free up enough cap space to sign a star in 2021, even with signing THJ?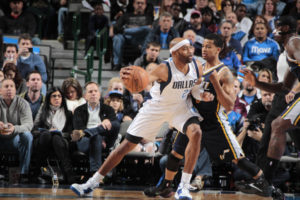 Trey Burke
Trey Burke came out of nowhere when he filled in for the injured Jalen Brunson. I knew Burke would have 1-2 games to fill up the stat sheet and look like his idol, Allen Iverson. I have personally called him 'Trial Iverson' since he has never really been that consistent his whole career. Although, after the bubble, my entire perception of Burke changed. What was different about Bubble Burke was that he showed up to play in every game and played his butt off every single game.
Burke was able to average 12 PPG and 43% from 3 in 24 MPG. Not bad for a player who was on the verge of maybe never playing significant NBA minutes again.
I am not sure about Burke's market value as teams only have a small sample size of his time in Dallas. Like Christian Wood, this could mean that Burke is cheap. The Mavs should have no problems resigning him.
I would love the Mavericks to retain Trey Burke. He is a good veteran who plays hard every night. He resembles his game to Allen Iverson, but I believe that he can be the next JJ Barea for the Mavericks in the future.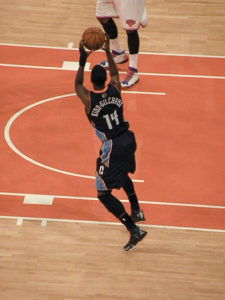 Michael Kidd-Gilchrist
You either do not know who Michael Kidd-Gilchrist is or know him as the guy with the historically unorthodox jump shot. I know him differently.
I believe he is an unselfish player who will NEVER put himself over the team. Whatever the team needs, he will be there to try to help. MKG is also a tough guy as he has been through a lot in his life, losing two father figures. Lastly, MKG is an elite defender that can guard the other team's best player every night. MKG only allowed 37.5 DFG% against opposing players who had a 46 FG% in the playoffs. That is a -8.9% differential, and he was playing against elite wings in Kawhi Leonard and Paul George. Marcus Morris is also a starting-caliber wing that deserves some mentioning too. But, even with all of that, his unorthodox jump shot outweighs his positives to most fans.
MKG improved his jump shot over the years, though, even reaching league average from mid-range in some years. What hurt Kidd-Gilchrist's shot the most was losing shooting coach Mark Price. MKG started showing legitimate progress in his jump-shot when he was around. The injury in 2015 certainly did not help either.
I know for a fact that the Mavericks saw something in MKG when they signed him in free agency after the Hornets released him. I believe that they liked his potential when it came to shooting corner 3s like Dorian Finney-Smith. The Mavs know they have one of the best shooting development staff in the league, and I think they are confident in improving his shot. They also appreciated his leadership on defense, which was lacking, and his experience/age. MKG is only barely 27 years old and has been in the league for eight seasons.
Kidd-Gilchrist used to be the youngest college player in the nation, which did not stop him and Anthony Davis from winning the National Championship. Davis and MKG are the only players in NBA history to be from the same college and be picked number 1 and 2 in the draft.
If the Mavs can get Kidd-Gilchrist to start shooting around 40% in the corner and get used to the offense, he can be huge for the Mavs in the regular season and the playoffs. For very cheap as well!!!
Image Credits:
"Tim Hardaway Jr. Ish Smith" by All-Pro Reels is licensed under CC BY-SA 2.
"182407874_UTA_DAL_BOLLINGER0242" by dannyb is licensed under CC BY 2.0
"Michael Kidd-Gilchrist, Charlotte Bobcats" by MattBritt00 is licensed under CC BY-NC-SA 2.0