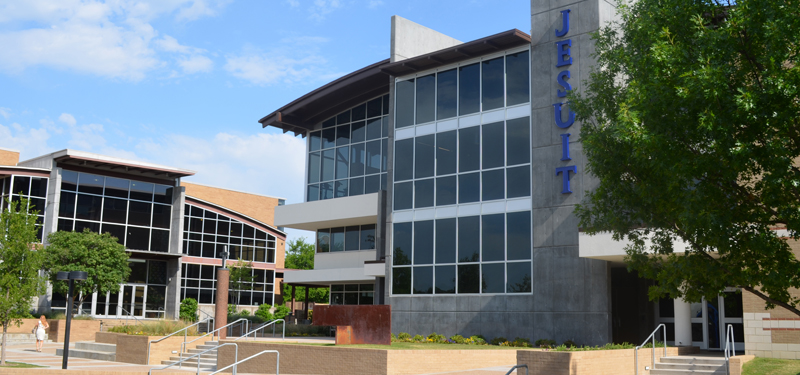 Your first day of school is always hectic; it's a foregone conclusion. That's why Jesuit implements orientation before school starts so the students can ease their nerves before a great year at this great school. Accommodating the new faculty as well as students, Jesuit not only has a pre-beginning of school orientation for students, but also has one for the new teaching staff members to get a feel for the unique environment that Jesuit houses by allowing the rising seniors to help them adjust to their new home.
Two weeks before the official school year even starts, around a hundred members of the incoming senior class come to Jesuit to eat lunch with the new staff, recount their tales of past teachers (both good and bad), and offer constructive criticism to help the novice Jesuit educators become more equipped to teach effectively for a community of adolescent boys.
Integral in planning this new teacher orientation, Mrs. Elise Stewart speaks about the effect the orientation leaves on the teachers: "Whether they've been teaching for 20 years, this is their first teaching job, or anywhere in between, the one thing, consistently, that they say makes a difference about understanding the school and who the students are is the experience they get from the orientation."
Will Aberger '17, who generously donated his time to the new teacher orientation, exclaimed that he "really wanted to let them [the new teachers] know what he finds especially helpful in a teacher. [He] thinks that making the new teachers aware of the myriad of different teaching strategies that can benefit not only [him], but also the rest of the grade will create better teachers and therefore students in turn."
Trying to get the message of "what Jesuit is" is no easy task, but through the voice of the students, Jesuit manages to speak for itself. Mrs. Stewart put it best: "We want to show [the teachers] that you're all chosen, not because you're a straight-A-student or the captain of the football. The real importance is that you're all committed to everything that Jesuit has to offer, and it's especially seen in the fact that all of you will come in two weeks before school even starts to help people you don't even know yet. You guys are more than just smart or athletically capable. You're all committed to all that we tell you that we're about. You believe that we are here for you and you show the teachers that this place is worth giving their time to by giving your time to them."
Looking back at the effect he had on the Jesuit community through this event, senior Bryce Ozier noticed how his "efforts on those days helped make those teachers better at educating the students. And next year with more new teachers, the better-educated students will be able to better guide the new teachers even better than the students did before them, creating an infinite upward trend in both students and teachers."
If you see any new teachers in the hallways, be sure to welcome them to Jesuit and show them what a great community they're a part of now!