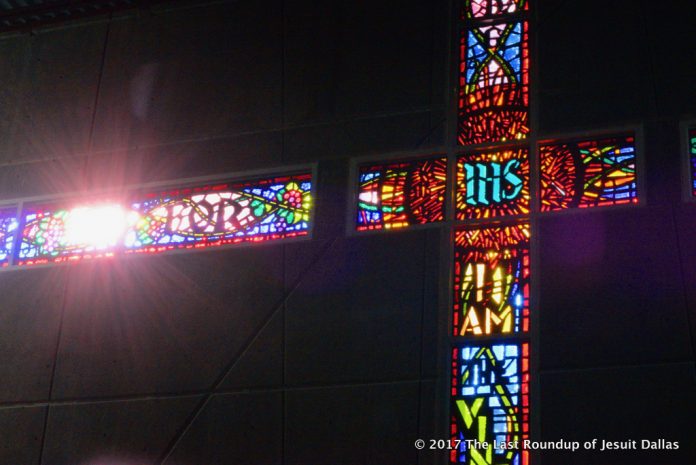 22El Presidente. Le président. 
总统. Der Präsident.  While he has many names, he has one power above all: to lead Jesuit's student body.
The Student Council Primary Election is February 28, which will cut the number of tickets eligible to run for Student Body President and Vice President from seven down to two.
Below, the candidates introduce themselves and explain why they are qualified to be the student body president and what they will do with this powerful position.
Candidates William Florer and William Nickols

Florer:
 I am seeking election with William Nickols to become Jesuit's Student Body President in 2019. I believe that I am prepared to hold this office due to my leadership experiences at Jesuit and my strong desire to focus on the realistic needs of the student body.
I am qualified for this office as I have previously served on Student Council as the Freshman Class Representative, the Sophomore Class Representative, and the Junior Class President. During my three terms in office, I led three class community service projects, contributed to several academic and student life issues, and as a part of the new Student Council Constitution, I helped rephrase the requirements and qualifications needed to run for Student Body/Class office to allow for the fairest possible election system.
In all three of my years at Jesuit, I have served on a grade-level leadership group: Freshmen Initiative Team, 24/7, and PALS. My experiences with these groups would allow me to better gauge the individual needs of each grade as the Student Body President. Furthermore, I have been involved in six Jesuit Stage & Film productions, leading and helping manage large casts in three of them. And finally, during my years at Jesuit I have completed around 600 total service hours, a testament to my desire of working towards the betterment of a larger community.
Our specific policies can be accessed on my running mate William Nickols' reflection. In addition to these policies, William and I have several overarching goals if we are elected for next year. Our biggest goal is to constantly ensure that the wishes of the student body be conveyed to the administration, creating positive changes wherever possible. I believe we will find success in this endeavor due to the connections we have formed with the administrators during past Student Council tasks. We also want to facilitate ways for the student body to hold its Student Council accountable: publishing projects/meeting attendance for anyone to see and writing an Official Address every month to update the student body on the council's agenda.
Our hope is that next year, the Student Council would actually be the "Students' Council" —a leadership organization where the voices and needs of the entire student body will be fairly listened to and evaluated.

Nickols:
I am seeking election with Will Florer to become Vice-President of the Jesuit Student Body in 2019.
Student Council's primary function is to seek out things for improvement at Jesuit and in our community to make everyone's time at Jesuit as enjoyable and productive as it can be.  I want to continue in this by listening to, leading, and serving the student body.
On Student Council, I have been Freshman Vice-President, Sophomore President, and Junior Class Representative.  In these roles, I've planned and led three class service projects: a freshman Leukemia and Lymphoma fundraiser in downtown Dallas, a sophomore combination of Audubon, Austin Street Center, and Spokes for Folks; and a junior coalition of projects at Bed Start, the Audubon Center, Club Sandwich, and Manna for Others.  I've helped organize, set up, run, and clean the Freshman mixer and Homecoming for the last two years. I've also helped on academic ideas like the Hughes Hall finals teacher-led study sessions and updating and stocking the work-grant bookshelf, and I'm currently working to implement a Moodle form for creating study groups.  Also, I've helped on student life ideas like Ranger Day, fixing the online suggestion box, the suggestion table, and the legendary quarter-zips. I was also on the committee to rewrite the Student Council Constitution to make meetings more accessible to everyone and to eliminate some excessive executive power.
Outside of Student Council, I'm the Vice-President of Medical Society, and I was the Sophomore Representative last year.  I've also been a captain on the powerlifting team for two years now. I am an Eagle Scout, leading a project to build a bookshelf and collect over 900 children's books for the Refugee Services of Texas's childcare room so immigrant children can begin to learn English.  I'm the Co-concertmaster in the Jesuit-Ursuline orchestra, and, for what it's worth, I've earned the highest semester GPA in each of my five semesters at Jesuit so far.
With Will Florer, we have determined some of our planned policies.  We would like to create a new social event connected to Ursuline at some point in the Spring Semester (like a second Ranger Day). In addition to the online form, we would like to create a physical suggestion box for all students to contribute their ideas and hold an open suggestion table at least twice per semester.  We would like to create a lunch committee to meet with Sage dining and give real feedback further than the small ratings on the app. We also want to revamp the Student Council Moodle page to include current information including meeting minutes and a monthly address outlining specific projects in work and accomplished recently.  Personally, I would like to revisit the idea of music in the hallways over the intercom during passing periods. Finally, I find a common problem in student council to be the way items slip under the rug and never get revisited. For example, earlier this year, we had a great design for a school-wide athletics t-shirt, but the idea seemed to fade after a slight funding question.  I think the publication of current work will help, but I also think that more record keeping and maybe a spreadsheet tracking progress will help with this.
I look forward to running for office and continuing as a part of the Student Council!
Candidates William Metz and Zachary Alcantar

Metz:
  Honor, integrity, and passion are just some values that Jesuit has taught and installed into me over the past three years. The honor in my religion, the integrity in my work at Jesuit while becoming a better man, and my passion for learning and becoming something greater in life. I think I should be elected as president of my 2020 class with Zach Alcantar as my Vice President and the whole student body because I can relate to them in many ways and make an impact for everyone. I play lacrosse and will be a senior captain in the upcoming year and have committed to play division one lacrosse so I understand the commitment of something in the future that is very serious. I also am Vice President of the sandwich club, a new club with a lot of members from the 2021 class. I am a Eucharist minister with members from all grades at Jesuit and know how to work with different ages and value those experiences. I also am a member of  SPCA and work with members from other communities. I have many plans for JCP and to not necessarily change the school but to guide it into a greater path that it's capable of. I plan on helping every grades needs and doing that will be challenging and some times might not get done but that won't stop me from giving it 100% and listening to as many as possible. But most importantly I am excited for the challenge that awaits because I know growing up with four Jesuit brothers and surrounded by friends and family there's nothing I can't do.

Alcantar:
I believe I should be elected to Student Council because I can bring many skills and qualities that apply to student council. I personally believe that my strongest ability is to lead, I have lead retreats, meetings, and even captain of the junior varsity rugby team. If elected I could use my ability to lead and guide those in the Jesuit community. Currently, at Jesuit, I participate in PALS and also recently the Jesuit Sandwich Club. For the Jesuit Sandwich Club, I am in charge of the social media for the club, because of this I know how to create a good look and maintain a positive image towards the group. At Jesuit, I have previously gone on a trip to Nicaragua, during this trip I was one of the youngest participants. Although being one of the youngest, the teachers and chaperones on the trip noticed and told me how good I was at interacting and guiding others on this trip. Next summer going into senior year I will be traveling with Jesuit to Guatemala, I look forward to using my leadership quality and attending this trip. To improve Jesuit, if elected the first thing I would do is ask the students what they wanted to improve. I personally would like to make a more comfortable lounge area for students but of course as a member of the Student Council would have to consider everyone and what they wanted. As I previously said my greatest quality is the ability to lead, with the ability to lead I believe I could make student council very organized and well run in the upcoming year.
Candidates Penn McCormack and Nash Crawford

McCormack:
I hope to become President of the student body in the coming election. It's my belief that the primary purpose of the Student Council is to help all people at Jesuit, not just the students, but also the faculty and teachers; in some ways, they get more from this experience than we do, whether it be from the forming of our adolescent minds to the to the crafting of our status in society, they have a more important job than some of us students realize.
Jesuit has been a part of me for my entire life; my father came here ('69) and was a member of the Board of Trustees, my grandfather was a founding member of the Jesuit Foundation and on the Board of Trustees, my brother graduated 3 years ago, and my step-brother graduated last year. Almost 18 years the Tenants of the Grad have been instilled in me and leading me on my journey. I believe I know Jesuit, more than my peers, more than some teachers, more than most. Blue and gold run in my blood and Jesuit is my home. On top of these things, I believe that there are some things that Jesuit does, or rather does not do, that inhibit the success of our students. From a lack of communication between administration/departments to students to an overall disconnect between classes, there is a discrepancy in how our students are learning. I also believe that, as a college prep school, our students should have some opportunities to express their creativity in dress. I believe that the vending machines should be brought back to vanquish hunger that may arise as a result of having lunch starting near 10:30 on most days. Sage should make or leave out materials for peanut butter and jelly sandwiches or DIY food for athletes or students that may not have the opportunity to grab food during the lunch periods. I believe that as Student Body President, I can make all these things happen and help every party involved. In terms of official leadership roles, I have none. Over the summer, I took a leadership training course that made me realize being a leader is different than being in charge. A leader is empathetic, charismatic, accessible, and open to growth. I believe I embody all of these qualities and more and that is why I should be President. Outside of the typicality of school, I am an Ambassador and member of the Political Society.

Crawford:
 Nash Crawford, will be in the running for Vice President along with one of my best friends, Pen McCormack. Many goals have been thrown out and discussed between the two of us and others, but I feel that the number one priority is to be able to influence all of Jesuit Dallas. This is my main goal and focus throughout my campaign and possible career because of such importance of community throughout my school. If the communal aspect is addressed, everyone from student to faculty will be able to embark on the best Jesuit journey possible.
Many characteristics found in me would not have been possible without the opportunity of Jesuit. For example, I am currently halfway through my third year on the crew team. This sport, although very challenging and time-consuming, has taught me so many things. Time management, accountability, and leadership are what make the sports function. My leadership has been found outside the sport, however. I had the pleasure to run a freshman and sophomore retreat. On top of this, next week I will be attending Junior Kairos to be able to lead my group of brothers on the Senior Kairos retreat. Another leadership role I have been lucky enough to participate in was the leading member of the Jesuit Family Teach-In in Washington D.C. this fall. I am involved with other things in and outside of the crew as well. I am apart of the campus ministry team at Jesuit, participating in the creation of prayer services, leading guidances, and assisting with mass. Also, I am a Eucharistic Minister with Jesuit and my current church community. Service also has played a key role in my life. Being apart of PALS, running the Notre Dame School Dance, and leading a service group within the community of Meals on Wheels. On top of this, I am the color commentator and future play by play announcer for the Jesuit basketball team, current lacrosse, baseball, and on and off soccer commentator as well. Connecting with these times in and out of school places me within many groups, hearing all different spectrums of other students opinions within the school. Outside of school, I play for a recreational basketball team with friends from my previous middle school and I am a lead salesman and ambassador for a clothing company called U-Apparel. 
With these goals and qualities, I believe myself along with my running mate in Penn McCormack will bring strong and positive change throughout the school. I am so excited to be apart of an amazing group of brothers in the running of student body president and vice president. Best of luck to all! A.M.D.G 
Candidates Camden Roy and Charles Clements

Roy:
I have a few stellar qualities that I would like to highlight, notably my persistence and hard work. I have played 1,253 games of Fortnite without a win; most would give up on a game with that little success, just like they would give up on the student body, but not me. I am not a quitter.  I will fight for you; you are my squad. I will be your John Wick.
My general goals for the upcoming year include working hard for you, leading more service projects, exemplifying a "man for others

Clements:
Establishing my presence on the historical Jesuit community has always been a dream of mine, and this past year it has finally become a reality. If I was elected Vice president, I would strive for the voice of the students to be heard. For example, I have obtained multiple leadership qualities throughout my experience of being a summer camp counselor. Being a summer camp counselor is more difficult than it seems, as sharing a cabin with twenty obnoxious ten-year-olds for a month, and most of them acted like five-year-olds. This experience had its ups and downs, but overall I learned how to bond with people who aren't my age, which is required in this prestigious position.
Being afraid to speak out is a common theme portrayed by the students at Jesuit, but I feel my presence on the study body will help people express their voice easier. For instance, during lunch, I have noticed the frustration of student's chairs being stolen from them. I have witnessed it multiple times as someone leaves their table to get food, and comes back to their seat is gone. Then, they go grab someone else's chair and it starts a chair "Hunger Games" (no pun intended). As Vice President, I will advocate for a more effective lunch table/chair situation.
I have felt the presence of the Jesuit community throughout my life. For instance, my dad was fortunate enough to attend here, as well as two cousins, and two of my uncles. Building up through middle school, the pressure of following their footsteps was a hard task to handle, but through perseverance, I was given the chance to learn at this fabulous high school. I attended countless football and basketball games, and I was strongly impacted by the culture demonstrated at those games, even at a young age. Now, I feel obligated to give back to Jesuit, a place that has changed my life forever.
Candidates Silas Hartman and Matthew Freeman

Hartman:
 I am running for Student Body President with my running mate Matthew Freeman. I believe that I should be elected because I have strong leadership experience and I am very involved with Jesuit.
Having served on Student Council all three of my years at Jesuit, I know what it takes to run a council. As the President of the Freshman Class, Vice President of the Sophomore Class, and Representative of the Junior Class, I have had experience in planning and organizing events like class-wide service projects, and I have taken the lead on projects like revising the Student Council Constitution. In addition to this, I have leadership experience in other areas, as I am the Chief Associate Editor and Media Editor of The Roundup, a member in the Captain's Huddle Leadership Academy, as well as an Eagle Scout. So, I believe I am fit to be the Student Body President because I know what it takes to be a great leader.
Another reason why I believe I would make a great Student Body President is I am very involved with Jesuit. As the Student Body President, it is important to be connected to all members of the Jesuit community, and as a student who is in many different clubs, I am connected to many people at Jesuit. I also contribute to Jesuit, as I have made many sports videos to shine a light on the greatness of Jesuit Athletics.
After serving on the council for three years, I have learned a lot about Jesuit, and I believe Matthew and I have great ideas to contribute to Jesuit. One idea is to increase connections between students and administration/faculty, because often times, students want to change but do not know where to start. Thus, I would suggest that counselors ask students what their needs are during guidance periods, and the council could publicize the suggestion box more. Furthermore, looking at the suggestion box each week could be a priority at Student Council meetings.
Another idea we had was to increase transparency between students and administration by holding meetings a few times a semester where a member of administration would answer questions students had about Jesuit. We would also increase transparency between Student Council and the student body by using Twitter much more to update the public on what Student Council is doing, as well as publish meeting minutes for everyone to see.
In short, I believe Matthew and myself would be a great fit for Student Body President and Vice President because we have the experience and we know what it takes to be great leaders.

Freeman:
I am running for Student Body Vice President with Silas Hartman. I believe that I should be elected because I am involved with Jesuit in many ways and possess leadership skills that would serve the office well.
Being a co-founding member of the Jesuit Competitive Shooting Team and the LaunchX Club, I have the experience of setting a goal to create something or initiate change within the school and being able to work towards that goal. With both of these organizations, I hold leadership positions and am responsible for helping organize meetings and coordinating with other members and faculty moderators.
Another reason I believe that I would be able to serve the school, as well as the Student Body Vice President, is because I am well connected to Jesuit in many ways. I am a member of organizations such as the Ignatian Service Corps, Ted ED Club, PALs, Competitive Shooting Team, and LaunchX Club which connects me too much of the student body from all grade levels. These connections would allow me to gain several different perspectives on issues within the student body that need to be addressed.
Silas and I have both agreed that increased communication and transparency between student council, administration, and the student body is key. One way we have discussed implementing this idea is with a sort of face to face suggestion meeting. These meetings could be held monthly where students would have the opportunity to voice concerns and problems to the student council in person. This would be much more effective than traditional online or paper suggestion boxes because the students would be able to better express themselves and receive immediate feedback. Another way we would like to keep the student body informed is by an increased presence on social media which would allow easy access to our progress and challenges for the student body.
Candidates Jack Devereux and Andrew Stelling

Devereux:
I believe my strong leadership skills as well as with my passion to improve the school I love are essential to representing the Student Body here at Jesuit.
Although I did not attend Jesuit my freshman year, I have been able to establish myself as a prominent and leading figure amongst not only the junior class but the Student Body as a whole. Entering my second year at Jesuit, I have emerged as a leader on the JV baseball team, a helpful hand to underclassman, and a strong voice of the people. I have also been selected as a member of the President's Honor Roll in each of the three semesters possible. While not involved in a striking amount of campus activities and clubs, I continually find myself representing the members of my class on issues in and around the classroom by being a voice of the people and seeking out teachers on behalf of my classmates to clear up confusion on assignments, scheduling, and activities. I take pride in being someone my classmates can lean on for help and I wish to expand this role by becoming the voice of the entire student body. 
Running through my plans for improvement are themes of brotherhood and unity. If elected, Andrew and I will take measures to improve the current big brother program here at Jesuit. We want to ensure not only that every freshman has a senior mentor, but that these two are consistently engaging in activities to help ease the freshmen into the community and traditions we hold so dearly. Additionally, we would like to propose that transfer students be assigned a senior mentor as well in order to make these student feel more welcome and comfortable upon their arrival at a new school. Furthermore, Andrew and I have proposed a new type of class competition during the school year. During these class competitions, members of each class would compete alongside their classmates in fun activities and games, against other classes, in the spirit of competition. We believe that competition and class bonding will also help promote brotherhood and inclusivity within each class.
After moving from a different state at the beginning of sophomore year, Jesuit has been a home for me, a place where I can feel comfortable and grow into the man I hope to be. For this reason, I hold deep in my heart a true passion to give back to the community that has given me a home in a new and uncomfortable place. If elected, Andrew and I will make it a priority to improve the everyday life of all students at Jesuit, making our brothers excited to wake up and arrive at a place where they can thrive and be happy.

Stelling:
 I believe that I have the leadership skills and dedication to improving our school that are necessary for holding this position.
Being fortunate enough to call Jesuit my home for the last three years, I have learned exactly what it means to be a leader. Entering into Jesuit as a student from Allen and not one of the major feeder schools, I knew I contained leadership qualities but didn't quite know how to put them into action. As Jesuit tirelessly instilled in me from the beginning what it means to represent something greater, I began to see my leadership qualities surface and I began to develop an urge to give back to Jesuit what it had given me. I began to branch out and see where I could make a difference in the school as a leader. Entering into my sophomore year at Jesuit I began to make a true difference. First, I became part of the JV baseball team and took on a leadership role early on. Next, I joined the ambassador program at Jesuit to see exactly how I could help run the domestic affairs of the school. Sophomore year I made strides as a leader in my community not only on the field but also within the halls of the school. Upon realizing my potential as a leader for my own school, I decided that I wanted to expand this role. The next year, I joined PALS and continued to lead and run the inner operations of the school. For example, I helped lead the giving tree drive in which Jesuit achieved unprecedented success in helping those in need for Christmas. Also, at the end of Junior year, I will be one of the Junior retreat leaders in which I will further my leadership at Jesuit. Furthermore, I have been selected a member of the President's Honor Roll four semesters in a row here at Jesuit.
Looking at our plans for improvement, themes of community and brotherhood constantly recur. If elected, Jack and I will work to improve the current big brother program here at Jesuit. The big brothers should be working with their little brothers throughout the year to encourage them to branch out and establish themselves in the community. We feel that often time this role is overlooked and we want to change this, making the big brother program a staple of freshman year. We also want to transfer students to be assigned a big brother of a similar type as well in order to make these student feel more welcome and comfortable upon their arrival at a new school. This addition is critical because even though it isn't their first year in high school, a new school can be intimidating to most and having someone to guide them is crucial to success and integration. Furthermore, Jack and I have proposed a new intramural-type of class competition during the school year. During these class competitions, members of each class would compete alongside their classmates in friendly games that will bring out the best in each grade while bringing the school together for a day of fun and bonding. If elected, Jack and I will make it a priority to enhance the quality of life for every student Jesuit, making the school a place of growth, community, and nourishment. 
Candidates Jacob Ennen and Tommy Hovivian

Ennen:
Student Council members are committed to seeking the Magis and dedicating their time to improve the lives of their fellow students and faculty, which I strive to do on a daily basis. As Student Body President, I believe I am able to lead my class as well as efficiently run the Student Council to improve our community.
At Jesuit, I have been the most active member of Campus Ministry, participated in multiple leadership groups, and have played for 3 years in the baseball program. I have invited students to an expanded daily Campus Ministry opportunities like Weekly Mass and Rosary, along with being the Head Altar Server, training new servers and serving each school Mass. In addition, I led a Freshman Retreat Small Group as well as facilitating parent-student discussion at the Parent Exchange. During this event, I expanded my knowledge of parents' perspectives of Jesuit beyond my own and crafted ways in which parent-student relationships could be improved here. Having participated in 24/7 and Interact, and being a catcher, I've learned and demonstrated the integrity, work ethic, and other expectations that come with being a leader.
Living in McKinney and playing a sport with before and after school, commitments requires effective time management and planning. At High School Youth Group each Sunday night, I demonstrate the ability to craft an effective agenda that keeps the group on task while moving through the night's material. Likewise, Student Council meetings will outline upcoming events as well as keep everyone in the group up to date on our tasks that week. As far as Tommy and I are specific policies, we seek to improve the teacher-student relationship. As students who have prioritized this communication effectively in our time at Jesuit, we hope to provide the community with easier ways to encourage this. Speaking from personal experience, Tommy and I have spent countless nights after our respective practices up until the middle of the night doing multiple classes' homework, so we will form a "Homework Calendar," following the idea of the "Test Calendar," in order to aid students and prevent teachers from overloading weeknights with quizzes, tests, and homework. Additional resources for students to freely express their opinions anonymously will be added to the Student Council Moodle Page. We believe the members of Student Council should sit down with teachers at least once a month to listen to each other's problems and comments and find ways to fix them. I believe the openness of the Student Council will encourage students to seek the change they've desired and not been able to express.
As hard-working student-athletes, dedicated to our faith, family, and school community, Tommy and I possess the work ethic and leadership that is required of the Student Council President & Vice President.
 
Hovivian:
Student Council consists of a special team of young men who work together to make Jesuit a more inclusive community and does so by seeking the Magis and dedicating their time and effort to improve the lives of fellow Jesuit brothers and faculty. Student Council members should strive to manifest and display the Jesuit motto Ad Majorem Dei Gloriam through all of their actions, which is where I feel Jacob and I can best help the school. As a Student Body Vice-President, I believe I am able to lead not only my class but all of my Jesuit brothers to make our community a manifestation of God's glory in the world.
While in my time at Jesuit, I have been recognized as a recipient of the "Man for Others Award" my freshman year, I'm an active member within Executive Ambassadors, I am also a part of the Jesuit multicultural society, the Jesuit Athletics executive leadership council, formerly the freshman initiative team, and NHS while also being awarded two ranger heart awards (one for football and one for lacrosse) as well as being named the 2018 Jesuit Lacrosse Offensive MVP. In addition, I have been voted by my peers to be the first ever Junior Captain in the Lacrosse Program. Not only recognized by my peers, but I have also recently been acknowledged and recruited by one of the top leadership institutions in the world, the United States Naval Academy, to continue in my growth as a leader and to serve our great country. Such leadership tactics qualify me to serve our Jesuit community by leading from example and helping the community understand the effect that our work has within the greater communities of Dallas and the world. I also proudly serve the Jesuit community as a Eucharistic Minister, a freshman retreat core group leader, and have a growing role within campus ministry by promoting weekly masses, prayer groups, and rosaries. Through my many cherished memories of my time at Jesuit, the most memorable experience came from the opportunity I had while traveling to Ecuador for a summer immersion program where I lived in solidarity with people less fortunate. Through this experience, I have learned to be able to put myself in other's shoes and to see life from their perspective which would assist me in my role as a representative of the school. 
I would like to be part of Student Council because I feel that I can help make Jesuit a better community by enhancing student and teacher interactions to create a more open and understanding campus. I feel that Jacob Ennen and I should be elected to be members of student council because we connect with a wide variety of students which will help us make the community better by accommodating the needs of many, not just a few. In doing this we would propose a student panel who would connect with teacher and administration monthly to increase dialogue to ensure both the students and faculty are working their best to be accommodating the needs of the other to best enable growth for all members of the Jesuit community. Jacob and I plan on improving Jesuit by listening not only students but also the faculty's desires and thoughts about the current community and what can be done to make all members feel welcome. We feel that consistent communication could help bring new ideas to the table that could make Jesuit an even more special place. Jacob and I's agenda include improving student-teacher relationships because we both realize that prioritizing communication leads to greater success and growth. Jacob and I for the majority of our Jesuit careers have had quite long commutes to and from school and we also balance varsity level athletics while being leaders among our peers in our respective sports. Due to such demanding schedules, as many Jesuit students do, Jacob and I have had countless nights staying up through midnight completing multiple classes homework, and to prevent this from happening more often in the future, Jacob and I will form a "Homework Calendar", similar to the Testing calendar, located on the Moodle home page to aid students and prevent teachers from overloading weeknights with work. Our demanding schedules display how we are not only capable but also successful in creating effective agendas and completing tasks with superb results. In addition, we would create more resources for students to express their opinion anonymously on the front of the Moodle page so that all students can feel like they can have a say in the way their Jesuit experience is formed in regards to their day to day school lives. We believe as Student Council, it is our job to listen to all types of members in the Jesuit community and their concerns around campus so we can find ways to accommodate their needs and try to fulfill their desires. I believe the openness that Jacob and I would bring to students council will encourage students to seek the changes they've been desiring and have not been able to express.
As hardworking student-athletes, dedicated to our faith and our school community, Jacob and I possess the work ethic and leadership skills required to serve Jesuit as the Student Body President and Vice-President.