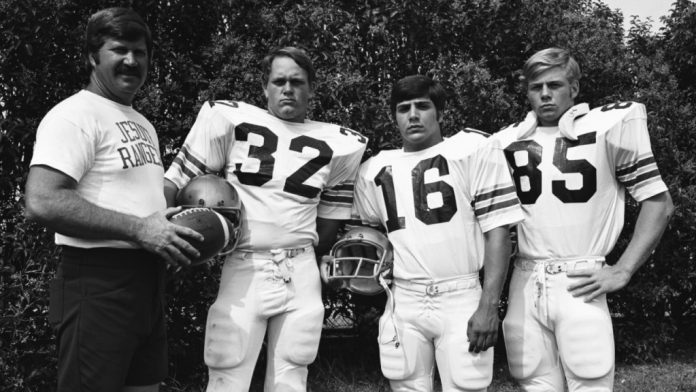 Excelling in one sport? Remarkable. Excelling in two? Rare. Excelling in three? Nearly unheard of.
But Bernie Hogan, of the Jesuit class of 1976, managed to do just that during his time here. He was a two-time all state football player, a two-time all state baseball player, and a two year letterman in basketball. He was given the Leo Ostick Award in the 74-75 school year for being a top student athlete, making it no surprise that this year he was inducted into the Jesuit Sports Hall of Fame.
He was a particularly good baseball player, starting for three years at Jesuit and even winning TCIL Sophomore of the Year in high school, but it was football that carried him on to college. Hogan was able to attend Rice University on a full scholarship, with the intention of playing football. So skilled was Hogan that he was able to pass on a scholarship to the Naval Academy in Annapolis, Maryland.
He said in an interview with Tom Walsh about his SHOF induction that he made the decision to go to Rice based on "the education and [closeness]" of the school. From there he went on to pursue a graduate degree at the University of Dallas.
Unfortunately, he was injured in college. "They didn't have the technology back then as they do now for repairing knees, but I was able to…go to a fine university. And they took care of me down there, so I appreciate the coaches down there," he said.
Indeed, coaches seemed to have had a great impact on him, especially during his time at Jesuit. Hogan was able to play under the legendary coach Gary Pasqua, for example, a man whom Hogan called "a leader among men" in his acceptance speech at Jesuit.
Of the three coaches and "great mentors" that he mentioned in the speech, Pasqua seemed to be the one who most impacted Hogan off the field.
"During my four years, he had a tremendous impact on me," he said in the speech. "My three sons don't know him, but a great deal of what I instilled in them on character, responsibility, integrity is from his influence. That's basically going to go on for generations."
He especially pointed out how Coach Pasqua would meticulously compile game tapes that helped Hogan go on to play at Rice and be accepted into three of the nation's service academies.
Other aspects of Jesuit, too, have made Hogan the man he is today. "Not only the education but also the spiritual and mental aspects of [the school]" have impacted him, he said in the interview with Walsh. He said that later in life the theology and character-building classes helped him.
It also seems that his experiences serving the community in high school profoundly transformed him as a person.
In the interview he remembered serving children at Scottish Rite Hospital: "It really built some character in me as far as the amount of challenges that those young patients, babies, toddlers had in their lives. For an eighteen year old, that was a big step in my life that I was blessed for what God gave me."
He spoke about service yet again in his acceptance speech, saying, "To tell you the truth, I don't know who helped who as far as when I was down there. I'm hoping that they got a little bit of a break from their illness, but they gave me a tremendous boost and also set the stage for the character I am today."
In conclusion, he fondly remembered the memories that he made at Jesuit, from Coach Pasqua's "40-40 sprints" to fun times with friends. It's about time this second time nominee was given a spot in the Jesuit Sports Hall of Fame.