With all the drama continuing to erupt around the upcoming Presidential election this coming November, it is important to remember that many Senators and all the members of the House of Representatives are also up for re-election. While the presidency catches the attention of most Americans as the most important office, the majority in both chambers of Congress can drastically affect how the president, whether they be Democrat or Republican, can perform their agenda.
The Senate, in particular, has brought in much more attention with the Democrats pushing hard to flip red seats and capture a blue majority in the chamber. One senator who is up for re-election this year is Senator John Cornyn (R-TX). Similar to the Democratic presidential field, the list of Democrats seeking to challenge Cornyn is starting to fill up, with candidates such as Royce West, a member of the Texas Senate, and moderates such as Air Force veteran MJ Hegar leading the field in name recognition according to a UT/TT poll from late last year. Another candidate trying to break through and challenge the incumbent senator is Cristina Tzintzún Ramirez.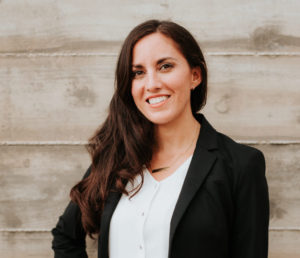 Ramirez, a graduate of the University of Texas at Austin, is both an author and co-founder of organizations including the Workers Defense Project, a membership organization focused on guaranteeing working families and individuals safe and fair jobs, and Jolt, a group focused on registering and persuading Latinos to get out and vote. She has also worked to make higher education more accessible to students across the state of Texas and has aided initiatives to help immigrant families.
As a more progressive candidate on the Democratic side, Ramirez supports policies such as Medicare for All, paid parental leave, a woman's right to choose, an assault weapons buyback, and universal childcare/pre-k, to name a few.
In late December of 2019, The Roundup had the opportunity to sit down with Cristiana Ramirez and discuss some of her policies and ideas:
As a senator, what would you do to bridge the partisan gap between the parties?
So, I think what we have to understand is that we live in a time where the influence of money in politics has created this deadlock. There are people in elected office who feel more accountable to a donor class than to the American people. And I think the way you address gridlock is by making them accountable to the needs and interests of the American people. There are people who need to be unseated, and then we need to reform the laws that allow that to happen. I am a huge proponent of changing how we finance elections. I think we need to not just get dark money out of politics, but we need to have publicly financed elections.
I also want to come to a place where we also make it as easy as possible for every American to vote. I don't know why we have an opt-in voter registration system. We should have an opt-out voter registration system. When I think of July 4th, that's what I want Election Day to be. I want it to be a celebration of our country's democracy.
And what we have to understand is that democracy has always been a radical idea. We fought a revolution in this country to have a democracy. Even from our nation's founding, when we only extended the vote to white, land-owning men, it was still a radical idea then because it was about one vote, one individual, and that there would not be kings or anyone above the people. And I think we have to go back to that and realize that what we need is a non-violent but political revolution to protect our democracy.
Why should young voters vote for you over Sen. John Cornyn?
If you look at my agenda and what I stand for, I've spent the last few years in our state organizing young people and know exactly what young people are facing in this state. We are facing climate change. We are facing an economic crisis where there are not many good jobs anymore. We are an entire generation of people burdened with things like student debt. And we, young people, live in an incredibly diverse cohort.
I turn around, and I see my friends that are LGBTQ under attack. I turn around and see my friends that are Muslim under attack, and I just feel like we don't understand why anyone is afraid of people that are our friends that we go to school with that are our neighbors. I think that we are the generation, like Millennials and Generation Z, that understand that diversity is nothing to be scared of but to be celebrated in who we are.
What would you say to Texas voters, possibly those who voted for Trump, who say that the policies you support (Medicare for All, Green New Deal) are too radical?
It's interesting. There are so many folks that if you look at key states and my policies, yes, they are progressive. But I also think a lot of my policies as neither right nor left. If you look at states that have supported raising the minimum wage that have been on ballot initiatives, many of them have been Republican states because people are tired and desperate for economic structural change in this country.
And if you look at issues like legalizing marijuana, you have a lot of Libertarians and Republicans who support legalizing marijuana, and I don't think that is a left nor right issue.
I think that sometimes, especially around economic justice issues and economic equality, that those are issues that people that see themselves as Republicans or independents care very deeply about, and I don't see anyone in this class of candidates, especially if you put me next to John Cornyn, that cares more about the interest of working people.
Is there anything President Trump has done that you agree with?
I'm proud that when I was running Worker's Defense Project, I worked with Republican business owners. I worked with a lot of people whom we didn't agree on every issue, but we found common ground. When I think about looking at the opioid crisis, I grew up in between Ohio, Texas, and Mexico, which has seen different sides of the epidemic and costs of the drug war. And especially in the opioid crisis as well, I really appreciate the focus on trying to look at how we treat substance abuse as an illness versus as something to criminalize. I think that how we ended up as a country where we have over two million people behind bars, the greatest share of any industrialized nation, is by trying to criminalize things that actually were public health problems, and I appreciate, and I agree with Trump, on that.
How did your time in college shape your political and personal identity?
I went to Austin Community College, and then I went to UT Austin. I think that there were so many opportunities to meet people with different types of perspectives. There was also a real sense of activism and urgency, which I always appreciate from young people.
When I think about every major issue that our country has stood up against or made change on, it really advanced democracy or equality or justice, and that primarily has always been led by young people. Going to college is this incredible opportunity to see the world in a different way and from different people's perspectives. So that really shaped me on a number of issues. I got really more informed about issues about criminal justice that I didn't understand previously.
If you had to describe Texas in three words, what would you say?
Bold. Friendly. Independent.
As a Texan, what is your go-to Whataburger order?
French fries.
For more on Cristina Ramirez's background, policies, or campaign, visit her website or follow her on Twitter (@cristinafortx).
Check back to The Roundup for more political interviews and US Political/Election News!