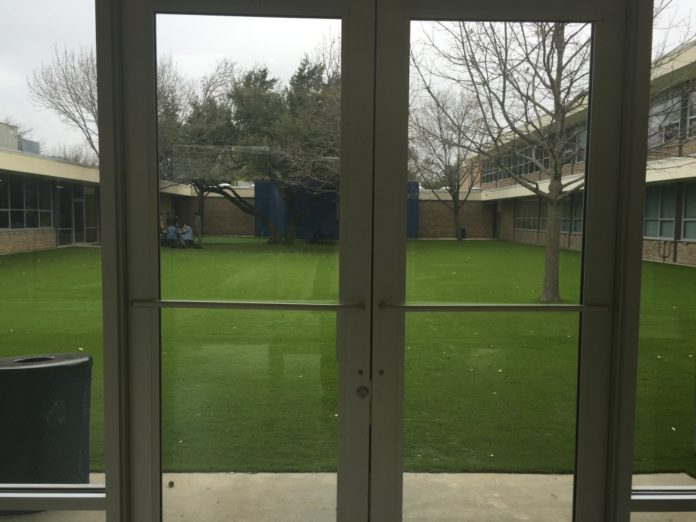 "Don't go in there! You never know what they will do to you."  Many students remember hearing warnings along these lines when they first were tempted to enter the green, sunny, sacred Senior Courtyard.  
Now, everything will change.
Starting Monday, all students will be allowed to enter the former Senior Courtyard.
"God calls us to be loving and open to growth.  By allowing all our students to recreate together in the Central Courtyard, we will create a more brotherly and egalitarian school community," commented Mr. Garrison.
Freshman through juniors can join their senior brothers in playing soccer, eating lunch, or hanging out throughout the day.
Assistant Principal of Student Affairs, Mr. Dion explained:
"We have decided to open up the once "Senior" Courtyard to all classes to promote inter-grade bonding and a sense of brotherhood among students.  This isn't the loss of a privilege–the privilege is for the seniors to spend more quality time with underclassmen."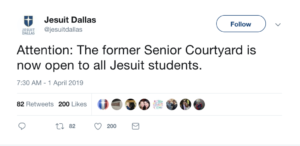 This initiative comes after various concerns of social stratification among the grades.  Now students of all classes can spend time together in a central location. Additionally, opening up the courtyard will relieve Jesuit 's congested hallways.  All students can now cut through the courtyard to get to class, helping to alleviate Jesuit's hallway-traffic problem.
"I always look out of my math class and see the seniors having so much fun. Why can't freshman join them? It's just not fair for them to have a special privilege just because of their age.  All Jesuit students should be able to have fun," explained freshman Mark Michel.
Soon to be seniors, some juniors expressed their frustration with the decision.
"I'm really disappointed because I was looking forward to finally using the Senior Courtyard during my senior year.  The underclassmen should have to wait their turn. Now since it's just a normal courtyard, it will lose its special significance at Jesuit," vented Trey Ashmore '20.
The senior class is split on how they view the decision: some welcome the opportunity to make new friends, others prefer to keep the tradition alive.
Joseph Buskmiller '19 commented:
"I've always thought that the Senior Courtyard was Jesuit's best tradition. I feel like it's going to be less special for us seniors, but I understand where the school is coming from. I guess it's time for us to move on."
"I know that it may be tough at first for the seniors to accept this change, but I hope they approach it with an open mind," explained Mr. Garrison.
It truly is the beginning of a new era in Jesuit's school history.
Stay tuned to The Roundup for the latest Jesuit Dallas breaking news.
April Fools' ;)