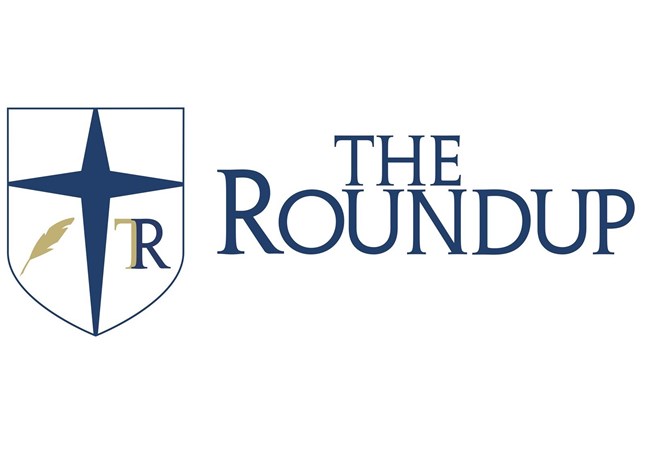 It's a bittersweet May 15, 2020. My academic career at Jesuit has come to a close, barring AP exams next week. And now, planning end-of-the-year banquets and writing this article, my extracurricular career has begun to expire as well. This isn't my last goodbye to the community, nor my last word as Editor of The Roundup, but it's a harrowing sign of my limited time here at Jesuit.
With that in mind, I can't overstate my excitement for the big things on the horizon for the future of The Roundup. Specifically, under the management of the 2020-2021 Roundup leadership team: a group of men among boys, fearless among the meek, strong among the weak. 
Between publishing content, networking, coordinating meetings, editing articles, scheduling interviews, and recruiting underclassmen, it takes a lot to orchestrate the daily operation of The Roundup. It takes an Editor-in-Chief. 
"The Editor-in-Chief serves as the chief public relations promoter of the newspaper. He provides a larger, creative vision for the newspaper and regularly interacts with a broad spectrum of the school community—administrators, coaches, students, and teachers—to promote the newspaper and to recruit quality talent.
Editor-in-Chief Patricio Boy

I am proud to introduce next year's Editor-in-Chief: Patricio Boy '21. Boy served as an Associate Editor over the 2019-2020 school year, rising the ranks as Chief Associate Editor after Spring Break. His communication, organization, and networking skills will surely serve The Roundup well next year. Looking forward to next year, Boy explains:
"As the new Editor-in-Chief, I am incredibly excited to implement many improvements to The Roundup. I think this next year will be a great opportunity to expand the newspaper to new heights. I am very lucky to be working with a great group of editors and writers to accomplish this goal. There are many exciting things ahead, so stay tuned!"
Managing Editor Jason Davis

Also running the day-to-day operation of The Roundup as Managing Editor is Jason Davis '21. Davis led The Roundup as an Associate Editor his junior year, filling the Chief Associate Editor position from January to March. His dedication to The Roundup has been unmatched over the past year, and no one is better fit to serve as Managing Editor. Regarding his new leadership position, Davis comments: 
"I am here to make sure that The Roundup is an exceptional paper, in fact, the best newspaper here in the state. There are some ideas I have to revolutionize the way we run things, and I'm looking forward to immersing myself in the job. As managing editor, I get to be hands-on executive with everything, running the show for The Roundup next year and making sure things run smoothly. I look to make any good ideas and suggestions a reality, and make sure The Roundup is widely recognized across our school, community, and state. I am very happy to be Managing Editor. I look forward to the year to come."
Boy and Davis have chosen a strong group of Senior Editors to help lead next year, including Andrew Allred '21 as News Editor, Collin Kittleson '21 as Sports Editor, and Luis Osorio '21 as Viewpoint Editor.
I would again like to congratulate Editor-in-Chief Patricio Boy, Managing Editor Jason Davis, News Editor Andrew Allred, Sports Editor Collin Kittleson, and Viewpoint Editor Luis Osorio. Their hard work and dedication to The Roundup has merited these leadership positions, and I'm confident they will exceed expectations next year. (No pressure)
The past two months have reminded us all that the future is uncertain. Through thick and thin, good times and bad times, one thing will always hold true: The Roundup will always be here for the Jesuit community.