On the weekend of September 7th, Dr. McFarland, a debate coach and teacher at Jesuit, received the Grapevine Debate Classic Coach of the Year Award. Given annually, the award recognizes coach-educators nationwide that demonstrate a commitment to education and debate. At the tournament awards ceremony, Jane Boyd, the 31 year debate coach at Grapevine, recognized Dr. McFarland for her commitment and service to the greater debate community, her competitive coaching successes, and for her being "an amazing role model for women debaters and coaches nationwide," highlighting her work with the Dallas Urban Debate League and her tenure as President of the National Debate Coaches Association were highlighted.
I was able to ask her a couple of questions and some others about their opinion on her and her impact at Jesuit and the debate community.
What's your background and how did you get to Jesuit?
I had migrated to Texas for college and while I was in college, Mr. Lingel, who I was already engaged to, took a job at Jesuit, ostensibly for the two years while I was finishing college. In fact, he likes to joke that they almost didn't hire him because he wouldn't be around very long and/or he wouldn't be able to control his classes. I've been coaching for Jesuit since I was 19. After I had completed my course work at UT for my Ph.D., an opportunity came to teach at Jesuit full time so, rather than stay in Austin to TA while working on my dissertation, I took the job at Jesuit. So a two-year job for Mr. Lingel has turned into a family affair, now 25+ years on.
What have been your goals as a teacher?
Although I am a politics junkie, I don't expect other people to be; however, I do think it's important for people to be aware of how government and politics work so that they can make an informed decision about whether they will vote or not. In addition to content, I hope that students get some time management skills out of my classes, learn to have discussions about difficult issues, and even if they don't change their minds, to be willing to listen to the other side.
How has debate coaching and teaching impacted your life?
Debate, and now debate coaching, provided me opportunities and experiences I would not have otherwise had. It helped me to go to college on a debate scholarship. It meant I met my significant other. Debate inspired nearly every academic interest I have had in my life since I started debate. Debate coaching has led to some of the most significant relationships in my life through the relationships I formed coaching Jesuit debaters. The impact really can't be quantified.
I stay in debate because every day I learn something about arguments, the topic, or people. I am hopeful that most debaters who come through our program have fun, learn how to be a part of a collective working for a common goal, and demonstrate to the rest of the debate community the value of hard work and having argument and ethical standards.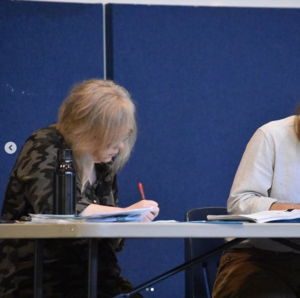 Other Teacher/Coach Insights
When asked about how to describe Dr. McFarland and her unique impact, Mr. Profitt said, "When I think of Dr. McFarland I think of extreme competence. She is clearly one of the most knowledgeable and informed people I know and everything she does she does with excellence.  I think of integrity and conscientiousness.  I think of someone who has the courage of her convictions. I admire her."
He added, "Dr. McFarland makes people around her better.  She is a force multiplier.  Her organizational skill, her high standards, her ability to articulate complex ideas and be open to dialogue not only make her a tremendous teacher and coach but an invaluable colleague."
Other coaches agree. Maggie Berthiaume, a debate coach at Woodward Academy in Georgia, said, "Dr. McFarland is a true educator — she's devoted to her students and passionate about their success. It's clear in our conversations that she cares deeply about her students as people — it's no surprise that so many Jesuit debaters return to assist the team given the culture that she has created. She's also equally committed to her role as a judge to other students — I know every time that she judges my teams that they will receive excellent expert feedback, and I'm grateful for every time we get that experience!"
Berthiaume continued, "I consider Dr. McFarland to be one of the best role models for other teachers and coaches in our community. She takes her work very seriously, and in doing so, she helps model for her peers the importance of diligence and care."
And Dave Huston, a debate coach at Colleyville Heritage said, "Dr. McFarland is the consummate professional. She is highly responsible and is a true student as well as a teacher. When working with students, she helps them find the answers to questions rather than giving the student the answer. Her students are some of the best-prepared students on our local circuit. She is one of our favorite judges. Regardless of the skill level of my students, I would always want them to be judged by Dr. McFarland. When she makes a decision, it's not just about the win or loss. It's about the education that she can give to the students that she is judging.
Dr. McFarland is the best role model for which we could ask. First, as a woman, she is a great role model for other young women in the activity. She demonstrates that it's cool to be smart, articulate, and respected. She commands and demands respect from all persons regardless of gender. That's an important message for the young men at Jesuit. In our male-dominated society, women often get lost or are not treated with the respect that they deserve. Dr. McFarland helps the young men at Jesuit to understand the value and worth of all individuals, regardless of gender. She forces them out of stereotypical beliefs and gets them to see others as people. In that regard, she plays one of the most important roles in our community."
Stay tuned to The Roundup for more faculty profiles!