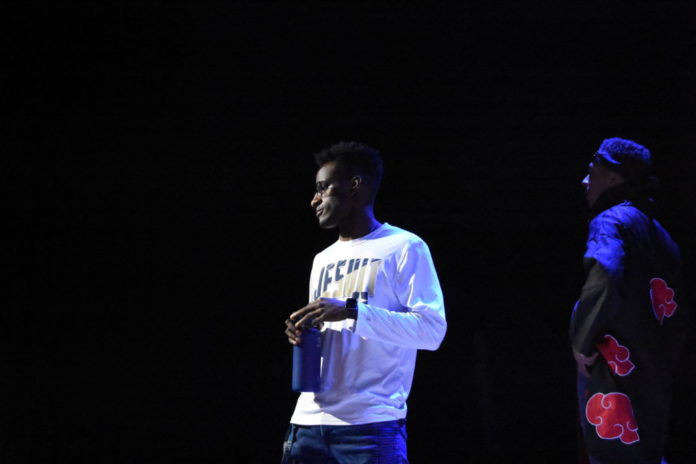 All images courtesy of Sam Dayton '20 of The Last Roundup
Last year on Ranger Day, the rap battle resulted in the renowned LOTB (Lord of the Bling), or Alex Rivera '20, defeating Mr. Kamara, who goes by the stage name DKam. The crowd went crazy for both rappers, exchanging digs back and forth at one another. This year, the theater was even more packed, as there was a total of three new lineups. This time, faculty member Mr. McGhee went up against Ermias Belay '20, co-founder of the Hip-Hop Appreciation Club. Changing things up from last time, DKam went up against the other co-founder of the club, Dagmawe Daniel '20. The undefeated LOTB decided to come out of retirement against his fellow classmate Voctave, or Parker Christensen '20, after disrespecting LOTB's flow and claiming to be the better rapper.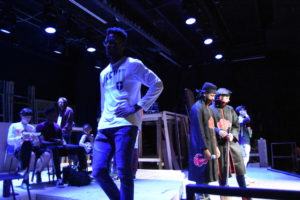 Rap Battles
Dag and Dkam
Some heavy blows were exchanged back and forth in the Dag vs DKam battle. For example, Dag stated that in DKam's senior year picture, his head was "built like a Junior Mint." Full of confidence, DKam proceeded to completely freestyle without relying on his phone, ending up victorious through his numerous roasts such as "your hairline is so back it looks like EJ and Jhalen competing in the 100m dash."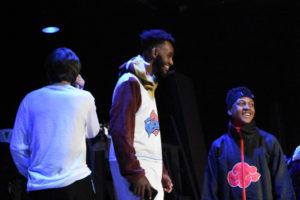 Mr. McGhee and Ermias
Afterward, Mr. McGhee went up against Ermias and surprised the entire audience by throwing it back on an old school beat. Ermias kept his bars plain and simple garnished much laughter out of the audience who enjoyed the jokes about McGhee's age. In the end, Mr. McGhee's overall flow won the hearts of both the audience and the judges.
Voctave vs LOTB
Last but not least was the main event between LOTB and Voctave. The outcome of the long-awaited battle surprised everybody in the room. Voctave came in as the underdog and many of the students believed the reigning champion LOTB would easily defeat him. Despite all of this, Voctave's barrage of roasts proved successful, as he was crowned the victor, and his closing statement "they're all in awe because they know what a lord is to a god" left its mark on the impressed audience. LOTB took a different approach by rapping on beat without his phone to aid him and attacked Voctave's futile attempts to sell his merch as well as his SoundCloud career, which is @voctave_official for all his fans. Nevertheless, the rap battles were all in good fun for the entertainment of both the students and faculty.
Interview Questions
What got you involved with the hip hop club and why do you enjoy it?
Parker Christensen (Voctave) '20
"What made me get involved with Hip-Hop Appreciation Club was the opportunity to share my passion of hip hop with my classmates. One of the very unique things about the club that I was initially drawn to was how welcoming the group was and how easy it was to get involved. My favorite thing from the rap battle was getting to hear the performances of my peers and teachers as well as interacting with the crowd."
How did it feel being considered as the underdog and coming out of your comfort zone?
Mr. McGhee
"I thrive on being the underdog. I love when people underestimate me. I also think it's important to come out of your comfort zone and for people to see each other in a different light. I did take tremendous pleasure in putting Ermias as a young student in his place, and of course I always come to win. I would consider my victory due to the power of the old school as I've got years of hip hop tradition on my side. Also, major thank you to Hip Hop Appreciation for welcoming me in and a general thank you for the crowd for being hyped and open-minded about hearing this old man rap."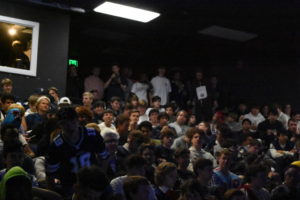 What do you think of the new generation of hip-hop?
"I start from the position of prejudice in favor of the old school and I think there is a lot of great old school hip hop. I do think a lot of current stuff, although I'm not that familiar with it, is strong. However, one of the cool things that have come from being apart of this club is that I've been introduced to some very cool and really high-quality modern stuff in hip hop like Kendrick Lamar from the younger guys in the club. This club has really helped me with the Jesuit tenet of being open to growth, whereas the easy thing is to be the grumpy old man who thinks that his music is the best and that everything else has gone downhill."
What made you go up against Mr. McGhee and what was your favorite thing about the whole process?
Ermias Belay '20
"Being the fearless leader of HHA and no one else stepping up to the challenge, I volunteered myself to be a part of the rap battle, as did Dagmawe Daniel, Parker Christensen, Alex Rivera, Mr. Kamara, Mr. McGhee. My favorite part about the entire process and event was definitely the environment. It's crazy to look back at when I first started the club and how worried I was about the club's preservation. But seeing the vast number of people who showed up to the rap battle really amazed me and I am thankful for everyone who came out, performed, and judged."
What did being in the hip hop appreciation club help you with personally?
Mr. Kamara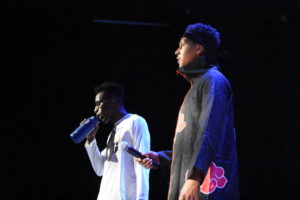 "What I find really special is how the rap battle was able to bring together a community of students, faculty, and staff. At its core, hip-hop provides a creative outlet for me to express my triumphs and obstacles; I will forever cherish the meaningful discussions I have been able to have with others related to my journey."
What did you think about everyone's overall performance and the crowd turnout this year?
Dagmawe Daniel '20
"I loved the show out and how much people enjoyed the rap battle. I am glad that the rap battle accomplished its goal by bringing an often overlooked form of music into the Jesuit atmosphere."
What do you think makes the rap battles special?
Alex Rivera '20 (LOTB)
"What I like about the HHA rap battles is how they bring something new and different to Ranger Day. There's no other event that's like it. Everything from the Chariot Races to the dodgeball games is fun and all, but merely doing the same traditional Ranger Day activities every year eventually gets repetitive and boring. With the rap battles, nobody knows what to expect and I think it's the unpredictability aspect that makes this event so exciting. Like who would've thought that Mr. McGhee was actually going to come on stage and beat Ermias in the rap battle? He really impressed the whole audience. It's cool seeing students and teachers enthusiastically participate in an activity that probably seems unorthodox or improper for a Catholic school, and that's what's special about it. Jesuit isn't like any other school. With that being said, HHA deserves all of the credit for establishing and organizing this new Ranger Day tradition."
Huge thanks to the competitors, faculty, judges, sound crew cameraman, Will McKinney, and photographer, Carter Williams, for the amazing success of the rap battle. Check out the incredible video of the entire rap battle which is currently on YouTube under The Roundup's channel. Hip-Hop Appreciation hosts events like this and many others every Friday after school, so please stop by if you are interested.
Check back to The Roundup for more coverage for Ranger Day!