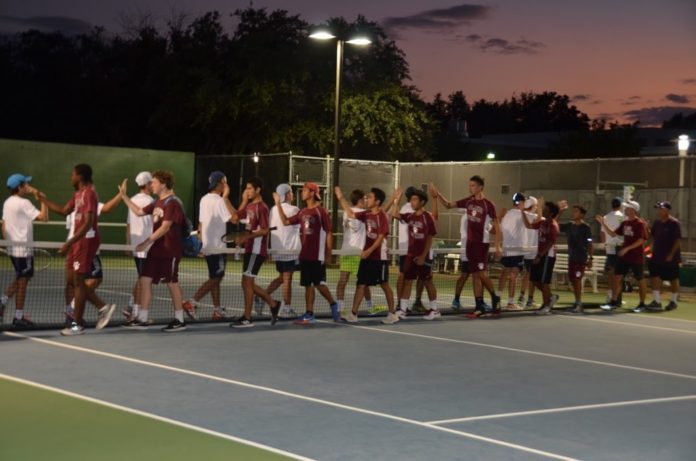 Unit (noun): An absolute machine of a person who looks like they never leave the gym and could cause trouble. 
One does not simply become a unit. It's the product of flawless DNA and years of physical and mental training. Many dedicate their lives to achieve this end but simply don't have what it takes. Not Cluck.
As Cluck steps on court, fear inundates his opponent's eyes. They fight back tears but cannot quell the tide of sheer terror and anxiety. Just when his opponents think it can't get any worse, Cluck's partner steps on court. James Paredes '22, another unit, only amplifies their trepidation, which by this point has grown so insurmountable that no ounce of willpower can hold back the inundation of another liquid, this time in their pants.
Cluck and Paredes comprise just one of the six units on Jesuit's varsity tennis team, six doubles teams that routed Plano in a convincing 16-2 win this past Tuesday, September 17.
Doubles
The Rangers swept Plano across the board in doubles. The most convincing of these victories came from the doubles teams of Carl Wilson '21 and Jack Murray '21 and Trey Ashmore '20 and Jonathan Ardoin '21, both teams winning their matches 6-1, 6-0. Murray commented on his match:
"Carl and I knew what we had to do, and we got it done. His lefty forehand compliments mine pretty well, and the match was pretty smooth sailing once we got our balls in."
Jake Darlak '21 and Connor Bryant '21 sprinted to a 6-0, 6-3 victory at line three doubles, while Max Platt '21 and Eli Gan-Dy '21 fought off a second set comeback to win line two doubles 6-1, 6-4.
The Rangers' top-flight doubles team of Matthew Cole '20 and Reid Aaron '22 squeezed out a close three-set victory, and the team of Thomas Cluck '20 and James Parades '22 capped the doubles sweep with a 6-2, 7-5 victory. Cluck commented on his partnership with Paredes:
"I felt like we finally overcame the doubles learning curve [in this match]. James had a good serve, which set me up to dominate the net. We have good chemistry, which I think will serve us well for the rest of the fall season."
Singles
Plano captured its lone two points of the match with wins at first and second singles. Platt put the Rangers back on track with a 6-2, 6-3 win at No. 3 doubles, followed by a 6-2, 6-0 by Gan-Dy, a 6-2, 6-2 win for Darlak and a 6-1, 6-3 decision in favor of Bryant at fourth through sixth singles, respectively. Wilson (8-3), Murray (8-1), Ardoin (8-1), Ashmore (8-1), Cluck (8-6) and Paredes (8-5) all earned victories to cap the dominating performance.
Paredes commented on his singles performance: "The team atmosphere for my match was great. I was one of the last ones on court, so the guys that had already finished were cheering me on from the sideline. That energy gave me the extra push I needed to close the match out, and something that really helped us against Plano."
Jesuit will enter the final week of district play with a 3-2 record ahead of a Tuesday bout with McKinney. Jesuit will then finish the district circuit on Friday, Sept. 27 against Plano East. Both matches are scheduled for a 4:30 p.m. first serve.
The Rangers move to 3-2 on the season with the victory as they approach the home stretch of the fall season. Stay tuned to The Roundup for more news from Jesuit tennis!