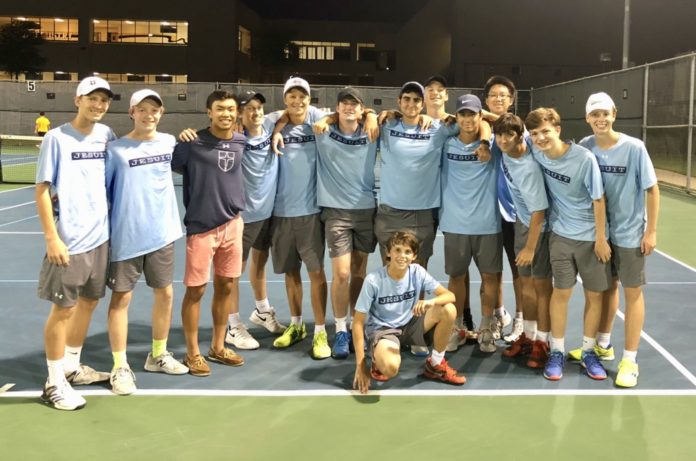 When you walk down the halls of Jesuit, you can immediately pick out the tennis players. They're simply a different breed: more athletic, intelligent, and handsome than their peers. To top it off, their clout has been elevated by early success their spring season.
The spring tennis season consists of both tournaments and matches on a weekly basis. Jesuit typically sends 8 varsity players to each tournament: 2 for singles, 2 for doubles, and 2 for mixed doubles.
Ice Bowl Tournament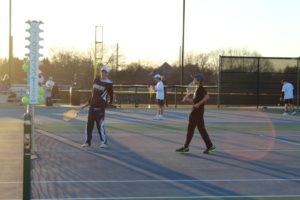 Competing amongst a stacked field in a tournament, the Rangers secured several critical wins. Freshman Reid Aaron '22 brought his A-game to the court in his first high school tournament, reaching the semifinals of the singles tournament. Aaron commented on his performance:
"I owe my success in my first Jesuit tennis tournament to my teammates. I was the last on court, and even though it was late, the guys were still rallying behind me. Performing well in the opening rounds increased my confidence going into the semis, but frankly, my opponent was just better than I was."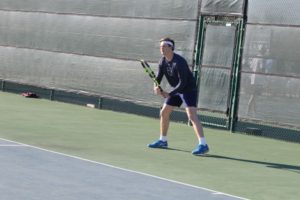 Senior Cole Clement '19 had a tough first-round match but went on to dominate the Boy's Singles Consolation bracket, winning the consolation finals in a convincing 8-0 victory.
Super Bowl Invitational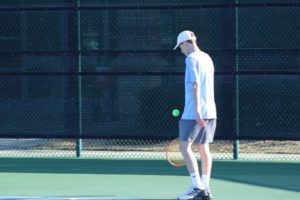 Jesuit Dallas tennis continued its season at the Coppell Super Bowl Invitational on Feb. 15-16 at Coppell High School. The team of Matthew Cole '20 and freshman Reid Aaron '22 earned a berth in the tournament finals, dropping a close match against Highland Park in three sets.
Head Coach Paul McDaniel lauded the pair's performance: "Matthew and Reid have such great chemistry. Their confidence is so evident when they are on the court. Even when they are down, they just seem to believe that they can come back and win. We were very aggressive in the first set. Unfortunately, we let Highland Park take that away from us."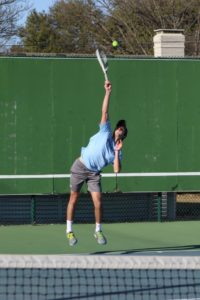 Trey Ashmore '20 won third places in the singles back draw, commenting on his performance:
"The Super Bowl Invitational was probably the most fun tournament of the season. Tennis is a mentally-tough game, but the anxiety of not playing well was buried by our team spirit. It even branched beyond Jesuit's team at this tournament; I was the only Jesuit guy at my site on the second day of the tournament, so it was especially encouraging that some of Ursuline and Highland Park's teams were cheering on my match."
Allen Eagle Invitational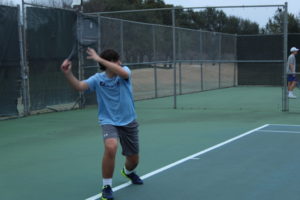 The Rangers traveled to Allen, Texas for the Allen Eagle Invitational on Friday, March 1. The high temperature on Friday was a staggering forty degrees, dropping below freezing to thirty-one degrees for part of the day, too. On top of that, scattered showers delayed tournament progress, the Rangers staying on site from 9 AM to 9 PM.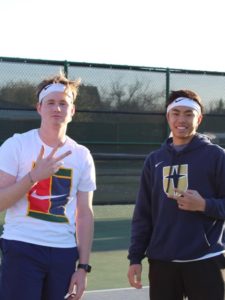 Nevertheless, the Allen Eagle Invitational was one of the strongest tournament for the Rangers, who achieved success in both singles and doubles. The doubles team of Cole Clement '19 and Eli Gandy '21 battled to win the tournament doubles draw.
"The Allen tournament had a great showing by our whole team. I really felt like I was in my groove, which is the best feeling to have on court. Earlier in the season, we lost a really tough matches against Allen and Plano West, so it felt great to be able to secure big wins over both programs in this tournament."
The Roundup wishes the tennis Rangers competing in the UIL 6-A district tournament the best of luck this week. Stay tuned for more Jesuit tennis updates.