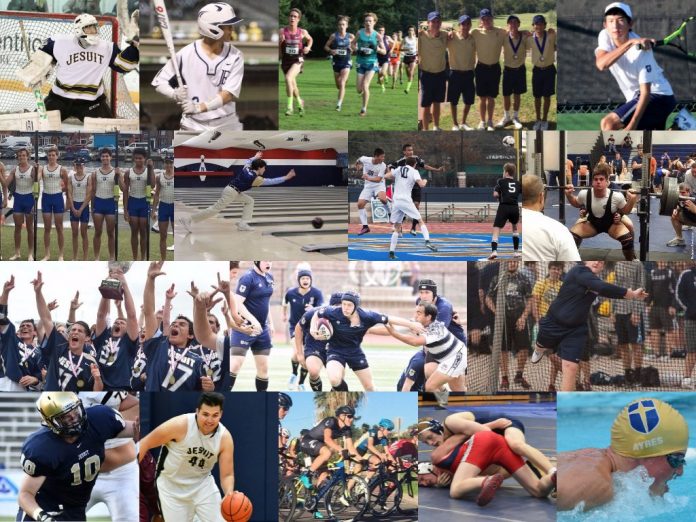 When you look at Jesuit from an athletic point of view, you're likely first confronted with large programs such as football (8-4 on the season; playoff berth), baseball (36-8-2; championship win), lacrosse (14-2; championship win), or crew (quarterfinal berth at Henley Regatta). More of this wealth can come in the form of burgeoning programs such as powerlifting, consistently successful programs like bowling, and many others.
When you look at Jesuit from an academic point of view, you're most likely to notice the prominent "College Preparatory School" in the name. Go a bit further, and you quickly find that not only does Jesuit promote not just the intellectual endeavors of the students, but the school provides meaningful education of the whole person.
When you look at Jesuit from a spiritual point of view, you'll, of course, acknowledge the Catholic aspects as a part of the Jesuit mission. Dig a little deeper, and (similarly to the athletic and academic programs) you'll discover a wealth of Campus Ministry activity, essential theology courses, and a 500-year-old educational vision that defines some of the finest institutions in the world.
One of the great privileges of working for The Roundup, especially for four years, is the appreciation for all of these areas as a result of countless articles that make up the 5-year-old digital archive. However, many view Jesuit in terms of these areas separately, not as interacting with each other.
But that seems to make sense, doesn't it? What could a football player possibly take to the field from his French Class? How can the brotherhood formed from Rugby shape a student's actions? How could a soccer player ever bring his faith to the pitch?
Over the next three months, The Roundup staff will explore and hopefully answer these interesting questions in the series Faith and The Field by profiling various student-athletes, regardless of faith background.