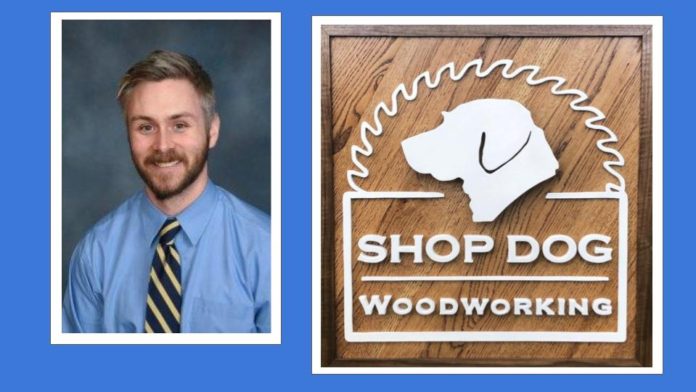 Ask any of the Jesuit faculty, and they will tell you being a teacher is hard work. From writing curriculum to grading, Jesuit teachers work tirelessly to provide the best education possible. It is because of this commitment that when a faculty member does something beyond teaching, it is truly unique.
Mr. TJ Howard embodies this idea. While he is known as an AP Physics and engineering teacher and a basketball coach, a majority of the student body does not realize he does much more. On top of being a parent as well, Mr. Howard owns and runs Shop Dog Woodworking, his small business focused on custom woodworking, particularly furniture.
Interested in this side profession of my current AP Physics teacher, I had the opportunity to sit down and talk with Mr. Howard about his passion outside of the classroom…
What was your inspiration for starting Shop Dog Woodworking? 
I've always enjoyed making things like starting with Legos as a kid and arts and crafts type stuff. Arts classes were my favorite classes. Ceramics here was one of my favorite classes ever just because building something out of nothing is just so rewarding and satisfying. So even in college, I took a cooking class, and it was kind of the same thing where it's like you kind of get lost in the process of taking raw materials and making them into something else. A lack of fear of failure where it's like yeah, I'm going to try and if it doesn't work, well, we'll try again. And so that's really where it all started.
The woodworking started because my then-fiance started sending me links to furniture to buy online, and I was like, "man furniture is so expensive." And at the time, I had some really low-quality hand tools and was like, "I'll try to know what I'll make a bed." I tried it, and it was okay at the time. It was like, "man, this is amazing! This is the coolest thing I've ever seen because I made it." Now looking back, it's not a great bed. At the time, it was as a way to save money, but also to kind of build something that would be of higher quality than Ikea.
Where did the name come from?
I guess the one person who spends any time with me in the garage is my dog, Lola. And it just kind of came to me one day while I was working. And I made the logo that day and said, "I like it. I think it fits." Lola will just lay in a pile of sawdust in the garage while I'm working all day and keep me company. And so that's why I kind of thought of it. This is a good name. The name also came before I started having children. So it was kind of like well, yeah, I do love my children, but the dog preceded them and so did the name of my business.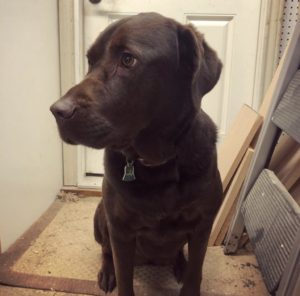 Are you the only Jesuit faculty member involved in the business?
Yes. I am technically the only employee. One thing I've done is people who I guess have found my Instagram page have reached out because I think everyone has an interest in learning and developing skills that they don't have. And so people are like "hey, do you mind if I just come hang out and learn some things while you build something?" And so I've had people come who taught here or teach here who have done that. The other thing that I kind of like making better than just my own custom commission work is people will like, a lot of times in the summer, they'll come in and say, "look, I want to make a dining table." And so I will help them with the materials, and I will just guide them through the process step by step, but they do all the work. So that that big round dining table I made this summer, really the guy made it, and I just kind of walked him through it. And so for him, that's it's a cool story. It's a cool experience, and it's a dining table that he'll have forever in his house as something like I made this.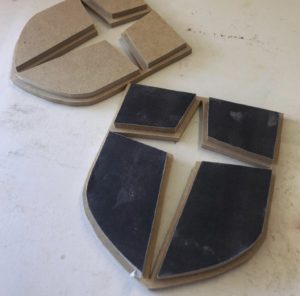 What are some of the things people ask you to design? What are some of your more popular products?
You're not just selling a piece of furniture. You're selling something that people see as a table that we're going to have family dinners around and so kind of that whole experience goes with it. But man, I get some random things. It's the things people come up with; that's the hard part. People come up with things like, "Hey. You know how to do woodworking. Can you install baseboards in my house," and I'm like "technically, but I'm not a contractor." So it's like people see woodworking as just this blanket statement for a huge industry, and woodworking is actually more the building custom pieces. So last week someone requested a doghouse. Making a dog house is kind of like, "I've never done that." So in the first three years of the business, that's been what a lot of it is. "Hey, could you make a built-in cabinet?" "Yes, I never have before." So that's where I'm learning a lot. How do I price this and develop new skills and maybe buy new tools that I need for all these different special projects as they come up?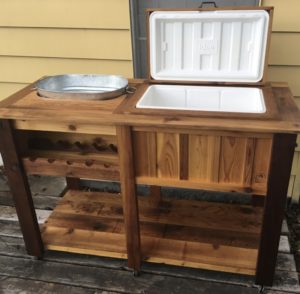 How do you balance being a father, an AP teacher, a basketball coach, and running your side business?
It's something I'm learning as I go, and when someone puts in a request, I try to communicate with them: long lead times. So anything that comes in now I say, "okay, maybe next June." If you can wait until June, perfect, but most of what I do happens over the summer just because after summer school and basketball camps die down, that gives me a few weeks. So last summer, everything really just came in August. It was like from August 1st to August 15th. Whenever we started faculty in-service those two weeks, it was like two bookshelves, two dining tables, and just a handful of other little things outside of that. It's whenever my kids are napping.  Or whenever we have a day off of school, and the kids are at daycare. That's when I sneak in a few hours here and there. But it's something I'm figuring out still, and I probably will forever until my kids get old enough that they don't want to spend as much time with me.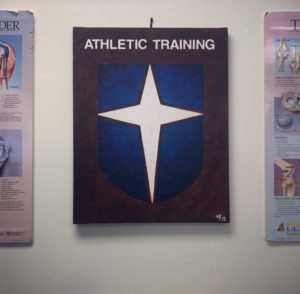 How does your experience and work at Jesuit influence your woodworking?
Really just as people have learned about this hobby, everyone kind of has had ideas for what they want like a bookshelf in their office or a table in their commons or you name it. And so the first one I think I made on campus was the coffee table in the basketball office because I had salvaged a bunch of the old gym floor, and Coach Hill had the idea. Like, "let's make a coffee table out of the old gym floor." And so he came over, and he helped me make it. Then when you put that on campus with the big shield on top of it, people start talking about it. Next thing you know, I'm making bookshelves. I'm making the table in the campus ministry commons. Same thing. Campus ministry didn't ask for the cross on it. I just threw it on there as a surprise at the end.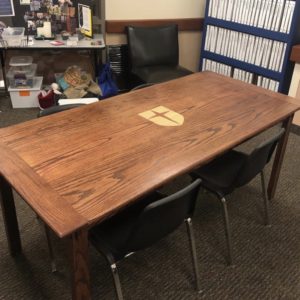 What type(s) of wood do you prefer to work with? Which is your favorite?
I use a lot of Oak because it's durable hardwood but relatively cheap. That's why it's used for hardwood floors. It's very sturdy and strong, but it's also cheap. My favorite is black walnut. It's just so nice and so pretty, and it just finishes so well, but I use a lot of Walnut because when I make cutting boards, it's safer. So Walnut is used for cutting boards because if you oil them properly, it's it basically pulls in the bacteria from the surface and suffocates it. So it's safer for food than plastic cutting boards; fun fact about cutting boards.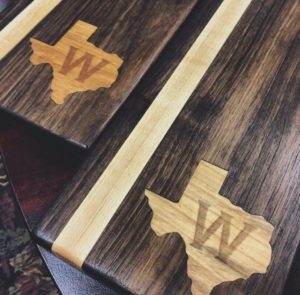 What is your favorite part of woodworking?
Part of it is that I'm an introverted person. So I've always had hobbies where it's just kind of like time where I can just be in my own head and do my own thing and distract myself from other things. I think the best thing about it though is the rewarding feeling when you finish something that was a pile of wood a couple of days ago and now it is a beautiful bookshelf, and it has use, and it will be in my office for a long time as a reminder of something I accomplished.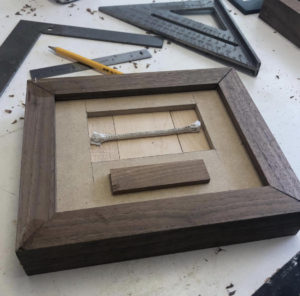 Additional Information
If you are interested in checking out Mr. Howard's website or some of his work, click here. Also, if you want to check out Mr. Howard's woodworking and other projects he has done, visit his Instagram: @tj_buildsstuff
Check back to The Roundup for more faculty profiles!