Although there are many strawberries, blackberries, blueberries, and raspberries, there is one berry that presides among all of them; Ian Berry!
Mr. Ian Berry '07 was born at Presbyterian Hospital and grew up in the Lake Highlands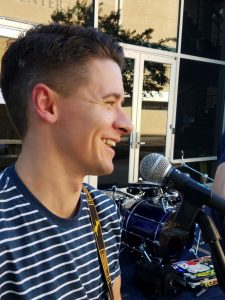 area. Until sixth grade he attended The Highlander School, a small school off Plano road. After graduating, he moved on to another small school called The Cambridge School of Dallas; Mr. Berry recounted, "There were about 25 students in my grade." He remained at the Cambridge School until 8th grade. That was when he first heard about Jesuit.
About halfway through his eighth grade year, he started looking into Jesuit. His father wanted him to go for its "broader opportunities" and "experience in a larger school." And so, in the fall of 2003, Mr. Berry came to Jesuit. "It was a bit of a shock coming to Jesuit as a freshman, where my freshman class was ten times bigger than my 8th grade class and I didn't know anybody" he remarked.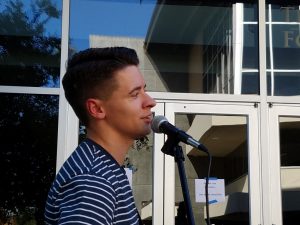 Nevertheless, Mr. Berry became very involved very quickly. One of his favorite classes, AP Literature with Dr. Degen,  which Mr. Berry described as a "very challenging and uncomfortable, scary class," exposed him to something new: creative writing and poetry. "Up to that point," commented Mr. Berry, "my sense of myself consisted to making good grades and trying to be the best hockey player I could be. So that really opened a new door which I think has become a large part of my personality now."
Not only did Jesuit have a great impact on his career, but it also influenced his spirituality and personality as a whole. Mr. Berry had been raised a Protestant, and "was not at all familiar with Catholicism." He went on, saying Jesuit "taught me to be a lot less rigid and black and white in my thinking about God and the figure of Christ, and I enjoyed that."
Mr. Berry graduated in the spring of 2007 and went on to the University of Texas at Austin to study English. The program in which he enrolled, Plan II, was very similar to the Jesuit curriculum in the sense that it was designed to make well-rounded students.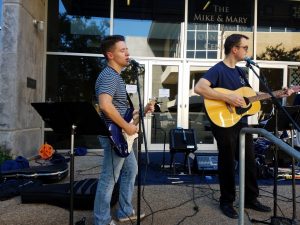 After walking across the stage for the second time in 2011, he joined the Alumni Service Corps and returned to Jesuit. While here, he taught two sections of English II, which was his first introduction into formal teaching.  "I'm very grateful for having been able to have that first experience learning how to teach," he added.
He finished his year of service and departed again from Jesuit. This time he traveled not to Austin but to Europe. He journeyed to Paris to teach English as a second language. For two years, he taught at an elementary school. During his second year, he began his masters degree at the University of Paris, also called the Sorbonne. Mr. Berry joked, "It's called that because the desks are uncomfortable so after every lecture you've got a sore bun."
He earned his third diploma in France and returned home to teach at Jesuit once again. Mr. Berry explained: "when I was a student at UT I wanted to be a college professor," but "there was something missing." Teaching at high school was a "much more interesting vibrant place to be, and I think it is something I really enjoy," he continued.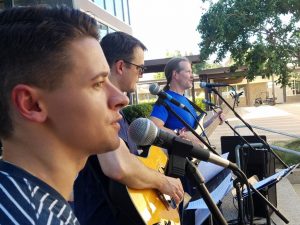 Mr. Berry has been teaching sections of Pre-AP English I and English III ever since. He is also involved in various organizations in the school. He is the moderator of the Jesuit Journal which meets about once a week after school to discuss and practice creative writing and also produces 2-3 issues a year of creative work of students. He's also one of the leaders of the faculty Christian Life Community, a small prayer group that meets every other week just to talk about prayer intentions and faith.
A guitar player and singer in the faculty band, AKA "Penance Hall," Berry noted that the group "needed a 'cool' name. We needed a corny – adults trying to be cool but just know we are being cheesy – name for the band." 
The band performs "a variety of songs ranging from U2, Creedence Clearwater Revival, all the way to Dwight Yoakam and John Prine." He said, "It's a lot of fun; I really enjoy getting to play and sing with the other teachers."
The entire Jesuit community is blessed to have such a wonderful member of the faculty. Mr. Berry would like to remind everyone that Penance Hall will be performing again soon.