Every year Jesuit students vote for their new Student Body President and Vice President.
During this month of February, four different teams of two juniors have begun their campaigns and started to share their ideas with their student body. These pairs have been preparing for the upcoming preliminary elections on March 5th. Of the eight candidates, this article will focus on Luis Osorio '21 and Andrew Sherman '21.
Background on Luis and Andrew
Luis and Andrew have been great friends since freshman year. Both soccer players, they have grown together on the field and at school. Luis and Andrew have also focused heavily on their service in their years here at Jesuit, joining service organizations such as Pals, United to Lead, Random Acts of Kindness, and Key Club. Apart from service, they are both very strong in their academics, both being on the Presidential Honor Roll this past semester. Finally, these two have represented Jesuit well as Ambassadors and members of various clubs such as the Jesuit Medical Society, Spanish Honors Society, TedEd club, and yes, even The (amazing) Roundup!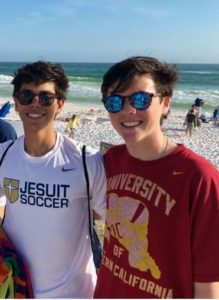 How was your transition to Jesuit from your previous schools?
Andrew: "Coming from Prince of Peace, it's been very easy. I knew a lot of friends going into Jesuit, so making new ones wasn't too hard. I think the transition was made very easy due to Jesuit through countless prayer services, retreats, activities, and sports. These events have made it really easy to meet new friends and lifelong relationships."
Luis: "From my perspective, coming from Mary Immaculate School to be specific, I thought that MIS prepared me pretty well, but yet it didn't prepare me as well as I would have liked to have been if that makes any sense. Speaking to that, I felt like I was a little bit behind on math, but yet my reading and literature skills were really strong. That's just  one of the aspects that I thought stood out during the transition into freshman year."
So, Luis, as a previous member of the student council for the past two years, how have these position affected you as a person and how will that help you during your senior year?
Luis: "Right, so freshman year I was elected as the class representative, which is the third position in the class student council. And you know, as a freshman, you don't really have that much of a say or a voice. You are just kind of there, listening to the upperclassmen and to the administration. As I progressed into our sophomore year, I was elected class president, and I started noticing that I was gaining a little bit more of a voice in the say and we started planning different moves and programs. For example, I met with Marco Marrero 19′ (Student Body President at the time) and we planned the addition of quarter zips into the accepted uniform, and we also reopened the traditional library to the daily use of all students. Those are just two of the things we did. Then my junior year, I remained as the class president, but unfortunately, due to certain circumstances, I had to take a leave of absence. On the bright side, this allowed me to gain insight on how student council functioned from an outside perspective.
How have your classes at Jesuit challenged you and what aspects of these struggles can you take into the real world or into student council?
Andrew: "For me personally, the classes at Jesuit have been a good challenge, you know? I've had a lot of homework, a lot of tests, and I've been successful in the majority of them. However, that's not the important part. I've grown as a person because, in any class at Jesuit, I've learned to push my ideas to the outside world, not just academically, like into a book."
Luis: "Yeah. Going along with Andrew said, these classes and activities are, in a sense, formation experiences, and they really help us develop the qualities we need for the real world. Qualities such as how to be dedicated, how to be applied, how to be hardworking, communicative, etc, and just progress as a man and hopefully, you know, bring respect and honor to your daily life.
Andrew: Yeah, I think these classes really challenge us to become the profile of the graduate.
Luis: Couldn't agree more.
Since you guys are both soccer players, what parts of the game have affected you both on and off the field?
Luis: "Well, soccer is a team sport, first of all, and that means that if there's a lack of communication between the individual players, the team won't work as a unit. That really mirrors how the student body should work, as a unit. Everyone being informed and everyone being involved as one, to help towards the correct progression to have a positive influence on Jesuit."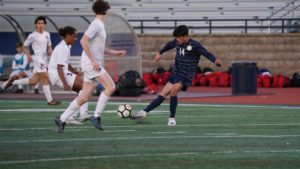 Andrew: "Yeah, as captains of the JV team, Luis and I acknowledge that a team wins together and lose together and that we're one, as Luis said, like one unit. I believe that these positions really show the leadership that we have and how we can get a group together to achieve one goal."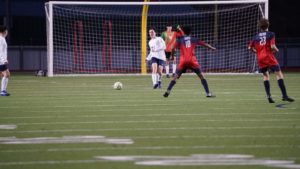 What motivates you to work and challenge yourself every day?
Andrew: "I think it's the idea of growing as a person and my family also motivates me every day. I think knowing that if I challenged myself here at Jesuit, I can go on in life and use my ideas and what I've learned from Jesuit to make a change in the world."
Luis: "Yeah. For me, what motivates me the most is my parents, how they came from Venezuela, a third world country right now, coming into the United States and doing all this to give me an opportunity. I think that applying myself to do my best is the way I give back to them, doing the best of my ability to make them proud and make my peers and family and my friends proud as well."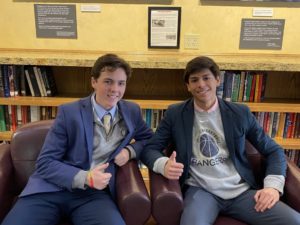 What character qualities do you guys think that you have that make you stand out as compared to maybe some of the other candidates or just stand out as a person?
Andrew: "Well, we're both academically successful. We both realize the necessity of service, which shows in our numerous hours and projects we are involved in."
Luis: "Some other characteristics I feel that we both exhibit, alongside being hardworking students is that we're both very organized and very determined. We structure all of our activities and assignments, to help ourselves and others succeed. We help each other and we want what's best for not just ourselves, but for our friends and the people who really appreciate it and have similar mindsets."
Andrew: "Especially since we have like a hard workload, we know how to use time management, which will help us if we win the election."
Which part of the Jesuit profile do you guys think you best exemplify and why?
Luis: "I can answer that with speaking about loving. This past year I've had a big reflection on what it means to be loving. I've talked with Mr. Garrison. Dr. Knize, Mr. Dion. And it's really just being genuine and treating people as equals, essentially how they deserve to be treated. You can get easily distracted in everyday life, and through your actions, you lose that perspective, so it's this idea of loving is something that you should really evaluate and try to keep in the back of your mind. Just be a loving person."
What changes do you guys think you'll make as president and vice president? What are you trying to accomplish? What can you bring to a student body?
Andrew: "So Luis and I have talked about this in preparation for our campaign. We really want to emulate this year's student council as they've done so well. We want to continue what they're doing with their initiatives with Sage, with the recycling program, with better communication with clubs. Overall, we want to continue this great work."
Luis: "On top of that, continuing what the current student body was doing, we have an idea of making more activities where the students and the faculty are involved in together, not just as separate groups. Like maybe having a dodge ball game or during Ranger Day, an activity with your favorite teacher or administrator that you really enjoy. Last thing, I feel like Andrew and I, we're realistic people. We're not going to promise initiatives that may seem amazing on paper, but ones that can actually come into fruition. So that's just one thing. But, you never know what amazing things can happen when you vote Sherman and Osorio!"
Here are some of Luis and Andrew's ideas that they wanted to share with the student body:
Strengthen

relationships with

Sage

through the lunch committee to ensure everyone is

happy

and

healthy.

We would

recommend dishes

that everyone likes and speak with them about dishes that could use some slight improvements.

Solidify a potential

dress-down

day that everyone desires.

Create new activities involving both

students

and

teachers.

Ex: school

dodge ball

or volleyball tournaments.

Increase the underclassmen's voice in the school.

Monthly emails

get sent out to various underclassmen to enable them the power to suggest changes in our school.

Grow

school spirit

!

Increase attendance at Jesuit sporting activities.

Grade Group chats

led by individual grade level student council to help inform students on current events around Jesuit.

Work towards

better sanitation

in the

bathroom

!

Continue making all of the Student Council's

minutes public

to the Student Body on moodle!

Ensure the just

allocation of money

to clubs and increase

communication

between its members and the Student Council.

Revamp the recycling program to help Jesuit become more eco-friendly!
This was coverage on Luis Osorio and Andrew Sherman's campaign, stay tuned into The Roundup for more news on the upcoming election!