During his time at Jesuit, Father Postell affected the lives of everyone he worked with, giving his whole self to this school and its students. That's why this past Friday, August 30th, Jesuit commemorated his years of service by naming the new stadium, Postell Stadium, in his honor.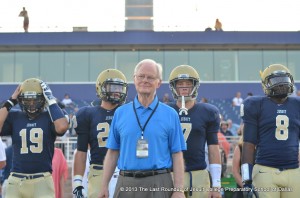 "It's been a long time coming," says President Mike Earsing about how the idea to honor Father Postell emerged, "He's a 19 year veteran of being president." This long tenure, though, is only a small part of what made him such a special asset to this community. "He always looked at his days as a big athlete," Earsing jokes, "He loved athletics so much, he loved the students, and he loved seeing anything that would let Jesuit Dallas step ahead." Father Postell's love for athletics and for seeing the Jesuit community compete and succeed reflects his true love and admiration for the people in this school. Mr. Earsing refers to it as "being very student-centered." He remarks, "You guys are important to us and [he wanted to find] what we could do to support you in whatever that is."
This perspective that Mr. Earsing and Father Postell shared led to many developments around the school including the renovation of the library, turfing the senior courtyard, and of course creating the luxurious new facilities that Jesuit athletes enjoy everyday. "The stadium was his vision," says Earsing, who served as Postell's longest tenured principal for 15 years, "and the athletic tower, and really ramping up what is available for you guys on campus." So, naturally, it was only fitting that we as a Jesuit community could honor such a great man and president by giving his name to one of his shining achievements. "It will be something that's a real tribute to his generosity," says Earsing.
The ceremony itself occurred before the Ranger's varsity football game against St. Joe's Prep of Pennsylvania. Various benefactors were honored before the game, and then as the stadium stood, watched as Father Postell walked out with the captains for the coin flip.
This of course was only a small gesture in comparison to the years of service that he gave to Jesuit, but it nonetheless created an amazing atmosphere around the stadium before the game.
"It was almost like a homecoming," says assistant principal Mark Knize, "It was cool to see more than just the immediate campus community, but the extended campus community beyond come in."
Alums, parents of alums, new freshman, and current Jesuit upperclassmen crowded the parking lot and stadium for pre-game festivities comparable to a homecoming game.
"It being the first week of school and the first home game made it extra special of course with the new freshman on campus. They got introduced to a really neat atmosphere," said Knize.
Whether it's lacrosse or football or rugby or soccer or track, we will all walk through those gates over our Jesuit careers, and seeing Father Postell's name every time will remind Jesuit athletes of his generosity.
They will be reminded to stay grateful and appreciative of the amazing community they are a part of. Having the stadium honor a man who cared for others with his whole heart will allow Jesuit athletics to compete everyday for the greater glory of God unlike any other school.