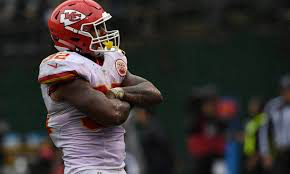 The fantasy football playoffs have already arrived, whether you like it or not. For many, the crucial matchups of Week 13 determined playoff eligibility along with the strong and weak points of their teams. The fantasy playoffs bring a whole new change of scenery and a fresh start for each participant. Your record doesn't matter anymore, the main focus is your current matchup. Even for those dominating in their respective leagues, disaster can strike your team at any minute, as we've seen in the past few weeks. Injuries and various other mishaps have left gaping holes in many teams, leaving these fantasy players struggling to quickly plug them. In this week's article, I'll be giving you my best advice for success in the fantasy football playoffs through waiver adds.
Spencer Ware
One of the biggest headlines in the NFL this season comes from Kareem Hunt of the Kansas City Chiefs. Just last week, TMZ released a video which showed hunt assaulting a woman in a hotel, prompting the Chiefs to quickly release Hunt from the team's roster. Hunt now remains a free agent, which causes severe obstacles for many teams. Hunt was an elite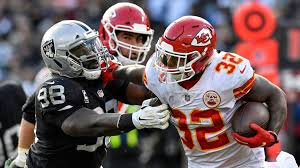 fantasy running back who through 11 games had 824 rushing yards, 378 receiving yards, and 14 total touchdowns. For most leagues, Hunt was a 1st round draft pick following a monstrous rookie season, in which he eclipsed 1,700 total yards from scrimmage. While this cripples many playoff-bound teams, compensation can be found in the Chiefs new starting running back, Spencer Ware. Ware started before Hunt arrived, but faced a terrible knee injury all of last season, leaving the door open for Kareem Hunt. While Hunt provided more talented as a running back, the Chiefs remain an extremely dominant offensive powerhouse leaving room for Ware to succeed purely because of the production that the Chief's offense produces. Volume and touchdowns are two of the most coveted things from any running back in fantasy. Considering the lack of depth, Ware stands to receive the majority of the carries in the Chiefs backfield and his quick yet powerful running style provides weekly opportunity for touchdowns and high yardage runs.
Conner's Injury and Jaylen Samuels
James Conner came into this season as Le'Veon Bell's backup during his contract holdout. As Bell never ended up reporting to the Steelers, he became a free agent, leaving James Conner the official RB1 role in Pittsburgh. Anyone who drafted Conner or added him from the waiver wire received a massive benefit this season, as Conner remains in the top 5 fantasy running backs on the season. However, in week 13 Conner suffered an ankle sprain and left mid-game. The injury is expected to not be very serious, but he is missing the Steelers' week 14 matchup against the Raiders. While this injury burdens anyone who has him, Jaylen Samuels can be a great waiver add to help carry the load. Shortly after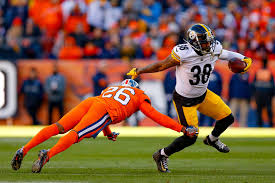 Conner left the game, Samuels caught a long touchdown pass to help increase the Steelers' lead. Samuels has shown brief flashes of greatness this season, despite playing in James Conner's shadow. The Steelers' offense, similar to that of the Chiefs, is also a highly productive one in scoring and in total yards. With so many aerial threats available in Pittsburgh along with the volume he will receive, Samuels should have the opportunity for some big plays. Also, even though Conner is only expected to be out one week, we've seen before where injuries last longer than they're expected to. Because Conner's injury could be worse than anticipated, Jaylen Samuels could have amazing value for your team in the playoffs.
Adam Humphries' Increasing Role
Despite all the quarterback controversies in Tampa Bay this season, Adam Humphries still managed to significantly improve his role. Humphries started off the season as a WR4 in the Buccaneers offense, but showed consistency and playmaking ability in his few opportunities. In the first four games of the season, Humphries has no more than 3.6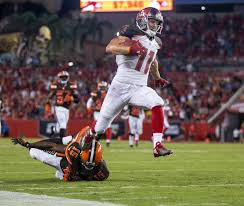 fantasy points in standard scoring leagues. In week 5 he broke out catching all 3 of his targets for 82 yards. Since then, Humphries has received a hefty target share. Since week 8, Humphries has had no less than 50 receiving yards in one game and he has also been tied for the most targets on the Buccaneers. Also, he has 5 touchdown catches in his last 5 games. In 4 out of his last 5 games Humphries has posted double digit points, including one game in which he caught 8 passes for 82 yards and 2 touchdowns, giving him 20.9 fantasy points that week. His heavy red-zone usage (tied for the most red-zone targets in the NFL since week 11) and high amount of targets makes him extremely appealing to all fantasy players, especially those trying to find a replacement for A.J. Green, who is now out for the season. With DeSean Jackson out, Humphries has an even greater opportunity to continue on his hot streak.
Justin Jackson
In week 12, Melvin Gordon left the game early with an MCL sprain. When it came time to choose the new starting running back, the Chargers went with Austin Ekeler, who has already had a solid fantasy year through the air and as a handcuff to Gordon. Part of what made Ekeler so good before the injury was his versatility. They could use him anywhere. Coming into the game, Ekeler was one of the most productive running backs in the NFL, averaging over 7 yards per touch. However, Ekeler is somewhat small and isn't quite built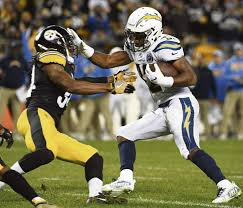 to carry the workhorse role that Gordon carried. While Ekeler stills remains the current RB1 during Gordon's injury, he has already been claimed in most leagues. However, Justin Jackson, the big and powerful running back from Northwestern has seen an increasing role during this time. Jackson has been the far superior runner, rushing for 57 yards on 7 carries in week 12 and 82 total yards and a touchdown on 9 total touches in week 13. Jackson's speed and power made him clearly the better back to receive the bulk of the load during Gordon's injury. His big stature allows him to truck over players on each run, as I saw him do multiple times last week. Ekeler is simply better as a handcuff type of player. If the Chargers' coaches saw what I saw, then Jackson will surely have a larger role in the coming weeks before Gordon returns.
While many teams appear doomed due to recent complications in the NFL, it doesn't mean you can't recover. Like I said earlier, records don't matter in the playoffs, it's make or break in each game. All it takes is one crazy play to change the course of your league. To those of you in the playoffs, good luck. To those of you who missed out, remember…
Go Cowboys!