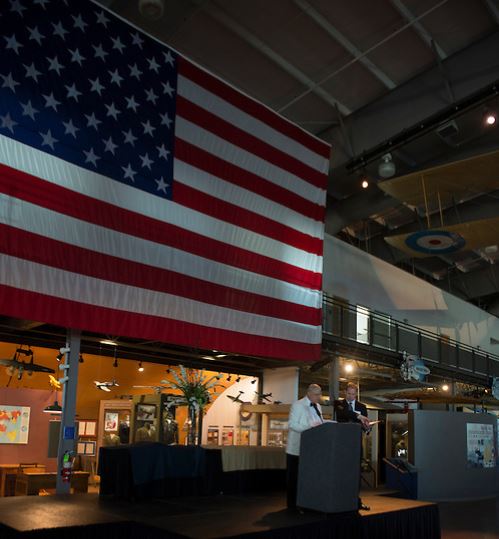 On May 2, 2014, Jesuit faculty and staff gathered at the Frontiers of Flight Museum for the annual Faculty Awards banquet honoring those members of the Jesuit community who over the past year and their entire jesuit careers exhibited excellence in furthering the mission of Jesuit education. Sponsored by The Jesuit Foundation and hosted by the Jesuit Parents' Executive Board, this year's celebration recognized those who have shown exemplary initiative, care, creativity, dedication, and tenure during their time as Jesuit educators.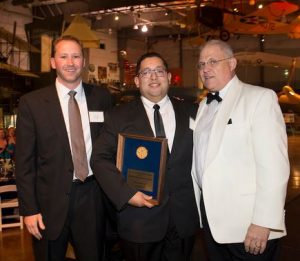 First, winning the Hal F. Tehan Family Award through nomination of his peers for being most representative of an Ignatian educator was sophomore counselor Mr. Raul Ornelas. "I am very thankful," he says, "I am honored and I am humbled as well." This award is typically given to the faculty member who most readily and most effectively facilitates personal and religious growth in every student's Jesuit journey, not only educating them on class material but also helping them to form an Ignatian identity. "I give thanks that my peers thought I would be a good candidate for it," Ornelas continued, "it's not like you're taking reward or counting cost. It's just you work hard and these kind of things occur."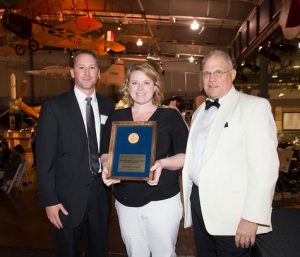 Next, math teacher Mrs. Kelli Mattacchione was awarded the Michael Grimshaw Family Award. This award is given to a faculty member who combines creativity, initiative, and innovation in their education of students. In addition, senior community service counselor Anthony Mattacchione, husband of Mrs. Mattacchione, was recognized  at the banquet for his 15 years of service to Jesuit. "I am honored to receive such a prestigious award. A speech written about my accomplishments and read to all my peers is so humbling. I will always cherish this moment. I thank everyone involved in helping me be creative and innovate with my math classes," she commented.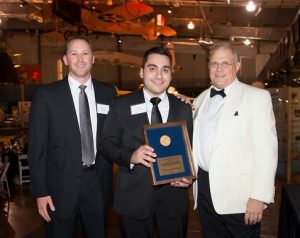 Receiving the Robert Tynan, S.J. Award for extensive involvement in extracurricular activities was science teacher Mr. Max Von Schlehenreid. The recipient of this award typically shows a unique closeness with students as a result of constant contact with them outside of the classroom at various extracurriculars. "I was very surprised. I did not see it coming," said Von. "You realize how many other people you really feel deserve those awards so to be recognized you feel very grateful."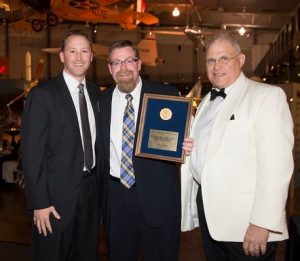 Another counselor also received an award this year, was junior counselor Mr. Dan Lingel was given the Audrey & James E. Jack Humanities Award. This award represents a faculty member who effectively promotes theology, social studies, counseling,or social justice. "I was ridiculously humbled having been here 20 years hearing people say all those nice words about how I interact with the students and how I interact with the faculty," commented Lingel. One thing that particularly moved Mr. Lingel was the narratives read about him when he was presented his award. "Like I said it was really humbling," he reiterated, "to hear people talk about how I was responsible for helping a student get through something or that I was somebody who they could come talk to if they have a problem."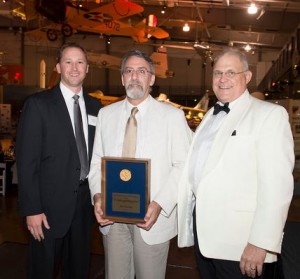 Next, the Joseph Mulhern, S.J. Award honors a staff member who consistently demonstrated availability and dedication to the mission of Jesuit education. This award, given to Mr. Jeff Hoffman with the technology department, honors someone at Jesuit who many students probably do not ever interact with yet nonetheless serves a vital role in making everything at the school run smoothly. "It was quite a surprise, but much appreciated," said Hoffman, "There aren't a lot of awards that go to staff so to be singled out among all the staff is quite rewarding." Only having been with the school for 4 years, this award is certainly a great bono for Mr. Hoffman as he already has it hung up in his office.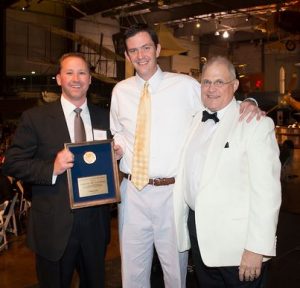 Another award that usually garners a lot of attention around campus is the Coach of the Year Award. This year, it was given to beloved basketball head coach Chris Hill. Recipients of this award show an ability to create an environment where Ignatian values are formed and tested; additionally, the award is chosen by the students as someone who models and teaches that God is active in all things. "It's an incredible honor," he said, "probably my favorite part was that it was student nominated, I think that's pretty cool." Hill also stressed how unexpected it was that he won because he felt that there were so many other coaches around school this year who did great things with their teams and athletes.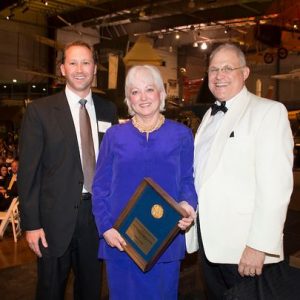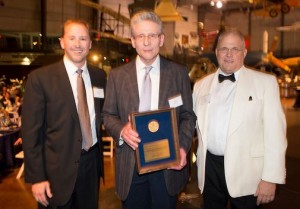 Other awards included the Elaine Henrion Award for the faculty member who best combines educational excellence with length of service, given to English teacher Mrs. Sheryl Row; the Jeremiah E. Lenihan Family Award for the faculty member who most effectively promotes language, literature, or fine arts, given to Spanish teacher Mr. Greg Nielson;  the Cecil Green Award for the faculty member who effectively promotes math, science, or computer science, given to math teacher Mrs. Kathy Bean; and the Phillip S. Postell, S.J. "Good Problem To Have" Award for the faculty member who has the desire and ability to transform bad into good, given to the athletic training duo of Coach Rick Martin and Coach Osamu Moro.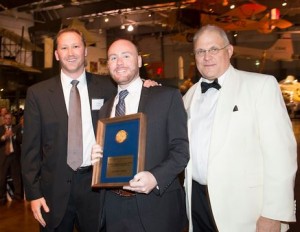 Finally that leaves the Patrick Koch S.J. award, which is given every year to the faculty member who students nominate as the most representative of an Ignatian educator. The entire student body has a chance to vote on this award, making it that much more special for the winner each year to know that their hard work does not go unnoticed. This year the students of Jesuit came together and happily nominated theology and social studies teacher Mr. Matt DuRoss as the embodiment of an Ignatian educator.
Also recognized at the banquet for their extensive service were faculty members who have reached either 5, 10, 15, 20, 30, 35, or 40 years of service at Jesuit. This year, science teacher Mrs. Jan Jones was recognized for her 40 years at the school, Mrs. Sherly Row for 35, and Mrs. Karen Lahey for 30. Some faculty members serving 20 years included English teacher and The Roundup moderator Dr. Michael Degen as well as theology teacher Ms. Michele Elchlepp. Math teacher Anne Blackford, English teacher Celeste DesOrmeaux, and freshman counselor Cory Marr were among those honored for 15 years of service while English teacher Mary Beth Farrell, social studies teacher Mark Wester, and wrestling coach Ryan Menard were recognized for 10 years. Finally, some of the five year members of Jesuit faculty who were recognized include Spanish teacher Austin Nevitt, theology teacher Father Billy Huete, S.J. and math teacher Patricia Watson.
What separates Jesuit from any other school in the country undoubtedly is its teachers, and every year the faculty awards banquet gives Jesuit an opportunity to thank them for all they do for the students here. Without the dedicated faculty and staff that this school has, there certainly would not be as many great opportunities for students to learn and grow and for that, everyone in this community remains exceedingly grateful.