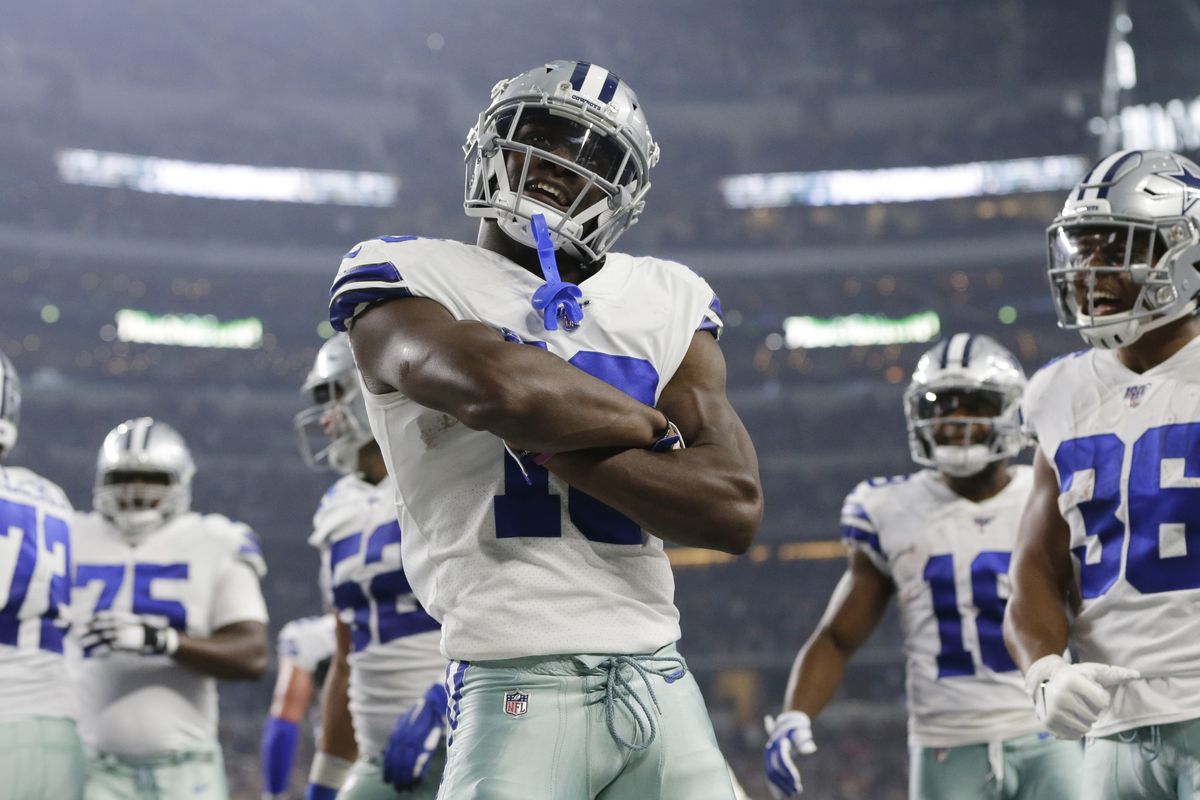 America's Team just won against the Houston Texans 34-0 in Week 3 of the NFL Preseason. While this result may seem meaningless, there are some important takeaways from the game that can translate into the regular season, with or without Zeke.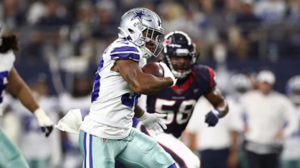 Tony Pollard
While 2016 first-round draft pick and 2-time rushing leader Ezekiel Elliott continues to sit out preseason games and practices, second-string rookie running-back Tony Pollard has stood out as a notable replacement for Zeke. Against the Texans, Pollard went for 26 yards on 6 attempts for an average of 4.3 yards per carry, compared to Zeke's 4.7 yards per carry during his 2018 season. If Pollard is able to translate those stats to the regular season, behind one of the best offensive lines in the NFL, we're looking at a possibly unstoppable rushing game.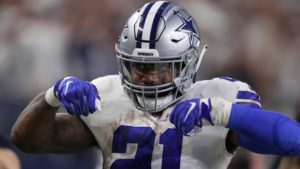 Ezekiel Elliott
Jerry Jones and the Cowboys' front office offered Zeke a contract that would make him the second highest paid running back behind Todd Gurley. Zeke refused this offer because he believes he is the best running back in the game which of course, he is. Because of the inability to get him signed, he has put the team and franchise in a tough spot. In the modern NFL, the best teams have a franchise running back and another back who can get similar stats despite playing less snaps. For example, Rams running-back CJ Anderson took over last year and still kept momentum in the rushing game. In years past, Rod Smith and Alfred Morris haven't been those solid, second-string running backs who can make big plays frequently and give Zeke some rest. Up until Dallas traded a 1st round pick for Amari Cooper in 2018, Zeke has been the offense for the Cowboys; he's made all the plays and even proved himself to be a dual threat this past season. Tony Pollard and Zeke along with Amari Cooper and the corps of WR's would be a tough offense to beat this coming season.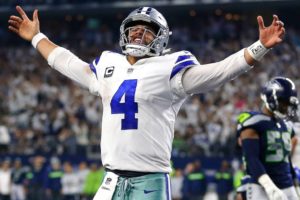 Dak Prescott
If there was any doubt that Dak was the franchise quarterback for the Cowboys, the Wild Card game against the Seahawks last season should've shut that down. Dak took the game into his own hands when he rushed 14 yards and flipped over defenders for a first down to set the 'Boys up for a touchdown. With around 70 million dollars in cap space for the 2020-2021 season, if his contract isn't extended this year, it's coming soon.
Regular Season Schedule
The first eight weeks of the regular season are a hodgepodge of good and bad teams.
Week 1, the 'Boys face the New York Giants. The Cowboys should win this game because Eli Manning is getting older and has shown inconsistencies within the past few seasons. He's not the quarterback he used to be. However, Saquon Barkley is a stud of a football player, and you can expect him to takeover the game and make big plays. However, he's going to get tired very quickly without ha Odell Beckham Jr. as a target for Manning anymore.
Week 2 against the Redskins, which have a gaggle of injuries on their team, I believe also should be a win for the Cowboys.
Week 3 against the Dolphins will be a tough one, not because the Dolphins are a tough team but because no one can stop the Fitzmagic train. If Ryan Fitzpatrick is playing Week 3 and his crazy ability to get 150+ overall rating happens like it did last season, expect another Miami Miracle to happen at AT&T.
The week 4 matchup against the Saints is going to be the game to watch on SNF. Drew Brees will be looking for revenge for his team's performance on Thursday of last year. If they have last year's team and have a better performance than last year, Dallas might be handed a loss here. If Dallas can put all of last year's pieces into place and play a little better, this could be a matchup for what will likely be the strongest team in football next season.
The Packers travel to Dallas in Week 5. The Packers, who went 6-9-1 and lost Randall Cobb to the 'Boys in the offseason, will be a game that the Cowboys should win. Future Hall of Famer Aaron Rodgers hasn't been playing like he has in the past.
In week 6, Dallas travels to New York to play the Jets in a game that the Cowboys should take pretty easily to a team that went 4-12 in 2018.
Then comes one of the season's biggest challenges the season and that will be against division rival Philly Eagles in week 7. Coming off a 0-2 record against the Cowboys in the 2018 season, Philly will be looking for revenge in every way. Expect this to be a physical game on both sides of the ball.
Bye week in week 8
Giants again in week 9.
Minnesota, which went 8-7-1 last season, should also be a game that the Cowboys win in Week 10 because of last season's performance, Kirk Cousins' inconsistencies last season, especially the preseason weakness in his passing game.
Dallas goes to Detroit in Week 11 to face the Lions who went 6-10 last season. The Lions, facing a lot of inconsistencies on both sides of the ball, should lose this game at home.
Week 12 will likely be one of the hardest games of the season as the 'boys pack up and head to Boston to face off against defending Super Bowl champs, the New England Patriots. With Rob Gronkowski retired, and Tom Brady seemingly only getting better with age, this game is going to be a real toss-up if the Cowboys are able to put everything together.
Buffalo heads down to Dallas in Week 13. Buffalo also went 6-10 last year, so this game should, in theory, be a loss for Buffalo.
Khalil Mack and the Chicago Bears host the Cowboys in Week 14 in a game that will be likely dominated by the Bears. If the Cowboys cannot get the ball rolling on offense, then the Bear will likely knock it out of the park and win this game.
In Week 15, Dallas plays in a rematch against the Rams in Dallas where Zeke (if signed) and Todd Gurley will throw down for who is the best running back in the league. Similar to the divisional round gamelast year against the Rams, this one is going to be a thriller.
The last two games of the regular season go to division rivals, the Eagles and Redskins. The Eagles again will be tough, and Dallas should hand the Redskins an L at home.
Overall, I see the Cowboys fighting for control of NFC East with the Eagles. The Cowboys have the tools to make a deep playoff run on both sides of the football; whether they utilize their tools we will see. You're hearing it here first, I can easily see the Cowboys achieving between 9-7 and 12-4. A rotation between Zeke and Tony Pollard, the receiving corps consisting of Amari Cooper, Randall Cobb, Michael Gallup, Tavon Austin and Noah Brown would make up a solid team in the NFL. The O-Line with a healthy Travis Frederick is dangerous as well as a D-Line with DeMarcus Lawrence and first round pick Taco Charlton starting to break open. Leighton Vander Esch, Jaylon Smith, Sean Lee, and recent star Joe Thomas, who blocked a punt and nearly returned it for a pick-six, shows incredible promise on the defense. This is going to be a fun season. GO COWBOYS!
Check back to the Roundup for more on the 2019-2020 Cowboys season!