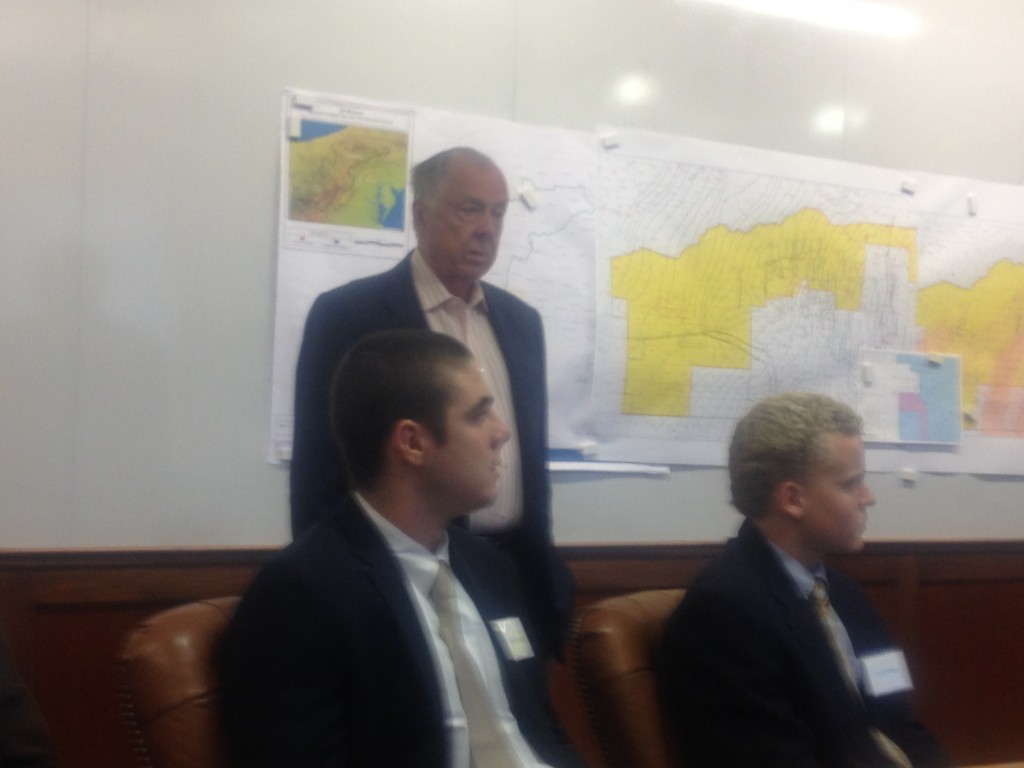 T. Boone Pickens. The name sounds familiar, right? And it should. That's because Pickens is a Texas man who formerly had a net worth of over $1.2 billion. But there's more to Pickens than just his wealth: his altruism. He has distributed his fortunes to countless charities and organizations and really seeks to serve his community, an ambition falling perfectly in line with the idea of "Men for Others."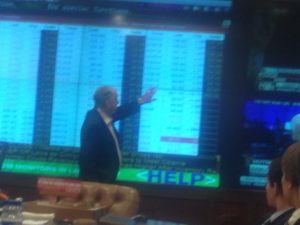 Born as Thomas Boone Pickens Junior on May 22, 1928, Pickens now lives in North Dallas and is one of the most successful businessmen of his generation. The 85-year-old earned his fortune mainly from the oil and gas industry and recently has been an advocate of alternative energy such as wind farms and natural gas. Pickens has appeared in various financial magazines and has donated hundreds of millions to charity, including his alma mater, Oklahoma State University.
Now worth about $950 million, Pickens also invests some of his money in businesses and is the majority shareholder of Ad Giants, a company run by multiple Jesuit graduates including Chief Financial Officer Jim Jenkins. A few weeks ago, Jenkins spoke to Jesuit's Entrepreneurship Club about how to start a business and how to be successful in today's economy. Because of his unique relationship with Pickens, and because of Pickens' love for the community, Jenkins was able to secure a rare hour slot for twelve lucky Jesuit students to meet and interact with Pickens.
Unfortunately, not all of the Entrepreneurship Club's dozens of members could attend the event, for Pickens had capped the number at twelve. Unsure how to choose the twelve who would have the privilege to spend time with the successful businessman, club president James Schroeder '15 decided that he would select the twelve (including himself) who seemed most motivated and interested in the unique opportunity.
Each student had his own reason for wanting to take part in the special experience. Patrick Joseph '15 explained, "What made me want to go see T. Boone Pickens was that I have a dream to start a business in the future, and to me, learning from those most successful in starting a business is the best way to achieve that dream."
Meanwhile, Harrison Folk '15 stated, "I wanted to sign up for the trip to meet T. Boone because I knew how successful he was and is. It would be a once in a lifetime opportunity to meet a man of his stature and merit. Also, if I could pick up a few hints and tricks of his entrepreneurial ways that would be great."
Ben Horton '15 likewise understood the significance that meeting Pickens implied, and how much he could learn from such a man. He said that he "wanted to meet a successful entrepreneur for some inspiration" and "wanted to see what it was like to be him and how he got there."
Schroeder eventually came up with the following group of juniors to attend the field trip, including the three mentioned above.
1. James Schroeder
2. Patrick Joseph
3. Sterling Coker
4. Sean Alexander
5. Dominic Iannelli
6. Alex Gurun
7. Benjamin Horton
8. Cole Wilson
9. Jack Kelley
10. Harrison Folk
11. Jimmy Merkel
12. Zac Bishkin
These students, along with faculty members / economics teachers Dea Ochs, Mark Wester, and Tim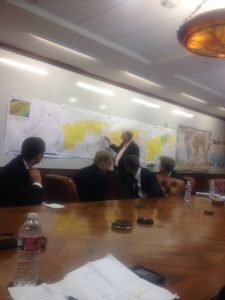 Murphy (also an OSU alumnus), met at school on Wednesday, October 2 and drove to Pickens' office via bus. When the group arrived at Pickens' office, located adjacent to Christ the King Catholic School, they were directed into an elaborately decorated lobby.
Jenkins and Mr. Marty Cox (father of Joe Cox '15) entertained the nervous party of students, for Mr. Pickens had to finish a call. One of Pickens' assistants came and talked to the students as well, telling them about a surprise: if everyone came up with a unique hashtag and tweeted about their time with Pickens using the said hashtag, he would retweet his three favorites. The Jesuit guys chose the hashtag #jezmeetspickens and on Monday, as promised, Pickens retweeted his favorites, including that of Zac Bishkin '15 and Cole Wilson '15. You could say Pickens' Twitter is rather scandalous. With over 105,000 followers, he has made the news on occasion with his witty, insightful Tweets. Never afraid to share his honest opinion, Pickens has called out celebrities, sports teams, businesses, and organizations, including magazine Sports Illustrated, Oklahoma State, NFL quarterback Brandon Weedon, and rapper Drake.
Therefore, the opportunity to be retweeted by Pickens excited many of them, all hoping to receive the retweet and potentially with it hundreds of new followers. After a period of waiting and tweeting, the Jesuit students were ushered into a large conference room with large, plush leather chairs and posters of maps and stock charts were spread about the walls. Harrison Folk '15 exclaimed that the room impressed him "very much," emphasizing how it "had TV's on Fox News and CSNBC, with a big board displaying his stocks and the world trade market. He also had numerous donations, such as American flags and a Big 12 replica trophy from Oklahoma State.
Everyone shook hands with Pickens, and then sat  around the massive wooden conference table, waiting for the discussion to begin.
Pickens began with a short introduction and explanation of how he got to where he was. He gave a narrative about his childhood, dreams, successes, failures, and prediction for the future of the economy. Then, he answered questions from the Jesuit students and faculty. The full-length recording can be found at the link below:
A fun fact that he shared with the group was that he was actually recruited to college on a basketball scholarship, a bit of a surprise to many in the room.
One interesting story that Pickens told was about his job out of college. He did not really like his job and where it would take him, so he complained to his wife. His wife, tired of his complaining, sarcastically asked him why he didn't just quit. Pickens, however, took her up on her offer and a few weeks later actually quit, leaving him, his wife, and their first child without a source of income. Eventually, Pickens was able to find work, starting his own company in the oil and gas industry and becoming quite successful from it. The moral of the story was this: you have to take risks, such as quitting your job, making high-stakes investments, etc. Otherwise, your career will stagnate and you will never go anywhere, for better or for worse.
Pickens also mentioned how some people in the oil and gas industry are "lucky" and just find one oil field; meanwhile, others are smart and find more and more. He said that you can only tell how good of a prospector a man is not by asking him where his first field is, but his second, and third, and so on, emphasizing that in making decisions you have to use both your head and your heart.
Another key piece of advice that Pickens had for the group of juniors was to always have a plan behind anything that they do. One of his famous "Boonisms" (adages/maxims that he often repeats) was that he would "rather be a fool with a plan than a genius without one." This was a lesson that his father had taught him as a young man and that he has carried with him ever since.
Yet another one of Pickens' lessons was not to be afraid to fail. Failing is necessary before you can have success. He admitted that he failed countless times, but he succeeded a bit more than he failed. Mrs. Ochs, moderator of the Entrepreneurship Club, told the club the next day how amazed she was that Pickens spoke of a "loss of $200 million just at the drop of a hat." In other words, Pickens did not dwell over this loss or any of his losses, no matter how massive they were.
Pickens also complimented Jesuit graduate and PGA Tour pro Jordan Spieth, praising the way he carries himself and his impact both on the game and on the community. When Ochs offered to arrange a meeting between the two (she taught him at Jesuit), he said he would much like to.
He also mentioned how just that morning a man he knew had several companies bail out on him and he lost around $30 million or so. Pickens agreed to talk to the man and tell him his own stories of loss that he endured on the road to success in an attempt to console him. A man who has suffered excruciating losses himself, Pickens could easily relate to the man's despondency and counsel him on how to handle the situation.
Throughout his discussion, Pickens asserted that it is important to have integrity when you deal with the market and be an honest businessman. Otherwise, other businesses will not trust you with their money because they cannot trust your word.
Obviously the profile of the Jesuit graduate as a Man for Others would apply to Pickens. Having donated over $1 billion to charity (millions more than his current net worth) and having consistently conducted business with integrity, Pickens serves as an example that many young, aspiring workers can look up to.
Club member Patrick Joseph added that while "[he had] expected to learn about being an entrepreneur, and [Pickens] told [them] a few things about what that means–taking risks, being prepared to lose everything," he did not necessarily foresee Pickens' advice of "always trying to maintain a good reputation by having strong moral values."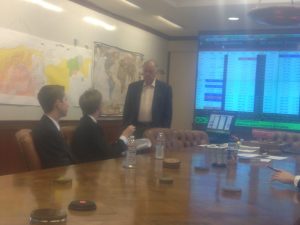 Entrepreneurship Club President James Schroeder '15, in a written letter to Mr. Pickens following the event, graciously thanked him on behalf of all the students for encouraging such meritorious values, explaining, "I know that everyone who was in the room while you were speaking was in some way inspired. I can confidently say that I will always be inspired by your success and vitality and will remember your stories of how you attained it. I regard with the highest respect your philosophy that 'you must be ethical in your decisions and relationships in order to make it in the business world AND in life.'"
The students will be able to look back on their time with Pickens and not remember him for his well-known wealth and success only, but more importantly for his charitable donations and generosity towards the community.
Most of the Jesuit students asked Pickens at least one question during the meeting. Harrison Folk '15 asked him, "Did you know you wanted to be an entrepreneur when you began collecting money and depositing it in a bank, or some other time?" He responded: "I always knew I wanted to be a businessman because I wanted to make money."
During his answer to another question, Pickens recalled a comical anecdote from his youth. When he was in grade school, he hid all of his money in a small crawl space that only he knew of. When his mother asked him where he hid all his money, he refused to tell. Over time he accumulated money slowly from various sources. His mother kept pestering him until he finally agreed to show her the hiding spot and count the money for her. After emptying the box and organizing the money carefully, they realized that Pickens had over $200, a sizable amount of money for such a young boy, especially in the economic depression of the time. His mother was shocked, never suspecting that her son had such of sum of cash.
Because of this, Pickens said, he grew economically independent at a young age. He never let his parents pay for him for anything, for he had sufficient funds himself. Constantly looking to increase his wealth, Pickens soon realized that he wanted a career where he could earn the big bucks. To all the students eager to follow in his footsteps, he declared that it is never too early to start a business.
Ben Horton '15 and some of the other club members were surprised at Pickens' openness. Horton said that this was definitely not what he had been expecting, explaining that "actually [he] was expecting someone who was not going to be so enthusiastic to talk with some high school kids. Instead, [he] met someone who was happy to show us what entrepreneurship could be like."
The Pickens talk went about fifteen minutes long before he had to lead the students out of his office. Before the party left, however, plenty of pictures were taken, and Pickens was presented with a gift from the Ranger Connection, a blue silk Jesuit tie. He smiled and said, "I like it," thanking all of the students for the nice present.
As he returned to his office and glanced at the boys for the last time he exclaimed that they sure were "a damn good looking group of guys," laughing with a large grin on his face.
With that, the group said farewell to Jenkins and Cox, as well as Pickens' assistants before filing back outside and into the bright yellow bus. This enlightened posse discussed their conversation with the living legend on their ride to Tupinamba's, where a complimentary lunch was provided by Jesuit.
Reflecting back on the experience, Patrick Joseph '15 noted that he "understand[s] a little better how necessary it is to be fearless when you invest in anything, whether it's in stocks or in your own business. That said, it is equally necessary to have a plan going in, and also a plan if/when you fail."
Most of the guys who went on the Entrepreneurship Club field trip would probably agree with Harrison Folk '15 who, when asked if missing part of his off-day at home was worth it to go on the trip, responded with a quick and confident "one hundred percent."
James Schroeder '15 spoke on behalf of everyone when he wrote to Pickens that the Entrepreneurship Club is "so grateful for the time you spent talking to us. We cannot thank you enough. For the rest of our lives, we will always remember the day we met you."